Post by Admin on Jul 2, 2019 17:45:01 GMT
The Cure brought the 2019 Glastonbury Festival to an emotional close on Sunday (June 30) evening with frontman Robert Smith putting his "pop head" on for a stirring journey through the group's greatest hits. Headlining the famous fest for a record-equaling fourth time – level with Coldplay – the British group condensed their regular three hour-long set into a stream-lined 120 minutes, placing the emphasis on their best-known songs starting with an imperious "Plainsong"
There were also covers of Dolly Parton's "Jolene" and Metallica's "Nothing Else Matters" in the expletive-laden, playfully risqué set, which, at one point, saw Cyrus don a purple wig and adopt her Black Mirror alter ego Ashley O to perform "On A Roll" from the Netflix show.
The singer's father, Billy Ray Cyrus, and rapper Lil Nas X joined the 26-year-old singer – dressed in PVC leather trousers and a white crop top -- onstage for a well-received run through X's unstoppable summer smash "Old Town Road."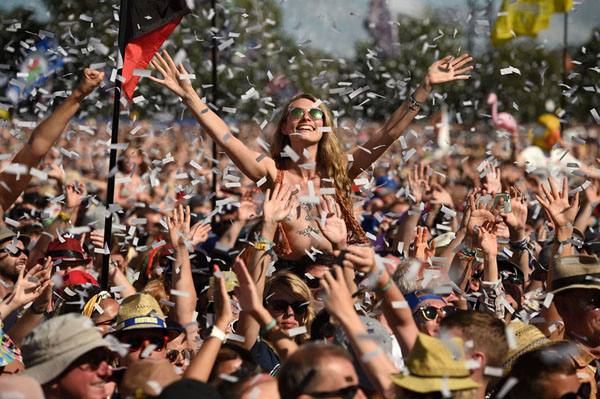 "I ask the universe every day, 'Give me something that scares the fuck out of me," Cyrus told the crowd. "Today that is mother fucking Glastonbury."
Earlier in the afternoon, Kylie Minogue performed to what was without doubt the biggest crowd of the weekend when she played the famous 'legends' Sunday afternoon slot, 14 years after she had to pull out of headlining Glastonbury to undergo treatment for cancer.
At one point she appeared to break into tears as she recalled the "circumstances" that led to her having to cancel her 2005 performance. A decade and half later, the singer more than made up for it with a heart-warming greatest hits set that saw her joined by Coldplay's Chris Martin for "Can't Get You Out Of My Head" and "the one and only" Nick Cave for a seductive, sexually charged performance of "Where the Wild Roses Grow."
Minogue, who was born in Australia, but has been a national institution in the U.K. for nearly three decades, later paid tribute to David Bowie by splicing the riff from "Fashion" with her own "Slow."
"I'm thankful for very good eyesight right now. This is absolutely incredible. What a privilege it is to be here," the visibly moved singer told the sun-kissed crowd, who returned her affections by enthusiastically singing along with every moment of her nostalgia-heavy set.