Post by Admin on Feb 23, 2014 23:00:20 GMT
Ukraine's parliament voted Sunday to temporarily hand the country's presidential powers to a top official, a day after former leader Viktor Yankovych -- whose whereabouts are unknown -- was ousted following a week of deadly protests.
Ukraine is deeply divided between eastern regions that are largely pro-Russian and western areas that widely detest Yanukovych and long for closer ties with the European Union. Yanukovych's shelving of an agreement with the EU in November set off the wave of protests, but they quickly expanded their grievances to corruption, human rights abuses and calls for Yanukovych's resignation.
The political crisis in the nation of 46 million has changed with blinding speed repeatedly in the past week. First there were signs that tensions were easing, followed by horrifying violence and then a deal signed under Western pressure that aimed to resolve the conflict but left the unity of the country in question.
Tymoshenko, the long-jailed blond-braided heroine of Ukraine's 2004 Orange Revolution, left imprisonment on Saturday after the Ukrainian parliament voted to decriminalize the charge on which she was convicted. She increasingly appears to have the upper hand in the political battle as to who will be the next leader of Ukraine, winning the backing Sunday of a leading Russian lawmaker and congratulations from German Chancellor Angela Merkel and U.S. senators on her release.
Her language gave no hint of political ambition but was laced with emotion. "This is a different Ukraine. This is a Ukraine of free people, and you have given this country to each and all of us, those who are living today and those who will live tomorrow. That is why people were on Maidan, who perished on Maidan will be heroes for ever," she said.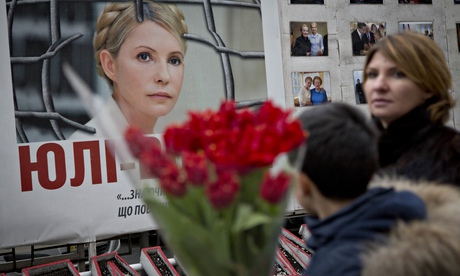 Tymoshenko's name circulated Sunday as a possibility for acting prime minister pending May 25 presidential elections, but she issued a statement via her party Sunday asking her supporters not to nominate her for the position.
The disintegration of
Yanukovych's government
marks a setback for the Russian president, Vladimir Putin, who had counted on the Ukrainian leader to bring the country into a Eurasian union of former Soviet-bloc nations. A senior security source said Yanukovych was still in Ukraine, but was unable to say whether he was in Kiev. An ally was quoted as saying he was in the country's generally pro-Russian east.