Post by Admin on Mar 8, 2014 1:47:33 GMT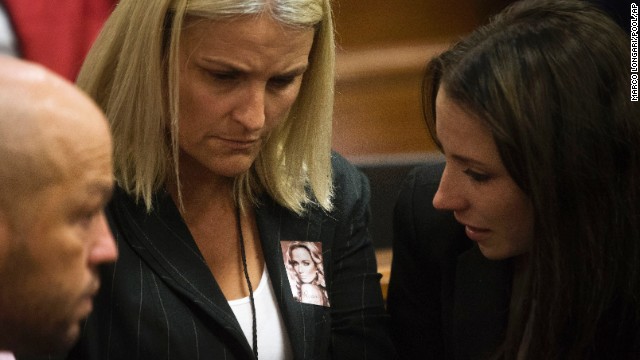 Pistorius' sister, Aimee, right, speaks with members of Reeva Steenkamp's family in Pretoria on March 6.
Oscar Pistorius fired a gun through the roof of a car in a fit of petulance after an argument with a police officer, his ex-girlfriend told a court on Friday. As the Paralympic sprinter stared coldly at her from the dock, Samantha Taylor testified that he carried a gun with him "all the time" when they were dating.
On one of these counts, Taylor, who was nervous and tearful on the witness stand, claimed that an angry Pistorius had fired his pistol out of a car's open sun-roof after a heated argument with a police officer in September 2012. Taylor said she, Pistorius and a friend, Darren Fresco, had been pulled over by a policeman for speeding. When he saw Pistorius's pistol lying on the car seat, the officer picked it up and emptied its magazine on to the floor of the car, prompting an outburst from Pistorius, she said.
When they were allowed to go on their way, Pistorius and Fresco started to joke about shooting out a "robot" – a South African term for a traffic light. "Oscar was very angry," said Taylor, who was sitting in the back seat at the time. "Thereafter they were joking around and saying they wanted to shoot a robot. Two minutes after, I saw Oscar take his gun and shoot out of the car roof. A very loud sound. They both laughed."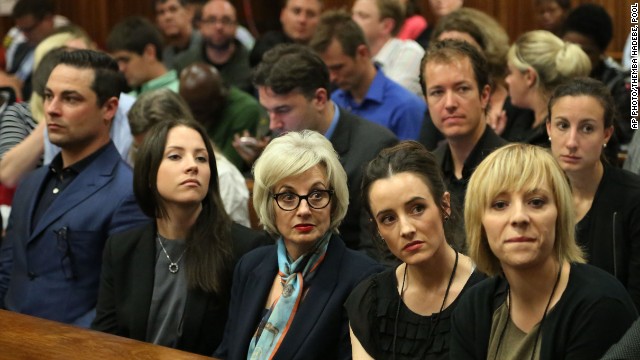 Pistorius' relatives wait inside the courtroom on March 3.
Taylor described two other incidents in which Pistorius drew his gun. The first was when he jumped out of his car at the gateway of his Pretoria housing complex and put his gun to the window of a black BMW that appeared to have been following him. The second was when he woke up in the middle of the night after hearing a bang in the bathroom.
"There was one occasion when something hit the bathroom window and Oscar woke me up and asked me if I heard it," Taylor said, noting that the noise had probably been generated by a passing storm. "He got up with his gun and walked out of the room." Taylor said she was 17 when she started dating Pistorius and spent four nights a week at his home. Asked why they broke up on 4 November 2012, Taylor told the court: "He cheated on me with
Reeva Steenkamp
."