Post by Admin on Jan 25, 2020 22:17:04 GMT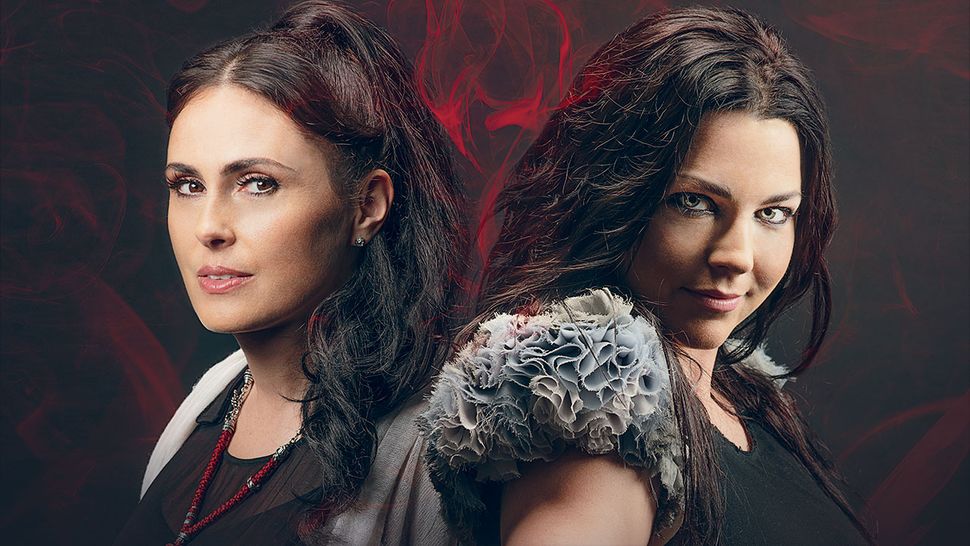 You shared a stage for the first time this week, but when did you guys first actually meet?
Sharon den Adel: "We met last year in… October was it, Amy?"
Amy Lee: "I can't remember exactly, but we met each other once last year. Within Temptation were very sweet and came to one of our concerts."
Really? It's surprising your paths didn't cross earlier…
Sharon: "It's quite strange that we didn't meet earlier, but I'm delighted that it did [finally] happen. I was happy to meet her finally after so many years. You don't know what to expect when you've never met someone before, but we had a really beautiful conversation."
Amy: "We started talking about the meaning of life within five minutes. This big, beautiful, vulnerable conversation – at least from my end I felt vulnerable, but I felt safe being vulnerable with you. I don't have a gazillion friends all over the world, I'm more of a one-on-one person.
"When you meet another woman who's in the rock or heavy music scene, we tend to cling to each other. We are like a little gang. I think about you sometimes and I think about that conversation and, this is going to sound a little bit weird because we have only met a couple of times, but I feel for you."
Sharon: "The same goes for me. I didn't know what to expect and then when I left, I was full of emotion with goosebumps everywhere."
In the early 00s, gothic and symphonic-influenced metal wasn't exactly at the forefront of the metal scene. Did you feel like unfashionable kids crashing the party?
Amy: "I didn't want to be fashionable. All the bands and musicians that I idolised were unique, they didn't sound like anyone else. That was the biggest struggle I ever had with the record label. They saw that as an obstacle. I have fought a lot of battles over the years to do it our way. Being an outcast is cool! All those people need a voice and I feel like there's more of us than them."
Sharon: "At the time we broke through, we were the 'new kids on the block', but we'd been around for a long time. We just outgrew the underground scene in Europe. People didn't know what to make of us. We were an underground band, filling all these venues."
What are your memories of the music industry at that time?
Amy: "We had a surreal moment when we won those two Grammys very early on in our career. We were there on the red carpet, and half the people weren't even coming up to ask us questions. Nobody knew who we were. All these famous people were hanging out like Fergie and 50 Cent."
Sharon: "A totally different world!"
Amy: "I didn't expect anything because we were up against 50 Cent. And then they called our name and I was like, 'Oh, shit.' I had to put my shoes on and scramble up there."
Sharon: "People didn't want to play us on the radio even though we had huge success with our album [The Silent Force] and everywhere we played was sold out. We had something called [TV channel] The Box in the Netherlands, where you could call in to request your favourite video, but they didn't want to put us up for selection.
"Then everybody started calling that came to our shows, so without telling us, they put us up for selection. It was all accounted for radio – because of The Box, we got to No.2, so they had to play us on the radio!"