Post by Admin on Feb 5, 2020 20:47:18 GMT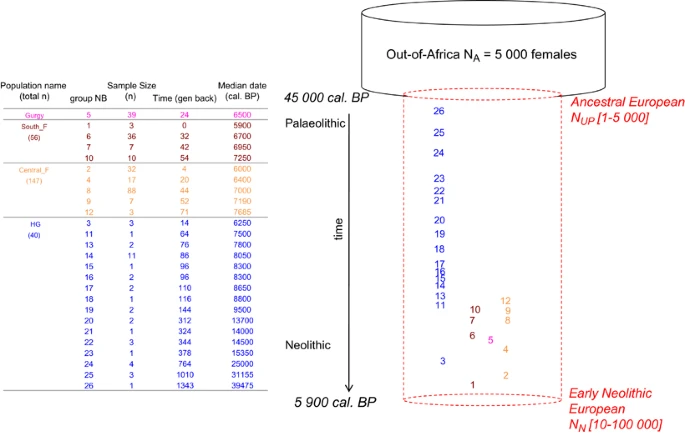 Figure 2
Demographic model simulated with the serial coalescent. Time is the median calibrated C14 years before present (cal BP) backward in time from 't0' and expressed in generations. 't0' refers to 5900 years cal. BP, the median C14 date of the youngest ancient mtDNA sample. Groups are numbered backward in time from the most recent to the most ancient. The dashed cylinder shows constant population size between NUP and NN, but the simulated population can undergo expansion or decline depending on the combinations of these parameter values.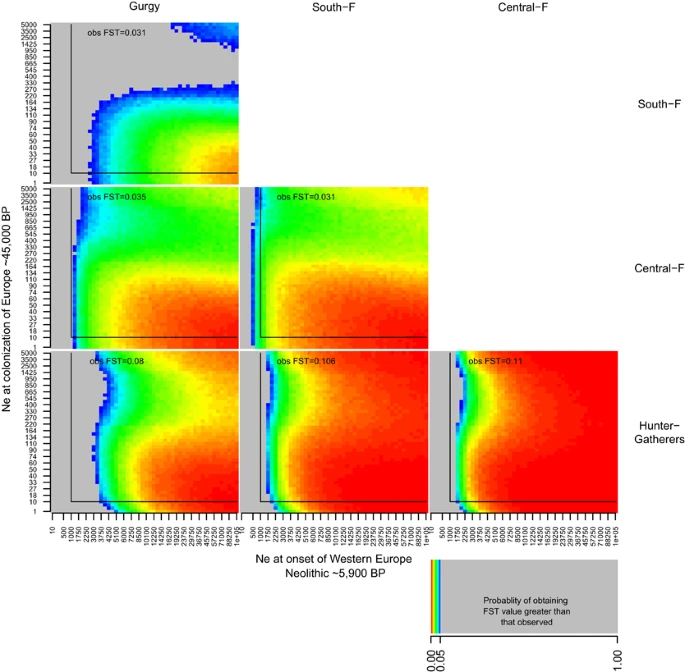 Figure 3
Probability of obtaining simulated FST value greater than that observed for the six pairwise population groups compared (see text for details). Corresponding observed pairwise FST are shown in the top left corner of each grid. The 50 × 50 grids show values of assumed effective population size NN on the x-axis and values of parameterized NUP on the y-axis (note that 25 values are shown on each axis for clarity, see Supplementary Table S2). The top right area delimited by vertical and horizontal black lines outline NN and NUP ranges, respectively, used in comparable studies.2, 11 Gray shows proportions of observed FST greater than observed (proportion >0.05), for which panmixia cannot be rejected. Color-scale represents significance level from blue (proportion lower or equal to 0.05) to red (proportion close to 0). Proportions were obtained over 50 000 simulated pairwise FST per combination of NN and NUP value. A full color version of this figure is available at the European Journal of Human Genetics journal online.
Following previous studies,2, 11 we performed serial coalescent simulations under a single panmictic population model with two demographic events: an initial colonization of Europe 45 000 years ago of female effective population size NUP, followed by exponential growth or decline to the Neolithic transition in Western Europe 5900 years cal. BP of female effective population size NN. Before NUP, we assume an ancestral female effective population size NA of 5000, derived from the commonly used long-term effective human population size of 10 000 individuals outside Africa13 and assuming a 1:1 female to male ratio. We explored 50 values for NUP ranging from 1 to 5000 and 50 values for NN ranging from 10 to 100 000 (Supplementary Table S2). We generated 50 000 mitochondrial genealogies of ancient HG and farmer sequences using fastsimcoal version 2.5.1 (ref. 12) under each of the 2500 NUP–NN combinations (Supplementary Table S2). We used a fixed mutation rate of 5 × 10-6/bp/generation,15 assuming a 25 years generation time. These simulated genealogies were used to compute expected pairwise FST values for the six sample comparisons (Figure 2). We recorded the proportion of simulated FST values that were greater than those observed per FST and parameter combination (Figure 3).
We also tested if the six observed pairwise FST values as well as eight within sample group statistic values (number of segregating sites and of pairwise differences) could be recovered from simulations under this simple model by performing an approximate Bayesian computation (ABC)-related approach16 (see details in SI). We used the rejection algorithm of the 'abc' package17 available in R to retain the parameter combinations that generated simulated pairwise FST the closest to the six observed values. Even though we provide some effective population size estimates, we caution against over-interpretation since there is likely insufficient information in the data to make precise estimates.