Post by Admin on Apr 20, 2020 5:57:24 GMT
RACING AGAINST A DEADLY PATHOGEN
On the train back to Wuhan on December 30 last year, Shi and her colleagues discussed ways to immediately start testing the patient samples. In the following weeks—the most intense and the most stressful time of her life—China's bat woman felt she was fighting a battle in her worst nightmare, even though it was one she had been preparing for over the past 16 years. Using a technique called polymerase chain reaction, which can detect a virus by amplifying its genetic material, the first round of tests showed that samples from five of seven patients contained genetic sequences known to be present in all coronaviruses.

Shi instructed her team to repeat the tests and, at the same time, sent the samples to another laboratory to sequence the full viral genomes. Meanwhile she frantically went through her own laboratory's records from the past few years to check for any mishandling of experimental materials, especially during disposal. Shi breathed a sigh of relief when the results came back: none of the sequences matched those of the viruses her team had sampled from bat caves. "That really took a load off my mind," she says. "I had not slept a wink for days."
By January 7 the Wuhan team determined that the new virus had indeed caused the disease those patients suffered—a conclusion based on results from polymerase chain reaction analysis, full genome sequencing, antibody tests of blood samples and the virus's ability to infect human lung cells in a petri dish. The genomic sequence of the virus—now officially called SARS-CoV-2 because it is related to the SARS pathogen—was 96 percent identical to that of a coronavirus the researchers had identified in horseshoe bats in Yunnan, they reported in a paper published last month in Nature1. "It's crystal clear that bats, once again, are the natural reservoir," says Daszak, who was not involved in the study.
To many, the region's burgeoning wildlife markets—which sell a wide range of animals such as bats, civets, pangolins, badgers and crocodiles—are perfect viral melting pots. Although humans could have caught the deadly virus from bats directly (according to several studies, including those by Shi and her colleagues2), independent teams have suggested in preprint3 studies that pangolins may have been an intermediate host. These teams have reportedly uncovered SARS-CoV-2–like coronaviruses in these animals, which were seized in antismuggling operations in southern China.
On February 24 the nation announced a permanent ban on wildlife consumption and trade except for research or medicinal or display purposes—which will stamp out an industry worth $76 billion and put approximately 14 million people out of jobs, according to a 2017 report commissioned by the Chinese Academy of Engineering. Some welcome the initiative, whereas others, such as Daszak, worry that without efforts to change people's traditional beliefs or provide alternative livelihoods, a blanket ban may push the business underground. This could make disease detection even more challenging. "Eating wildlife has been part of the cultural tradition in southern China" for thousands of years, Daszak says. "It won't change overnight."
In any case, Shi says, "wildlife trade and consumption are only part of problem." In late 2016 pigs across four farms in Qingyuan county in Guangdong—60 miles from the site where the SARS outbreak originated—suffered from acute vomiting and diarrhea, and nearly 25,000 of the animals died. Local veterinarians could not detect any known pathogen and called Shi for help. The cause of the illness, called swine acute diarrhea syndrome (SADS), turned out to be a virus whose genomic sequence was 98 percent identical to a coronavirus found in horseshoe bats in a nearby cave.
"This is a serious cause for concern," says Gregory Gray, an infectious disease epidemiologist at Duke University. Pigs and humans have very similar immune systems, making it easy for viruses to cross between the two species. Moreover a team at Zhejiang University in the Chinese city of Hangzhou found the SADS virus could infect cells from many organisms in a petri dish, including rodents, chickens, nonhuman primates and humans. Given the scale of swine farming in many countries, such as China and the U.S., Gray says, looking for novel coronaviruses in pigs should be a top priority.
Although the Wuhan outbreak is the sixth one caused by bat-borne viruses in the past 26 years —the other five being Hendra in 1994, Nipah in 1998, SARS in 2002, MERS (Middle East respiratory syndrome) in 2012, and Ebola in 2014—"the animals [themselves] are not the problem," Wang says. In fact, bats help promote biodiversity and the health of their ecosystems by eating insects and pollinating plants. "The problem arises when we get in contact with them," he says.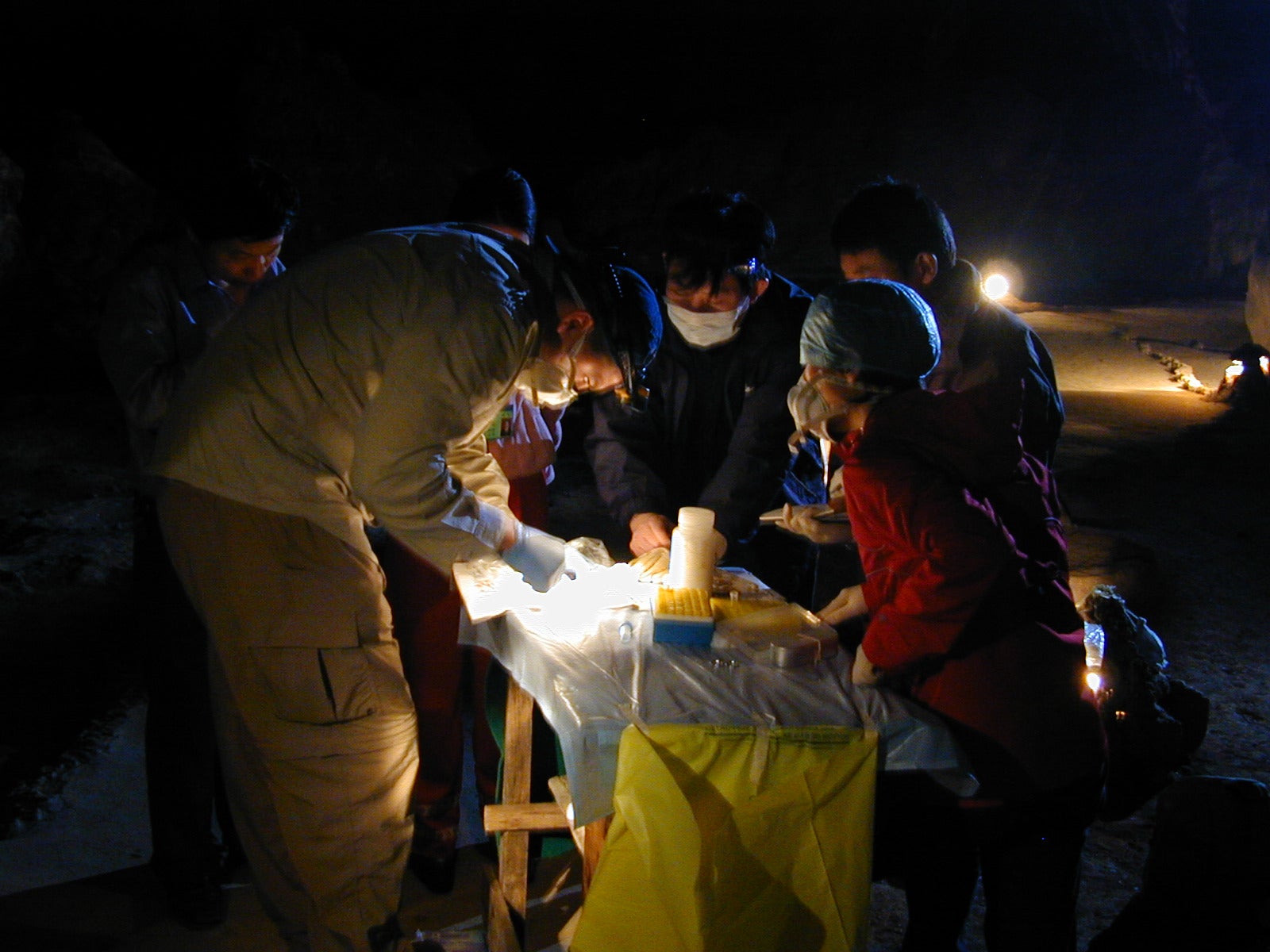 FENDING OFF FUTURE OUTBREAKS
More than two months into the epidemic—and seven weeks after the Chinese government imposed citywide transportation restrictions in Wuhan, a megacity of 11 million—life feels almost normal, Shi says, laughing. "Maybe we are getting used to it. The worst days are certainly over." The institute staffers have a special pass to travel from home to their laboratory, but they cannot go anywhere else. For more than a month, they had to subsist on instant noodles during their long hours in the lab because the institute's canteen was closed.
The researchers found that the new coronavirus enters human lung cells using a receptor called angiotensin-converting enzyme 2 (ACE2). The scientists have since been screening for drugs that can block it. They, as well as other research groups, are also racing to develop vaccines and test promising candidates. In the long run, the team plans to develop broad-spectrum vaccines and drugs against coronaviruses deemed risky to humans. "The Wuhan outbreak is a wake-up call," Shi says.
Many scientists say the world should move beyond merely responding to deadly pathogens when they arise. "The best way forward is prevention," Daszak says. Because 70 percent of animal-borne emerging infectious diseases come from wild creatures, "where we should start is to find all those viruses in wildlife globally and develop better diagnostic tests," he adds. Doing so would essentially mean rolling out what researchers such as Daszak and Shi have been doing on a much bigger scale.
Such efforts should focus on high-risk viral groups in certain mammals prone to coronavirus infections, such as bats, rodents, badgers, civets, pangolins, and nonhuman primates, Daszak says. He adds that developing countries in the tropics, where wildlife diversity is greatest, should be the front line of this battle against viruses.
In recent decades, Daszak and his colleagues analyzed approximately 500 human infectious diseases from the past century. They found that the emergence of new pathogens tended to happen in places where a dense population had been changing the landscape—by building roads and mines, cutting down forests and intensifying agriculture. "China is not the only hotspot," he says, noting that other major emerging economies, such as India, Nigeria and Brazil, are also at great risk.
Once potential pathogens are mapped out, scientists and public health officials can regularly check for possible infections by analyzing blood and swab samples from livestock, wild animals that are farmed and traded, and high-risk human populations, such as farmers, miners, villagers who live near bats, and people who hunt or handle wildlife, Gray says. This approach, known as "One Health,", aims to integrate the management of wildlife health, livestock health, and human health. "Only then can we catch an outbreak before it turns into an epidemic," he says, adding that the approach could potentially save the hundreds of billions of dollars such an epidemic can cost.
Back in Wuhan, China's bat woman has decided to retire from the front line of virus-hunting expeditions. "But the mission must go on," says Shi, who will continue to lead research programs. "What we have uncovered is just the tip of an iceberg." Daszak's team has estimated that there are as many as 5,000 coronavirus strains waiting to be discovered in bats globally. Shi is planning a national project to systematically sample viruses in bat caves—with much greater scope and intensity than her team's previous attempts.
1.
www.nature.com/articles/s41586-020-2012-7
2.
www.nature.com/articles/nature12711
3.
www.biorxiv.org/content/10.1101/2020.02.13.945485v1