Post by Admin on Jun 26, 2021 19:44:35 GMT
Health Secretary Matt Hancock has admitted breaking social distancing guidance after pictures of him kissing an aide were published in a newspaper.
He said he had "let people down" after photos emerged of him with Gina Coladangelo - whom he appointed - and he was "very sorry".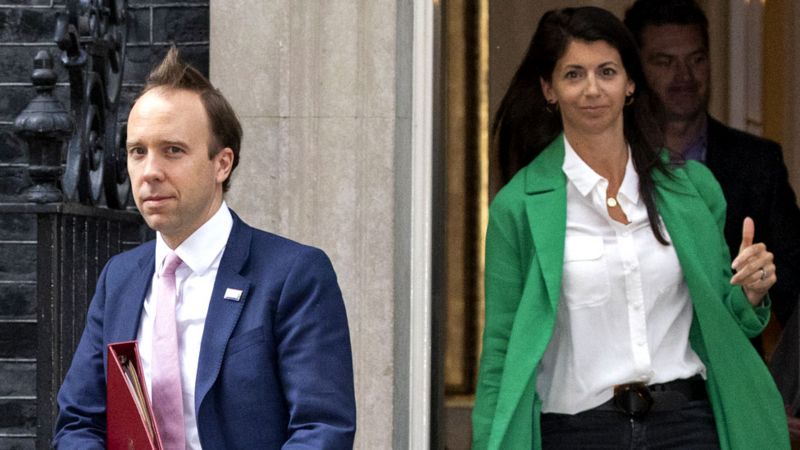 Labour urged the PM to sack Mr Hancock, calling his position "untenable".
But Downing Street said Boris Johnson accepted Mr Hancock's apology and considered the matter closed.
A spokesman added that the prime minister had full confidence in the health secretary.
The Sun reported that its pictures of Mr Hancock and Ms Coladangelo, who are both married with three children, had been taken inside the Department of Health on 6 May.
Social distancing at work is not a legal requirement, but the government recommends that people keep 2m apart where possible - or 1m with "risk mitigation", such as standing side-by-side or wearing masks.
Housing Secretary Robert Jenrick said his cabinet colleague was "right to apologise", telling BBC Radio's 4 Any Questions programme: "There's a task to be done. Matt is on the job doing that, and I think we should allow him to get on with the job."
He added: "The rules have been hard. It is everybody's duty to follow the rules, but equally I've not been somebody who has criticised and condemned people when they've made mistakes."
Labour's Emily Thornberry, the shadow international trade secretary, told the same programme that Mr Hancock's actions showed "an arrogance that they believe they're above the law", adding that "he should have gone a long time ago".
"What we're talking about is somebody breaking the rules for which they were personally responsible - where they were on television night after night telling us that we weren't allowed to have intimate contact with people from outside our households," she said.
And a Labour spokesperson said the matter was "definitely not closed, despite the government's attempts to cover it up".
The government believes no laws were broken because Mr Hancock and Ms Coladangelo were both in the department for legitimate work purposes, sources say.
Boris Johnson doesn't do ministerial resignations.
He resists calls from the opposition, the media - and even his own colleagues.
His then aide Dominic Cummings wasn't sacked last spring for his 260-mile trip to Durham during lockdown.