Post by Admin on Mar 18, 2020 22:22:19 GMT
The French president addressed the nation on Monday night, declaring "we are at war" and announcing tough new measures to try and halt the spread of the virus and prevent health services from being overwhelmed.
Stay home and avoid contact
This is the big one. Everyone in France has been ordered to stay inside their homes, venturing out only for essential reasons. The restrictions start at 12 noon on Tuesday, March 17th.
At present the restriction is only for 15 days, but the president made it clear this could be extended if necessary.
People will be allowed to venture outside, but only for good reasons - some mentioned were food shopping, medical appointments and exercise, although that must be done alone.
Going out to meet friends and family will no longer be possible, the president told the country.
People who cannot work from home will also be permitted to travel for work, although earlier closures of shops, bars and cafés will mean people do not have work to go to.
People breaking these restrictions will face a fine of up to €135.
Anyone outside will need to present a certificate, available to download from the government's website tonight, stating their reason for being out (although a hand written version could be accepted for those people who do not have printers).
Remote working
All businesses will be required to organise for their employees to work from home if at all possible, and adapt their business practices if necessary. Employees whose work genuinely cannot be done remotely are still permitted to travel to work.
Army deployed
Military personnel will be deployed to help health services in the Alsace region - the worst affected area of France where hospitals and medical services are severely stretched.
Contrary to rumours swirling throughout the day, France is not being put under martial law and soldiers will not for the moment be enforcing curfew measures.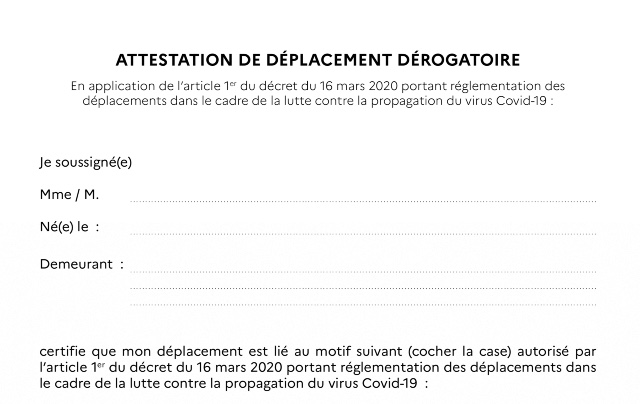 Macron said the European Union would close all external borders for 30 days from Tuesday at noon to curb the outbreak, though citizens of EU countries would be allowed to return.
For the moment, the UK is exempt from this ban. Travel between countries in the EU would still be possible, although many individual countries have imposed total or partial border closures.
Financial help
France had already announced a package of financial measures for both businesses and employees hit by the crisis, but these have now been stepped up further with the creation of a €300m fund for businesses - many of which face weeks of zero profits as they are not able to open.
In addition to the already announced tax breaks, businesses can also suspend payments on rent, gas and electricity.
The 'partial unemployment' scheme has also been greatly enlarged so that anyone not able to work because of the crisis can claim benefits, while still having their job held open for them when things return to normal. Employers are barred from firing employees during this period.
Domestic travel restrictions - this is pretty much covered by the 'essential trips out only' rule, but Castaner has clarified that trips out includes both pedestrians and people in cars. Roadblocks will be set up on major and secondary roads and people will need to be able to justify their journey.
At present rail service SNCF have reduced services around France, but they are still running. These look likely to be reduced further. City transport operators have also reduced some services, largely due to the school closures that have forced many parents to stay at home, but essential workers are still permitted to commute to work.
There is no restriction on where people can wait out their lockdown period, unlike in Norway where people fleeing to second homes in the countryside have been ordered back to the cities in order not to overwhelm rural health services.