Post by Admin on May 2, 2020 20:34:32 GMT
State leaders are considering reopening economies and allowing people to leave their homes, but more and more Americans appear to be doing so on their own.
Emerging data suggest that though people dramatically altered their habits to stay at home during the first month of America's response to the pandemic, that cooperation has since leveled off and — eventually — decreased. This could point to long-term challenges for state governments asking citizens to cooperate with extended stay-at-home policies.
The data, provided to NPR by a mobile phone location data company called SafeGraph, is based on the locations of about 18 million mobile phones across the country. NPR's analysis determined the percentage of cellphones that did not leave their "home" location daily in every U.S. county.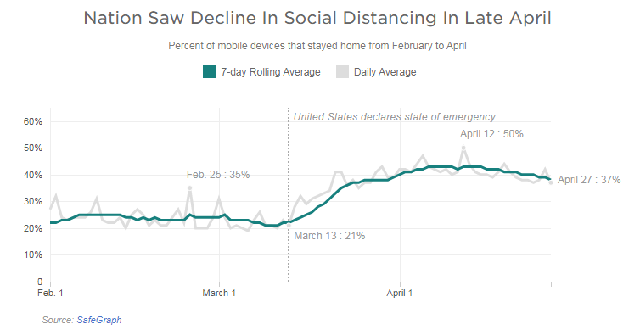 About 50% of those mobile phones that SafeGraph had data on stayed home on April 12, which was Easter — the highest point in the data. That number hasn't since come anywhere close, showing a steady decline with the most recent numbers showing that less than 40% stayed home on April 27.
The trend, SafeGraph says, is consistent across the entire country, though the degree to which movement is increasing is different. Some counties showed extreme drop-offs in social distancing, while some showed more mild curves.
"Regardless of what the orders say or the governors say, we're seeing the whole country softening up," says Nick Singh, a marketing lead at SafeGraph.
The data provided was anonymized, meaning the locations of exact devices were hidden, with only general trends shown. Companies collecting mobile phone locations have been criticized over privacy concerns, though several have provided their data to researchers during the coronavirus crisis. The data from SafeGraph, which says it tracks only users who have "opted in" via mobile apps, was cited by the Centers for Disease Control and Prevention in an April report on COVID-19.