Post by Admin on Jun 25, 2014 5:56:43 GMT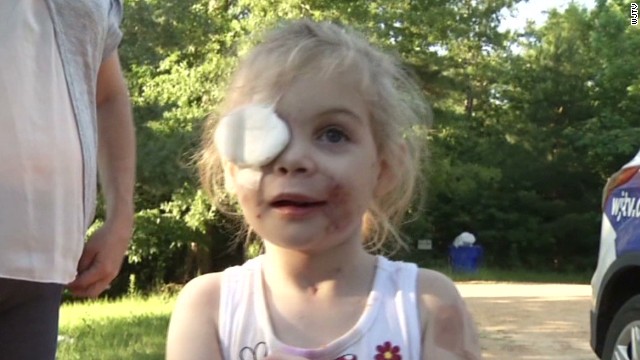 There is no evidence to support a family's claim that a scarred 3-year-old girl was asked to leave a KFC in Jackson, Mississippi, because she was scaring customers, KFC said Tuesday. Victoria Wilcher was badly scarred in April in a pit bull attack. Her grandmother, Kelly Mullins, had told CNN affiliate WAPT that she took Victoria to a Jackson KFC after a doctor's appointment, and a restaurant employee asked them to leave because the girl's scars frightened other diners. Two investigations took place, including one by an independent investigator, and neither revealed any evidence that the incident occurred, KFC spokesman Rick Maynard said in a statement e-mailed to CNN.
The family-maintained Facebook page called Victoria's Victories was taken down Tuesday, but before that happened, this statement was posted: "I promise its not a hoax, I never thought any of this would blow up the way it has. ... Please do not believe untrue media. I have personally watched this family go without to provide for Victoria. They have not and would not do anything to hurt Victoria in any way."
After the family's story became public, donations poured into the family's fund-raising effort at
www.gofundme.com
. KFC apologized on the family's Facebook page and donated $30,000 for Victoria's treatment. The CEO of the fund-raising webpage GoFundMe, Brad Damphousse, issued a statement Tuesday suspending the campaign and offering to refund donations. "In lieu of the ongoing uncertainty surrounding the 'Victoria's Victories' online fundraising effort, GoFundMe has temporarily suspended the campaign until the full truth is made clear," the statement said.
Some of the Facebook users commenting on the statement did not believe the story, however. 'This is the sad reality of the world,' Olivia Normand wrote. 'People use what they can to get what they want. Time to move on.' Victoria had been injured in April when three of her grandfather's pit bull dogs ran into his home in Simpson County by ripping through the back door of the home before jumping on her. They dragged the little girl outside into the backyard, where they continued to maul her before her grandfather, Donald Mullins, and his girlfriend, Rita Tompkins, attempted to stop the carnage.
The dogs then attacked their owners, causing Mullins to shoot them. Two of the dogs were killed. Victoria was rushed to the emergency room. She suffered a shattered top and bottom jaw, broken cheekbones and eyesockets, a broken nose, lost her right eye, and lost the ability to move the right side of her face. Mullins and Tompkins were arrested on charges of child endangerment and their eight surviving pit bulls were seized by Animal Control officers. Victoria was in the hospital for a month after the attack and upon her return home, she continued with physical therapy and wore a feeding tube. Before the story hit the headlines, a gofundme.com site for Victoria had raised only $600, but since then more than $135,000 has been raised.