Post by Admin on Apr 23, 2020 8:26:15 GMT
In an effort to curb the spread of the coronavirus outbreak, many countries imposed lockdown restrictions on public life, prompting the closure of schools, restaurants and businesses deemed non essential.
Instead of imposing strict social-distancing policies like most of the world, Sweden aimed at keeping public life as open as possible, allowing for some exposure to the virus to build immunity among its population.
Sweden's government has banned gatherings of more than 50 people, stopped visits to retirement homes, and advised Swedes to work from home and avoid bars and restaurants. But on the streets of Malmo on Saturday, there were still plenty of people out and about.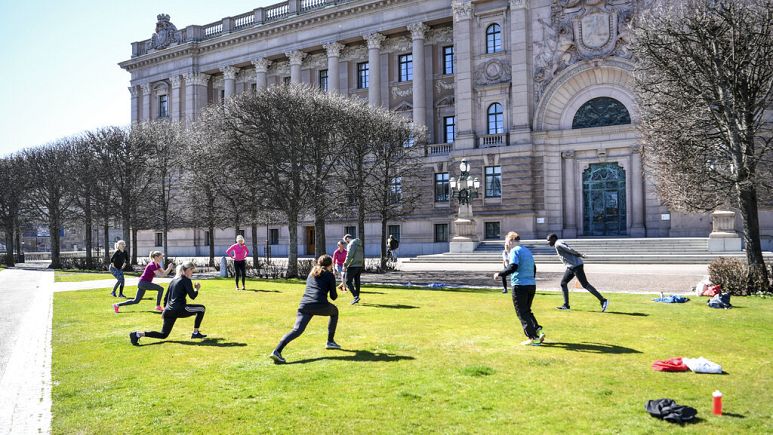 Sweden rolled out voluntary measures, advising older people and others particularly vulnerable to the virus to avoid social contact. It also recommended people work from home, wash their hands regularly and avoid nonessential travel. But the country's borders stayed open, along with some schools and many businesses.
Now Sweden's chief epidemiologist says "herd immunity" could be reached in Stockholm in the coming weeks, according to CNBC.
"In major parts of Sweden, around Stockholm, we have reached a plateau [in new cases] and we're already seeing the effect of herd immunity, and in a few weeks' time we'll see even more of the effects of that. And in the rest of the country, the situation is stable," Dr. Anders Tegnell, chief epidemiologist at Sweden's Public Health Agency told CNBC Tuesday.
Herd immunity is when a high proportion of the population is immune to an infection, and usually occurs with a vaccine. There's currently no vaccine for the coronavirus that causes COVID-19, and scientists are investigating whether exposure and recovery from the coronavirus leads to long-term immunity.
Tegnell told CNBC data indicate 20 percent of Stockholm's population is already immune to the virus, and that "in a few weeks' time we might reach her immunity and we believe that is why we're seeing a slow decline in cases, in spite of sampling [testing for the coronavirus] more and more."
"Unfortunately the mortality rate is high due to the introduction in elderly care homes and we are investigating the cause of that," Tegnell told CNBC.
The country, with a population of roughly 10 million, has more than 16,000 confirmed cases, most in Stockholm and surrounding areas. The number of cases in Sweden is nearly double that of Denmark and Finland, which have put lockdown measures in place. Both Denmark and Finland have populations about half of Sweden's. Sweden has recorded more than 1,900 deaths.
Sweden's strategy has stirred some controversy, as some health experts have criticized the approach. Some even liken it to playing Russian roulette with public health, CNBC reports. More than 20 high-profile scientists last week wrote in a Swedish newspaper that public-health authorities had failed, and urged politicians to step in with stricter measures, according to Nature.
"Closing borders, in my opinion, is ridiculous," Tegnell told Nature. "Because COVID-19 is in every European country now. We have more concerns about movements inside Sweden. As a society, we are more into nudging: continuously reminding people to use measures, improving measures where we see day by day that they need to be adjusted. We do not need to close down everything completely because it would be counterproductive."
In the United States, protests have erupted in some states, urging governors to rollback stay-at-home orders that have shuttered businesses causing millions of people to be laid off or furloughed. President Trump has thrown his support behind rolling back such restrictions, while some public health officials and those in the president's administration have warned doing so too soon could result in another wave of cases.
Sweden's government continues to follow the guidelines of the country's public health agency, spearheaded by state epidemiologist Anders Tegnell. Tegnell has said that the likelihood of a shutdown decreases day by day and the agency has been emphasising the effectiveness of the current restrictions.
"One advantage [of the Swedish strategy] is that the more voluntary restrictions can be upheld for a longer time," assistant state epidemiologist Anders Wallensten told Euronews. "If you close society completely, there is more stress on the economy. This is probably more acceptable by the people in general."
The primary goal of the strategy is to protect the most at-risk groups in society while also keeping institutions such as schools going, said the director of Sweden's public health agency, Karin Tegmark Wisell, in a recent interview on Swedish radio. "The Swedish strategy is not about achieving herd immunity, even though that would help the development in Sweden," she added.