Post by Admin on May 10, 2020 0:14:24 GMT
UNICEF USA will host their first ever streaming event on Saturday, May 9th at 8pm ET. "UNICEF Won't Stop" will highlight UNICEF's COVID-19 response, frontline workers and experts and the children UNICEF serves. The hour long special will be free to all and feature musical performances and celebrity appearances. The broadcast will air on
www.unicefwontstop.org
and on YouTube at
www.youtube.com/unicefusa
"UNICEF Won't Stop" will highlight the organization's COVID-19 response, frontline workers, and experts of the pandemic, as well as the children UNICEF serves. The show will feature 11 musical performances and celebrity appearances, including Cher, Chloe x Halle, Pink, Sheryl Crow, Sting, Salma Hayek, Pablo Alborán, a virtual reunion of the Eurythmics with Annie Lennox and Dave Stewart. and much more.
Cher will debut an exclusive performance of her new single, a Spanish language version of ABBA's "Chiquitita". Proceeds from the song "Chiquitita" have benefited UNICEF's work since the 1979 Music for UNICEF Concert.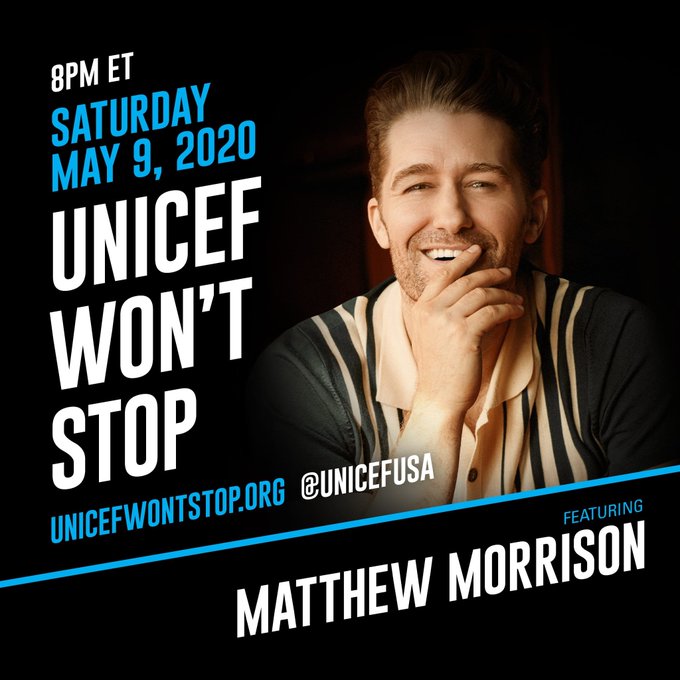 I'm thrilled to join @unicef in UNICEF WON'T STOP, a one night only virtual tour of the World and the heroic work that UNICEF does #ForEveryChild. I'll have a special performance for you as well. Tune in Sat, May 9 at 8pm ET / 5pm PT at
unicefwontstop.org
#UNICEFWontStop
"I am so proud to premiere this new version during the broadcast of UNICEF Won't Stop," said Cher. "I've long admired UNICEF, especially for their work with young women since I was a little girl. Now, more than ever, it's critical that we prioritize every child around the world as if they were our own."
There will be additional performances by UNICEF Goodwill Ambassador Angélique Kidjo as well as Peter Frampton, Il Volo, Luke Islam, Matthew Morrison, Musicality, Jordin Sparks, Rob Thomas and more.
Other event participants include UNICEF Ambassadors P!NK, Téa Leoni, Halima Aden and Pau Gasol, UNICEF Supporters Jenna Bush Hager, Sofia Carson and Laurie Hernandez as well as Morgan Freeman, Björn Ulvaeus and more. Emma Kathleen Hepburn Ferrer, granddaughter of UNICEF Goodwill Ambassador Audrey Hepburn, will pay tribute to her grandmother. UNICEF Won't Stop will be executive produced by Erich Bergen who recently produced the star-studded "Saturday Night Seder" and the online revival of "The Rosie O'Donnell Show."