Post by Admin on Jun 23, 2020 2:28:30 GMT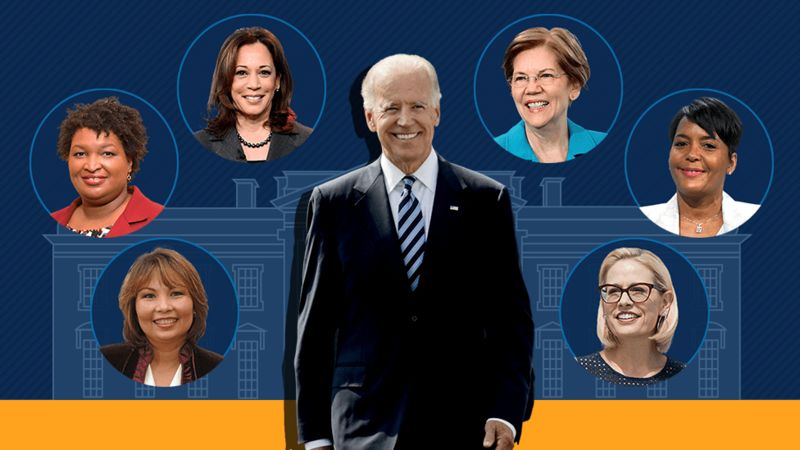 If the former vice-president follows through with his pledge, it would mark only the third time a major party has selected a woman for the number two spot - four years after Hillary Clinton became the first woman to be a presidential nominee.
The move would suggest the Democrats are looking to secure the advantage they have among female voters according to polls, and perhaps insulate Biden from allegations that he engaged in unwanted physical contact with women.
Biden has said he will announce his choice in early August. In the meantime, here are the current top contenders - and how they stack up.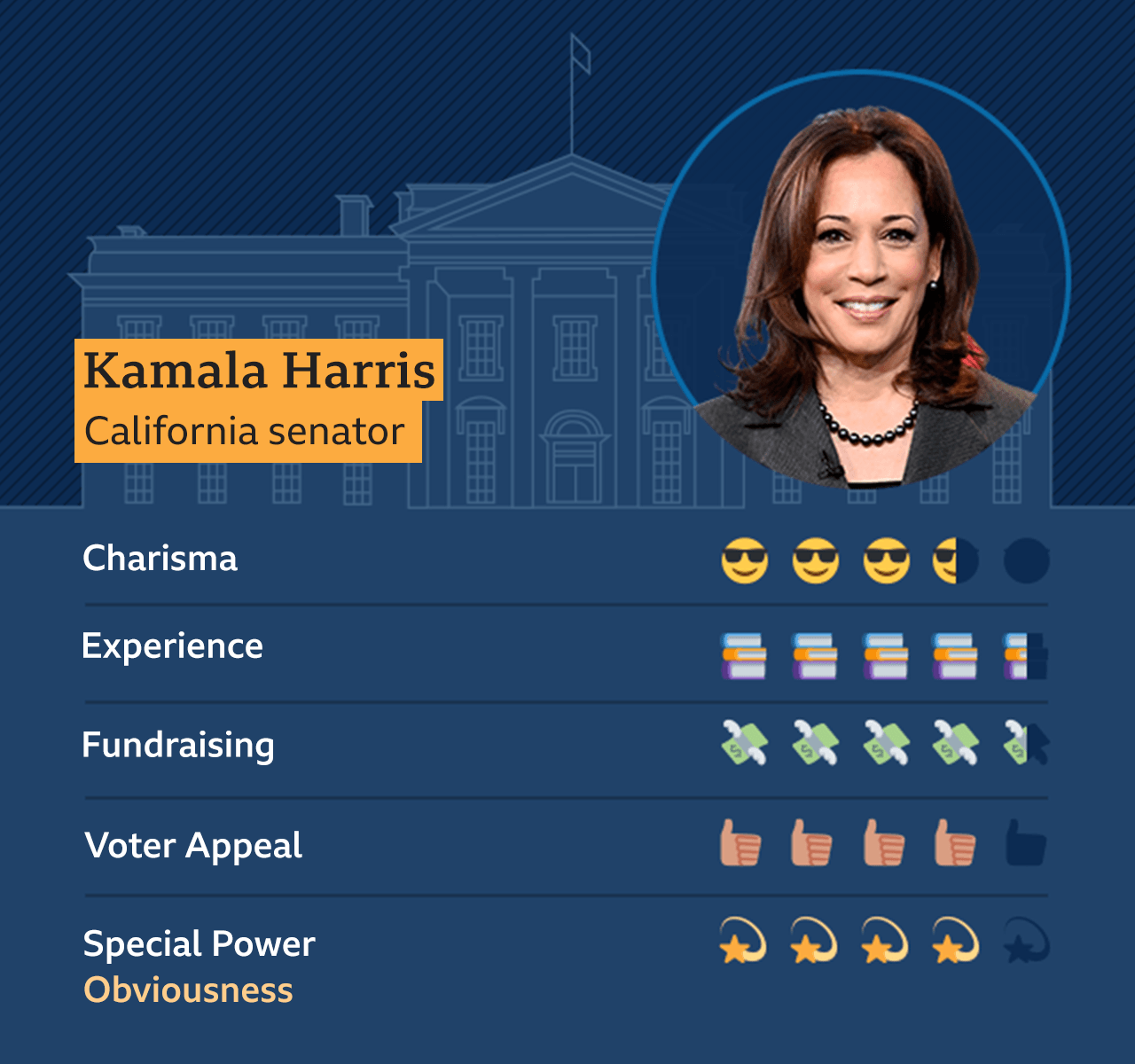 Kamala Harris is widely considered the front-runner. She has a resume that includes time in the US Senate and as California's attorney general, as well as San Francisco's district attorney. She has a diverse background, with a mother from India and father from Jamaica. She's at least been somewhat vetted by the national media, given that she ran for president last year and was considered, for a time, as a top-tier candidate.
She did have a dust-up with Biden in the first primary debate last June, where she suggested his past views against desegregating schools through mandatory busing was hurtful, but that was a lifetime ago in modern US politics.
Harris brings access to California money (she raised $2m for Biden in a recent virtual event), she's quick on her feet, and she would satisfy those who are calling for Biden to add a black woman to the ticket. She has won praise from a wide range of Democrats for being an outspoken advocate for police reform during the recent mass demonstrations. Biden-Harris felt like the obvious ticket a year ago - and it still does.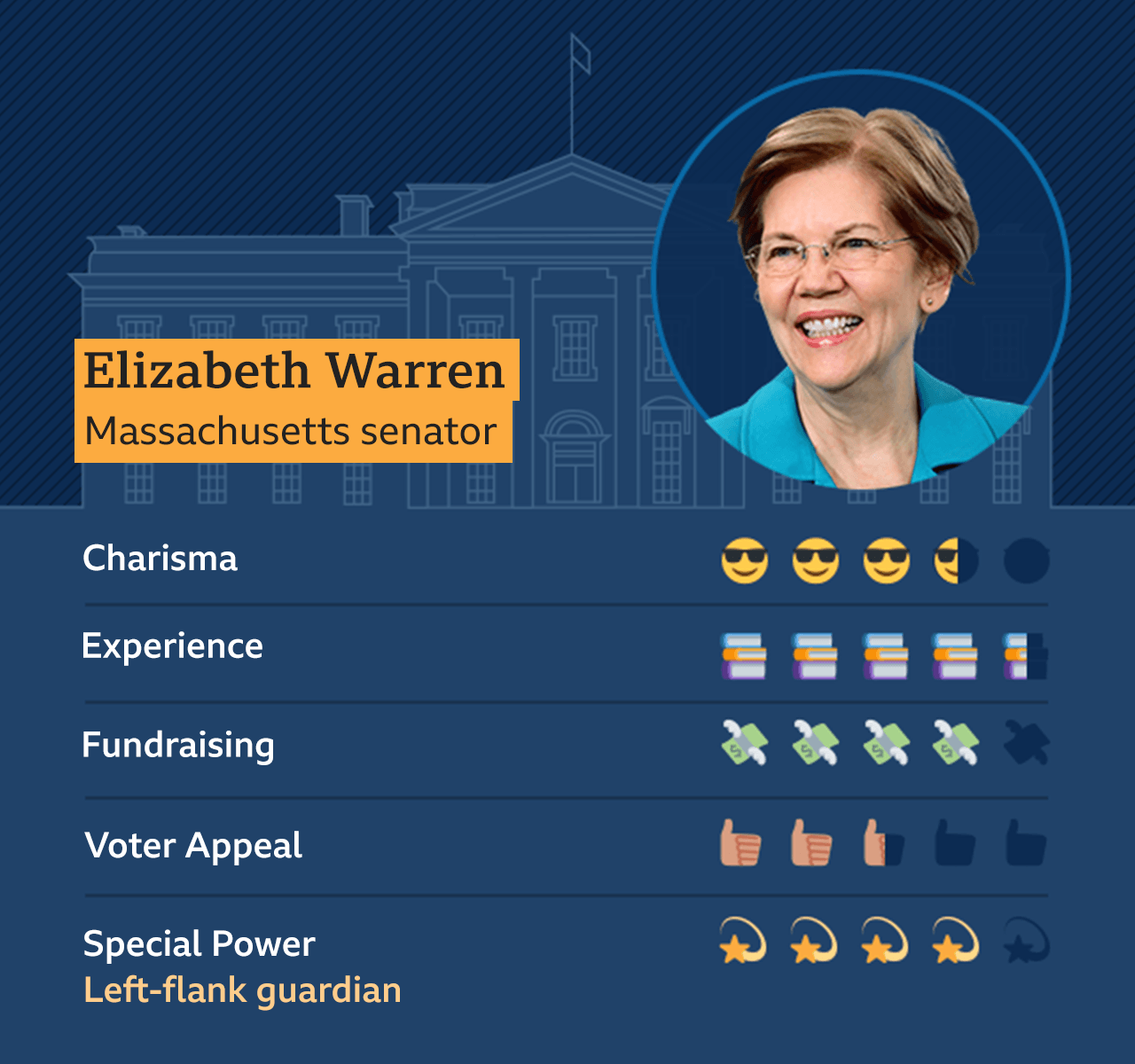 Elizabeth Warren's campaign for the Democratic presidential nomination is a story of what might have been. Her "I have a plan for that" mantra seemed to strike a chord with Democrats, and she led the polls for months in mid-2019, drawing enthusiastic crowds and cruising through the early debates with seeming ease. Then her support faded, as many progressives drifted back to Bernie Sanders, while moderates opted for younger candidates like Pete Buttigieg.
Many progressives expected her to endorse Sanders when she dropped out of the race in early March, so her decision to hold back may have earned her some appreciation from the Biden team.
Now they have the opportunity to return the favour by offering Warren the running-mate spot. While there was some friction between the Sanders and Warren camps, Warren would still be a significant signal that Biden wants to reach out to his party's left wing - and govern as more of a progressive than he let on during the campaign.
With the nation facing a serious economic crisis, Warren could lend some liberal policy heft to the Democratic ticket.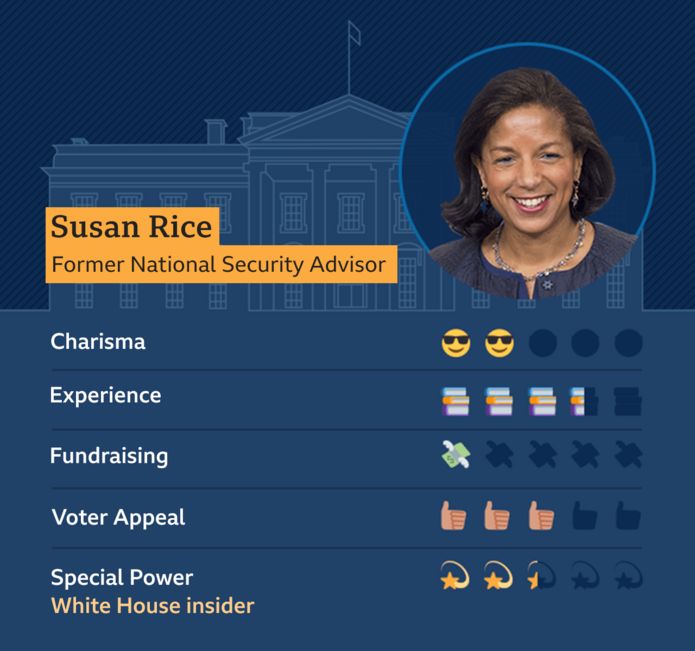 Susan Rice is a bit of a surprise entry on this list, given that she has no experience holding elected office or campaigning in general, and is a relative unknown for most Americans. The diplomat is well-known to Biden, however, as she served in the Obama White House with him as national security adviser after a stint as the US representative to the United Nations.
If Rice is the pick, she could play a key role in a Biden foreign policy team, suggesting that international relations will be a focus for his administration.
Rice was a lightning rod for criticism during her Obama years, however. Republicans accused her of deceiving the American public about the reasons behind the 2012 attack on the US consulate in Benghazi that resulted in the death of the US ambassador to Libya and three other Americans.
Reports that the Biden team has already vetted Rice for the vice-presidential slot suggests the campaign is casting a wide net in looking for a black woman running mate.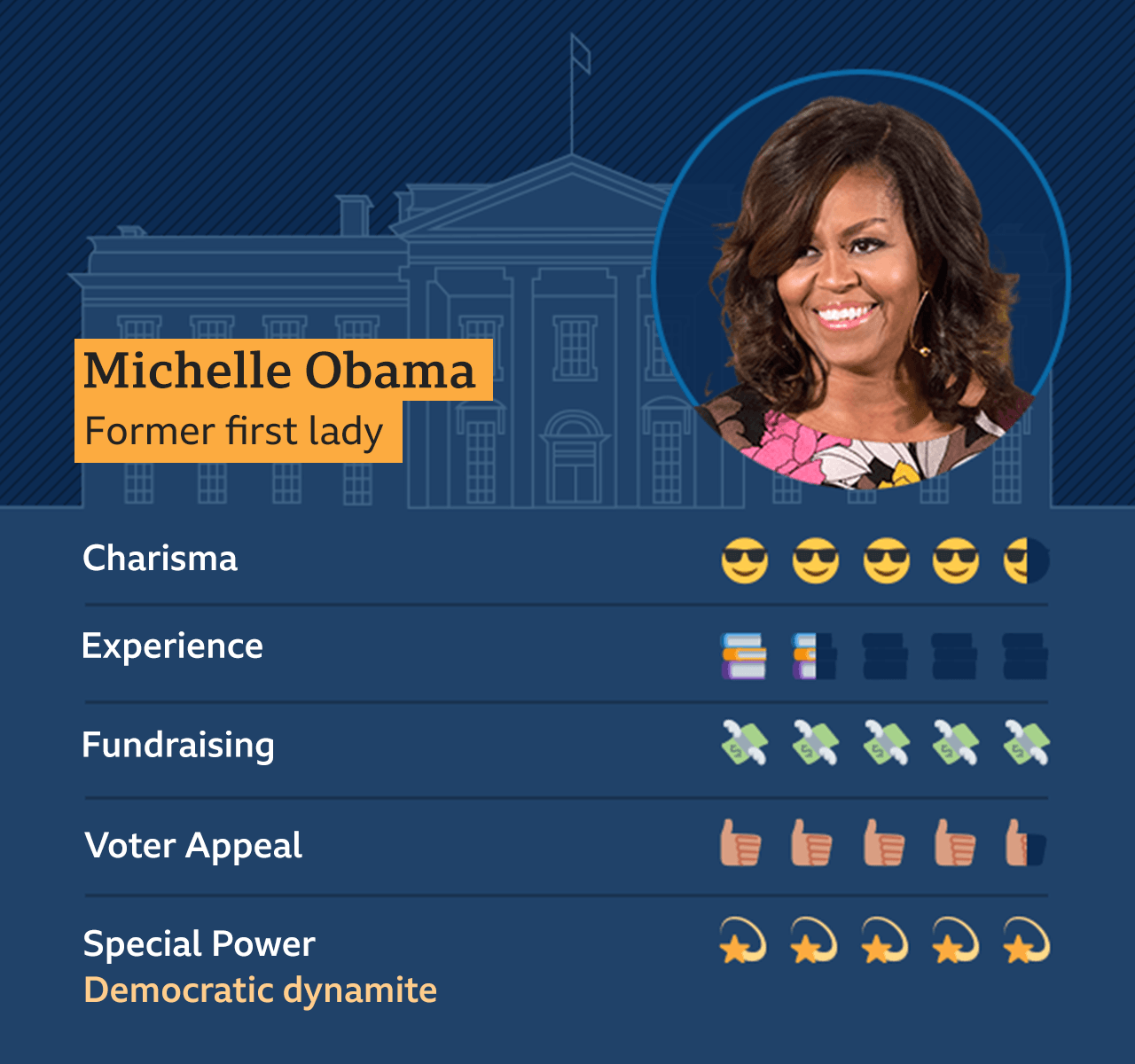 The traditional first rule for selecting a vice-president is to do no harm. Given that the choice doesn't offer much of a boost to the ticket, the theory goes, it is better to pick someone safe, who minimises the risk of embarrassment and won't overshadow the presidential nominee.
Most of the other candidates on this list fall somewhere on the "very safe" to "mostly safe" spectrum. Former US First Lady Michelle Obama is in a category by herself.
She's beloved by a large swathe of the American public and is a near universally recognisable figure. Yes, she might steal the stage from Biden, but what better way for Biden to cast himself as the continuation of Obama's presidential legacy than to put his wife on the ticket?
A Biden-Obama ticket would electrify the Democratic base - particularly black voters who turned out in record numbers for Obama-Biden in 2008 and 2012.
The only kink in such a bold plan is that Michelle Obama has shown less than zero interest in entering politics. In her autobiography she frequently complained about the toll her husband's political career took on her life and marriage - and she seems very happy to have those travails in the rear-view mirror.