Post by Admin on Jul 26, 2020 23:58:07 GMT
In the ongoing search for genes underlying social behavior, none has sparked more curiosity, if not controversy, than the gene that codes for monoamine oxidase A — MAOA. Nicknamed the "warrior gene," a variant of the MAOA drew international attention nearly a decade ago when geneticist Rod Lea reported1 that it was more common in Maori — the indigenous Polynesians of New Zealand — than in whites. According to one journalist, Lea suggested this gene might be the source of poor health and increased rates of violent crime in Maori.
Since the 1990s scientists have identified several versions of the MAOA, which are usually categorized as low-activity or high-activity variants. MAOA genes are classified based on how many times a short sequence — a functional strip of DNA — repeats itself within a variable region of the gene . The most common variant, MAOA-4R, has four repeats and is associated with high-activity breakdown of neurotransmitters. Alternate forms of the MAOA, including the 2-repeat (2R) and 3-repeat (3R) versions, contain fewer repeat sequences.
The 2R and 3R variants are often lumped together in studies of the low-activity MAOA gene. (Although the 5R version has a large number of repeats, it too is less active than the 4R version.) The two classes of MAOA versions correlate with different behavioral tendencies. Low-activity variants are thought to lead to reduced levels of MAOA in the brain, possibly shifting mood by changing serotonin levels.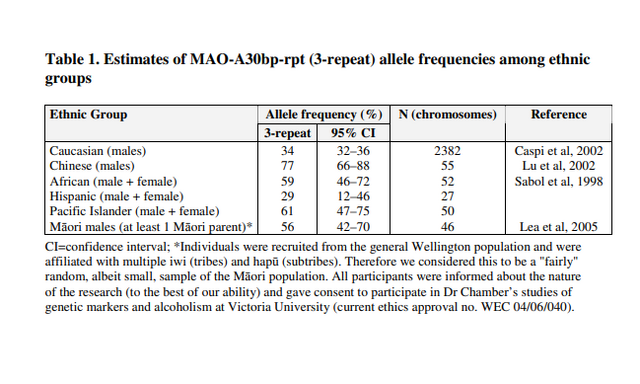 Historically, warfare was a central part of traditional Maori culture because, after all, these South Pacific islanders had to compete vigorously for limited natural resources. Today, some Maori are integrated into New Zealand society. Yet, overall they still lag behind other ethnic groups in their country in income, education, and health, and crime rates are higher. For many experts, this ethnic gap is the result of numerous environmental causes, including poverty. In 2006, Lea reported that MAOA-3R — one of the low-activity risky variants — was more common in Maori males than in white males. According to Lea, the 3R version was associated with a lineup of undesirable personality traits: risk-taking, violence, aggression, gambling, addiction and criminal behavior.
MAOA-3R — the "original warrior gene" — was the first gene linked with antisocial characteristics. But Maori were not the only ethnic group with a high frequency of this variant. It turned out that while 3R was found in 56% of Maori males, it occurred in 58% of African American males and 34% of European males. Misinterpreted by the media, the 3R variant quickly became a lead character in a pop science narrative intended to explain why certain racial groups appear to have increased tendencies toward violence. When a disproportionately high number of males of an ethnic group carries a less common gene linked with aggressive behaviors, the discussion about that gene immediately takes on racial overtones. (Interestingly, the press ignored studies indicating that the 3R variant occurred in 61% of Taiwanese males and 56% of Chinese males).
The relationship between the rare MAOA version and antisocial behaviors has raised eyebrows because, quite simply, this gene is not distributed equally across ethnic groups. In the Add Health database, 5.5% of African American men, 0.9% of Caucasian men, and 0.00067% of Asian men have 2R. (No information is currently available on the frequency of 2R in males of African black descent outside the United States.) Since the rare MAOA variant is virtually non-existent in whites, all of the males in Beaver's study3 were black Americans.
Beaver's sample of 133 African American men from the Add Health database included 6% that carried 2R. Overall, 5.6% of the men in the sample reported shooting or stabbing someone at some point in their lifetime. The association between 2R and committing a shooting or stabbing crime was statistically significant. Based on Beaver's evidence, 2R appears to increase the risk of shooting or stabbing a victim during adolescence or adulthood. For some commentators in the public arena, MAOA-2R has become a symbol of a new era in behavioral genetics research — an era that has reintroduced race into the nature versus nurture debate over the source of ethnic behavioral differences.
It is not clear if MAOA-2R is an exception. The more common low-activity variant, 3R, interacts with adverse social effects such as childhood maltreatment. But other possible environmental factors, which conceivably could interact with the 2R, may not have been explored in-depth as yet. One such environmental influence that has recently received attention is parents and caregivers' punitive discipline — spanking and yelling — of a young child. Punitive practices are not necessarily abuse. But in families that traditionally use harsh discipline with their children, corporeal punishment or even loud verbal chastising can at times turn into maltreatment.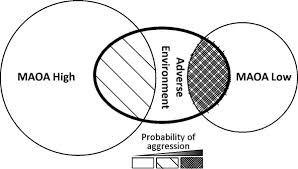 Choe's study3 is the first to demonstrate that ethnic minority children— African Americans, not just Caucasians — with a low-expression MAOA gene variant who face harsh discipline have an increased risk for antisocial behavior. Choe's team published the effects of just the 3R variant, excluding five African American participants in their study carrying the 2R version. Curious about possibly different effects of 2R, they then reanalyzed the data to include the five black males with 2R. The findings remained the same. Combining the boys with 2R — the highest risk variant — and those with the less severe risky 3R did not change the differences the researchers found between the 3R and 4R variants. The five males with 2R comprised a very small sample, but the fact that both low-activity MAOA variants, 2R and 3R, interacted with an environmental factor — punitive discipline — at specific ages, or developmental milestones, is noteworthy. It suggests the effects of MAOA-2R on antisocial behaviors are partly mediated by non-genetic factors.
Choe stresses that genetic influences on social behaviors such as juvenile delinquency cannot be fully understood outside the context of social circumstances. He is referring not only to parenting styles, but also to the in utero environment of the unborn fetus. As he explains, compared to the white youth in his study, the African Americans were more likely to grow up in poorer, urban, dangerous neighborhoods. A high percentage of these youth are being raised by single mothers, and they grow up without the attention found in most middle-class homes. Choe acknowledges the role of genes in behavior, but he clearly thinks that environmental factors contribute substantially to ethnic differences in antisocial behaviors. As he points out, the white kids in the sample were also poor, but they lived in low-income suburban communities, not in densely concentrated inner cities. The suburbs pose less of a risk than urban communities for group delinquent behavior.
1. Lea R, Chambers G. Monoamine oxidase, addiction, and the "warrior" gene hypothesis. N Z Med J. 2007. 120 (1250) PMID: 17339897.
2. Beaver K, Barnes J, Boutwell B. The 2-repeat allele of the MAOA gene confers an increased risk for shooting and stabbing behaviors. Psychiatr Q. 2013a. Dec 11.
3. Choe D, Shaw D, Hyde L, Forbes E. Interactions between monoamine oxidase A and punitive discipline in African American and Caucasian men's antisocial behavior. Clinical Psychological Science. 2014. March 14. doi:10.1177/2167702613518046