Post by Admin on May 9, 2020 22:07:47 GMT
Non-destructive ZooMS identification reveals strategic bone tool raw material selection by Neandertals
Naomi L. Martisius, Frido Welker, Tamara Dogandžić, Mark N. Grote, William Rendu, Virginie Sinet-Mathiot, Arndt Wilcke, Shannon J. P. McPherron, Marie Soressi & Teresa E. Steele
Abstract
Five nearly identical fragments of specialized bone tools, interpreted as lissoirs (French for "smoothers"), have been found at two Middle Paleolithic sites in southwest France. The finds span three separate archaeological deposits, suggesting continuity in the behavior of late Neandertals. Using standard morphological assessments, we determined that the lissoirs were produced on ribs of medium-sized ungulates. However, since these bones are highly fragmented and anthropogenically modified, species determinations were challenging. Also, conservative curation policy recommends minimizing destructive sampling of rare, fragile, or small artifacts for molecular identification methods. To better understand raw material selection for these five lissoirs, we reassess their taxonomy using a non-destructive ZooMS methodology based on triboelectric capture of collagen. We sampled four storage containers and obtained identifiable MALDI-TOF MS collagen fingerprints, all indicative of the same taxonomic clade, which includes aurochs and bison (Bos sp. and Bison sp.). The fifth specimen, which was stored in a plastic bag, provided no useful MALDI-TOF MS spectra. We show that the choice of large bovid ribs in an archaeological layer dominated by reindeer (Rangifer tarandus) demonstrates strategic selection by these Neandertals. Furthermore, our results highlight the value of a promising technique for the non-destructive analysis of bone artifacts.
Introduction
It is now accepted that some Neandertals produced bone tools1,2,3. These include the discovery of four specialized bone tools from a total of three layers at two late Middle Paleolithic sites in southwest France, Pech-de-l'Azé I (Pech I) and Abri Peyrony4. Subsequently, a fifth example was found at Abri Peyrony5. We interpreted these fragments of shaped and worn animal ribs as lissoirs, a term meaning "smoothers" in the French bone tool typology6. Analyses suggest that these tools preserve traces consistent with abrasive pressure on animal skin4,5. The use of these tools during the hide working process reflects a complex technical system where animal ribs were exploited for their specific raw material properties7. Based on standard zooarchaeological assessments, their width and thickness suggest that they might have been produced from ribs of medium-sized ungulates (hooved animals such as red deer (Cervus elaphus) and reindeer (Rangifer tarandus)). However, taxonomic assignments of bone tools are difficult as their production and use often involves the deliberate reshaping of external surfaces, removing diagnostic features. Modified ribs present additional challenges due to shape and size variation across the ribcage. Though standard zooarchaeological analyses are needed to assess certain aspects of raw material selection (e.g., skeletal element), Zooarchaeology by Mass Spectrometry (ZooMS), a mass-spectrometric method for identifying tissues rich in collagen type I (COL1) to family or genus level8, provides a means to evaluate which animals were selected. Here, we assess the taxonomy of the five lissoirs using a non-destructive ZooMS approach9.
ZooMS has been useful for identifying ancient animal remains when fragmentary bones present a challenge for more traditional methods. The method has been used to identify fragmented animal and human remains from Paleolithic sites10,11,12,13,14,15,16,17, as well as cultural artifacts from various time periods, including bone tools9,18,19,20,21,22,23,24 and parchment25. Such objects frequently have been significantly altered from their original form making taxonomic identifications based on morphology nearly impossible. At the same time, conventional ZooMS extraction procedures involve drilling or cutting a bone sample (<20 mg), thereby altering often unique and fragile artifacts (Supplementary Fig. S1). Recently, a non-destructive approach based on the triboelectric effect occurring between collagen and plastic surfaces has been developed to sample parchment for ZooMS analysis25. The concept behind this approach has been applied to plastic storage bags containing bone artifacts as well9, as the use of erasers carries the risk of modifying bone surfaces through abrasion. Here, we show that collagen molecules adhering to the plastic surfaces allow us to infer species selection of Middle Paleolithic lissoirs made by Neandertals, which then permits the consideration of competing hypotheses about the selection of ribs as the raw material for making lissoirs.
The Middle Paleolithic Lissoirs
Lissoirs are specialized bone tools likely shaped for the purpose of working animal skins. Although these tools have been defined in various ways, they are typically characterized as elongated rib fragments with rounded distal ends that often exhibit polish26,27,28,29,30,31. The shape of lissoirs is largely reflective of the rib form. Minimal shaping is needed to obtain a rounded and usable active end, and the rest of the rib need not be shaped at all. Additionally, ribs are mechanically suitable for technological purposes. A particular advantage of the structure of rib bones is the double layer of cortical bone sandwiching a layer of cancellous bone32. This composite structure provides stiffness and strength during bending, meaning that the bone can withstand substantial force but will return to its original shape once force is no longer applied32,33. The versatile properties of ribs may have been a factor in their selection as a raw material for tool use.
The five Middle Paleolithic lissoirs in this study come from three separate archaeological layers at two sites in southwest France: Pech I and Abri Peyrony. The two sites are on different tributaries of the Dordogne river approximately 35 km from one another4. Pech I is one of four rock-shelter sites within the Pech-de-l'Azé complex34,35,36. In the original 1909 excavation, the remains of a Neandertal child were discovered37,38. The site was then re-excavated several times34,39,40,41, and the most recent excavations resumed in 200435. There are three main layers, and the lissoir, G8-1417, is attributed to Layer 4 located directly above the bedrock. Layer 4 dates to 51.4 ± 2.0 ka through single-grain optically stimulated luminescence dating4,42, which is consistent with other dating methods used on the site38. Layer 4 consists of a clayey sand matrix that derives from the underlying endokarstic sediments35,43. The layer is minimally disturbed as indicated by in situ anatomical bone connections and broken artifacts, and there exists little evidence of trampling traces (<1%) on the bones. The lithic assemblage consists of artifacts typical of the Mousterian of Acheulian Tradition including backed knives and cordiform handaxes.
Abri Peyrony is located against a cliff overlooking the Couze valley. It was initially excavated by Peyrony44 as a part of the Combe Capelle complex of sites. In 1990, Dibble and Lenoir45 conducted a limited test excavation at the site, and the most recent excavations were conducted between 2009 and 20124. The site is divided into two sectors corresponding to an upper and lower terrace. The majority of archaeological material comes from the lower terrace. The four lissoirs derive from two lower terrace (L-) layers, L-3A and L-3B, with the latter unit situated on the bedrock. Three of the bone artifacts were recovered from Layer L-3B (AP-4493, AP-7839, AP-10818), while one was found in Layer L-3A (AP-4209). Radiocarbon age determinations on the two layers produced no statistical differences, and together the Layer L-3 ages range from 47,710–41,130 cal B.P. Limestone fragments coming from the cliff are found throughout the layers and calcium carbonate from groundwater cemented the overlying layer soon after deposition. The cementation process likely prevented the downslope movement of the layer and perhaps many other post-depositional disturbances4. Additional evidence that the layer represents a primary depositional context and that it is minimally disturbed comes from an intact combustion feature and both bone and lithic refits46. Abri Peyrony is known for its Mousterian of Acheulian Tradition stone tools44. In our renewed excavations we found more variability than has been previously described. The lithic assemblage from L-3A includes backed knives, cordiform handaxes, and handaxe thinning flakes, all of which are consistent with a Mousterian of Acheulian Tradition attribution. However, while the L-3B lithics show some overall similarities to L-3A, there are no backed knives and no clear evidence of handaxe production typical of the Mousterian of Acheulian Tradition. Rather, this layer is characterized by the discoidal flaking method and an increase in denticulate and notched tools compared to the L-3A assemblage.
Our previous study4 demonstrated that the Pech I lissoir and three Abri Peyrony lissoirs share characteristics such as a rounded, ogival distal end with a polished cortical surface that extends partially along the edges. An additional lissoir (AP-10818) found in the screened material from Layer L-3B at Abri Peyrony (Fig. 1d) exhibits characteristics most similar to AP-7839 (Fig. 1e). Parallel striations along artifact edges and surfaces are consistent with manufacturing traces by grinding against a coarse material like sandstone4,5. The artifacts preserve microscopic characteristics such as intrusive smoothing of the upper reliefs and furrows of the microtopography and various types of striations. These characteristics are consistent with use on a soft material such as animal skin4,5.
Figure 1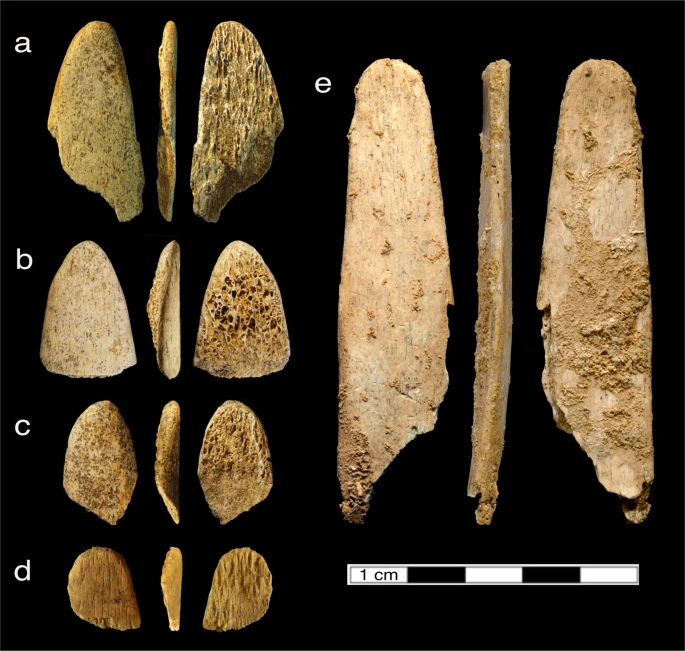 Though morphological assessments indicated that all of the Middle Paleolithic lissoirs were made from ungulate ribs, the fragmentation and modification of the artifacts made species determinations challenging. The application of ZooMS provides us with the ability to ascertain species selection by Neandertals for making lissoirs. Given that Middle Paleolithic lissoirs are rare, we consider another Neandertal bone tool as a baseline for Neandertal selectivity. Specifically, bone retouchers—bone fragments opportunistically utilized to shape flint artifacts—have been shown to originate from commonly hunted species, and their taxonomic frequencies are similar to the overall distribution of taxa in faunal assemblages47,48,49 (but see50,51). It is possible that Neandertals showed a similar lack of species selectivity when utilizing ribs—the raw material source for making lissoirs. Alternatively, Neandertals used the same skeletal element (rib) for making lissoirs, which provides a line of evidence for Neandertal selectivity. In addition, the highly standardized final shape and size of the five Pech I and Abri Peyrony lissoirs could imply that Neandertals selected the ribs from species of a certain size. Thicknesses of the lissoirs (Supplementary Table S1) could be consistent with large ungulate rib dimensions, which would make them stronger implements. If Neandertals consistently selected the ribs of the larger animals in their environment, this could provide evidence for strategic raw material selection. Given this, applying non-destructive ZooMS to the five Middle Paleolithic lissoirs provides an opportunity to test competing propositions about Neandertal selection of ribs for technological purposes. We consider the following hypotheses: Null (H0): Neandertals in southwest France selected ribs for lissoirs opportunistically. Alternative (HA): Neandertals in southwest France selected ribs of larger species for lissoirs strategically. We address these hypotheses using the results of the zooarchaeological and ZooMS analyses.