Post by Admin on Oct 9, 2014 4:51:32 GMT
"The last couple of years have been about defining life on my own terms," the pop star explains in People's 40th anniversary issue. "Being on my own, prioritizing my girlfriends, my family and my music above everything else and trying things I never thought I'd try. It's a really liberating and freeing time."
Swift's new music is a reflection of her current state. "Emotionally speaking, 1989 is not a heartbreak record. My music is derived from what's happening in my personal life, and I haven't had my heart broke," the singer-songwriter tells the magazine. "You're not going to her, oh, like, 'boyfriend dissing.'"
In a candid interview during a London stop on the press tour for her new album 1989 (pre-order it now here), the Grammy winner opens up about replacing headlines about boyfriends and breakups with a new focus on her chart-topping career – including her smash single, "Shake It Off." "I made the decision to spend time on my own and figure out who I am," she says of embracing the single life. "When you take the other person out of the scenario and you're walking through life on your own, you end up figure out what you actually like without anyone else's input."
Although she has famously explored what she calls "crazy love" in her past work, 1989 is different. "Emotionally speaking, it's not a heartbreak record," Swift, 24, tells PEOPLE in this week's cover story. "My music is derived from what's happening in my personal life, and I haven't had my heart broken."
"When I'm deeply hurt by something, I usually respond by writing exactly how I feel about it in a song," she says, "but I just haven't been devastated in the last couple of years." Instead, the "freeing time" Swift has experienced lately has led her to take her music in a new direction. "My music before this has been very guitar-heavy, live drums, it's had a very acoustic sound at its core," says Swift. "This is a sound that's based in synth pop and keyboards and automated drums and vocal layering."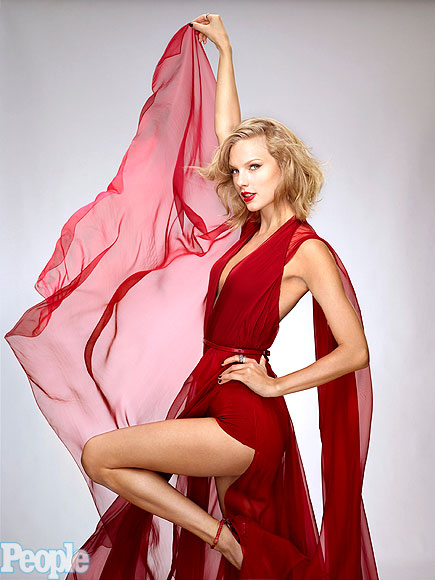 "I'm not going to compromise the happiness and independence that I've found for just anybody. The idea of a date gives me a partial panic attack!" the seven-time Grammy Award winner says. "It includes 40 paparazzi cameras shooting through windows at us, and that's not relaxing or alluring for me. That makes me want to crawl under the couch and hide! But I'm fine! I have two cats. That's all I need."
"It would take an astonishing human for me to even consider getting back into a relationship. It would take something really, really, really, really different—a kind of a one-in-a-million person for me to face all that," she adds. "I don't have any kid of idea who I'd want to be with, because I don't have any pieces missing from my life right now. I'm not looking for anything to complete. I think that's a nice place to be."