Post by Admin on Mar 4, 2021 22:13:33 GMT
For several weeks, QAnon followers have touted March 4 as the next momentous day in their calendar following on from the failure of January 20, when the conspiracy theorists thought that Trump would fulfill the prophecy known as "the storm" and order the mass arrest and execution of a cabal of satanic pedophiles at Joe Biden's inauguration ceremony.
After the prediction failed in the most public way, QAnon supporters changed their beliefs once again and declared that Trump was meant to lose the election, not carry out the "storm," and instead triumphantly return on March 4.
The desperate claims stem from another conspiracy, lifted from the sovereign citizen movement, that the U.S. turned from a country into a corporation after the passage of the District of Columbia Organic Act of 1871.
As a result of this, all other presidents after Ulysses S. Grant have been illegitimate and therefore Trump will become the 19th president when he is reinstated on March 4—the official day for inaugurations until 1933.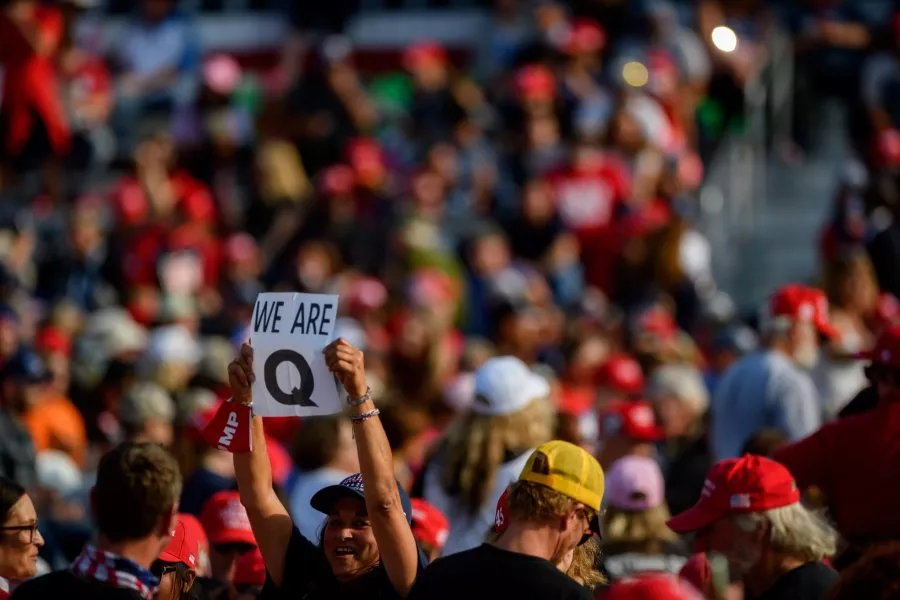 The March 4 date was being pushed by the movement almost immediately after Biden's ceremony, and gained wider attention after it emerged that the cost of a room at the Trump International Hotel in Washington, D.C. on this date had been massively hiked up.
Aware of the increased attention and scrutiny the movement is getting in the wake of the Capitol attack, as well as fears of another public humiliation, a number of high profile QAnon advocates started distancing themselves from March 4 and urged others not to attend D.C. that day.
Some of the biggest QAnon profiles have now completely ruled out the possibility that Trump will be inaugurated on March 4, as well as showing complete denial by suggesting all claims this was an actual theory of theirs is a "false flag" operation.
Ghost Ezra, a QAnon supporter who has more than 213,000 subscribers on the messaging service app Telegram, posted on Wednesday: "No Trump supporters are showing up anywhere tomorrow. So what's their angle?"
In reply, David Pradarelli wrote: "Same as January 6th. Their goon squad agent provocateurs will show up in MAGA gear and cause a riot. Accomplice media will run with it. Stupid normies will believe it. Rinse, repeat."
Another popular QAnon Telegram channel, We the Media, which has more than 195,000 subscribers, also pushed the false suggestion that antifa and BLM protesters were behind the January 6 attack on the Capitol in an attempt to smear Trump supporters.
"March 4th was set up by Antifa to get everyone to come out! False flag! Stay home," another Telegram user wrote.
The Q-tip channel, which has 89,000 followers, also urged people not to "fall for the trap that Trump will be inaugurated" on March 4.
"March 4th... is NOT the day 'arrests' will take place, nor is it the day that Trump will be inaugurated," Q-tip wrote.
A thread on the greatawakening.win website, a Reddit-style message board site used by QAnon supporters, states: "None of us on this 'prominent QAnon forum' will be in Washington DC tomorrow. None of us think that Trump will be announced President tomorrow. Tomorrow will just be a regular day."
For weeks, authorities were aware that QAnon may be planning a return to the capital on March 4. Capitol Police increased their security this week, fearing there will be a repeat of the violence seen at the January 6 insurrection.
As well as QAnon, the department said they had obtained intelligence that shows a "possible plot to breach the Capitol by an identified militia group" on March 4.
The House of Representatives also canceled its Thursday session over fears of a plot to breach the Capitol complex.