Post by Admin on Mar 21, 2021 19:49:20 GMT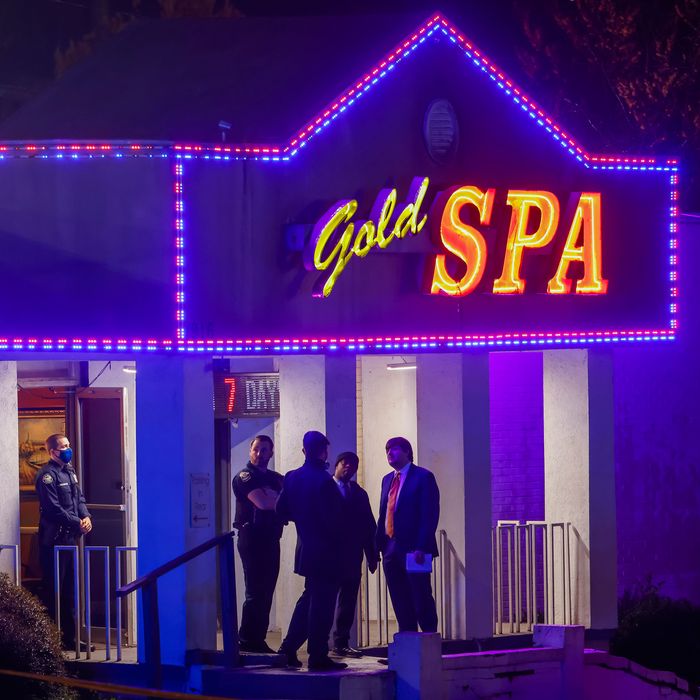 Officials in Atlanta and Washington also added to the confusion about the ongoing investigation Thursday. Atlanta's deputy police chief Charles Hampton said "nothing is off the table" when it comes to possible charges under the state's new hate-crimes statue. Meanwhile, FBI Director Christopher Wray added that "while the motive remains still under investigation at the moment, it does not appear that the motive was racially motivated."
Many pushed back on law enforcement's characterization of the killings as possibly unrelated to racial bias, while calling for solidarity with Asian Americans.
"Racially motivated violence should be called out for exactly what it is, and we must stop making excuses and rebranding it as economic anxiety or sexual addiction," Representative Marilyn Strickland, a Korean American from Washington state, said on the House floor on Wednesday, echoing sentiments that ricocheted around social media.
The attacks
The gunman was seen on surveillance video around 5 p.m. on Tuesday evening exiting Young's Asian Massage Parlor in Acworth, Georgia, in the northern Atlanta suburbs. According to an eyewitness, he reportedly sat in his car for over an hour outside before entering the business and allegedly shooting to death four people inside: two Asian women, a white woman, and a white man. A Hispanic man was shot outside, steps away from the spa, and is currently in critical condition.
The shooter was seen fleeing in a black SUV south to the Buckhead neighborhood of northeastern Atlanta, where he shot to death three women at Gold Spa and one at Aromatherapy Spa, across the street. All four women were Asian.
The suspect
Robert Aaron Long, 21, of Woodstock, Georgia — which is about five miles away from the first shooting — was arrested on Tuesday evening. Law enforcement issued a bulletin for Long after spotting his SUV and license plate on security-camera footage from the first attack. Three hours after the shooting spree began, he was intercepted on Interstate 75 in Crisp County, about 150 miles south of Atlanta. Crisp County sheriff Billy Hancock said state troopers and sheriff's deputies trapped Long's vehicle on the highway where they caused it to "spin out of control" and took him to jail "without incident," according to the Post. Officials said Wednesday that Long's parents identified the suspect as their son to authorities after seeing images of him.
The Washington Post reports that Long's parents and a former roommate described him having a sexual compulsion he said was an addiction, and that he was treated at an evangelical center called HopeQuest located close to the site of the first attack. Long grew up in a conservative Southern Baptist church and was a patient at HopeQuest in 2019 and 2020, according to the former roommate. The center advertises treatment for "sex addiction" and "pornography addiction," according to the Post, and promoted "ex-gay therapy," the false idea that people can become heterosexual.
Tyler Bayless, who shared a room with Long at a sober-living facility, described the accused killer to the Post as a man torn between an obsession with sex and his conservative faith that considers sex outside of heterosexual marriage to be immoral. "This was the kind of guy who would hate himself for masturbating, would consider that a relapse," Bayless said.
Before entering treatment, Long was in a relationship with a woman in Tennessee and his parents once called police to report that their son had gone to visit her and refused to return home. Bayless said his understanding was that the relationship ended after Long was found to be frequenting spas for sex. Similarly, Long's parents kicked him out of the house on Monday for watching pornography and patronizing the spas. The next day, he legally purchased the 9mm handgun and set about killing, authorities say — a rampage that officials said he may have planned to continue in Florida, before being apprehended.