Post by Admin on Mar 25, 2021 21:31:11 GMT
The chief executives of Google parent Alphabet Inc. GOOGL, -0.00% GOOG, -0.03%, Facebook Inc. FB, -1.21%, and Twitter Inc. TWTR, -1.39% alternately were filleted, grilled and otherwise pummeled before the House Committee on Energy & Commerce on Thursday.
"It is now painfully clear that neither the market nor public pressure will force these social-media companies to take the aggressive action they need to take to eliminate disinformation and extremism from their platforms," committee chairman Frank Pallone Jr. (D., N.J.) said in opening remarks during the hearing. "And, therefore, it is time for Congress and this Committee to legislate and realign these companies' incentives to effectively deal with disinformation and extremism."
"These platforms are hotbeds of disinformation despite new policies," committee member Jan Schakowsky (D., Ill.), who has introduced a bill to protect consumers online, said in a lacerating statement. "Disinformation was rampant" during the 2020 election and pandemic, she added.
Federal lawmakers' distrust of tech may have taken on a personal edge following the Jan. 6 attack on the Capitol fomented in great part by far-right vitriol on Facebook, Google's YouTube, and Twitter.
Twitter CEO Jack Dorsey acknowledged that social media bore some responsibility for spreading false information that led to the insurrection but the problem was "more complex" as part of a larger information ecosystem and overheated political climate.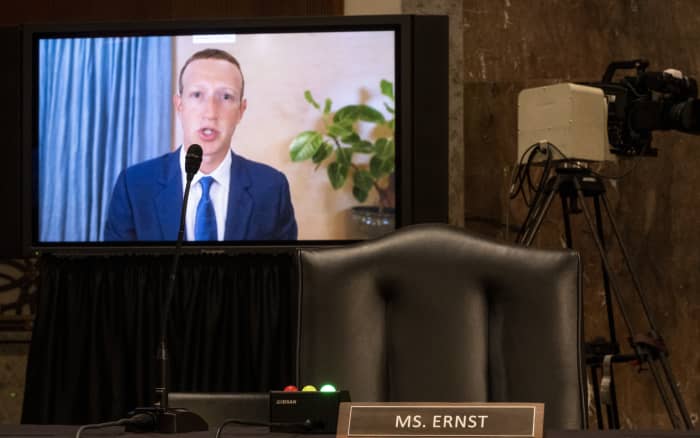 Whether all the talk and hand-wringing leads to legislation is the next logical step, say antitrust and tech law experts. Tech legal expert Jenny Lee said members from both sides of Congress demonstrated in Thursday's hearing that they are "galvanized and ready to proceed with serious legislation."
"If Jan. 6 wasn't enough to get them to acknowledge their role, it's unclear anything ever will be," Elizabeth Renieris, founding director of the Notre Dame-IBM Technology Ethics Lab at the University of Notre Dame, told MarketWatch. "It's time to move beyond self-regulation and pass meaningful legislation to limit the power of these platforms, including through comprehensive federal privacy legislation, competition-related measures, and new consumer protection rules, among others."
Facebook CEO Mark Zuckerberg said the lashing tone of a small percentage of the platform's content reflects a bitterly divided nation, and that the company had taken several steps to remove it. He embraced the idea of accountability standards for clearly illegal types of content such as child trafficking and terrorism.