Post by Admin on Oct 13, 2016 21:32:18 GMT
www.biorxiv.org/content/biorxiv/early/2018/05/16/322347.full.pdf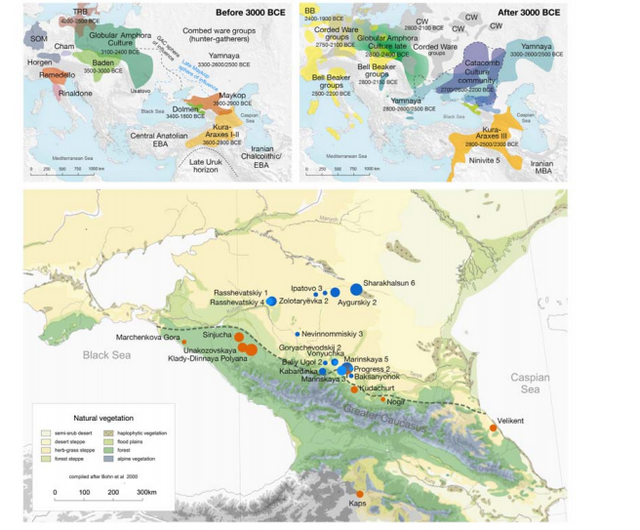 Fig. 1. Map of sites and archaeological cultures mentioned in this study.
Admixture into the steppe zone from the south
Evidence for interaction between the Caucasus and the Steppe clusters is visible in our genetic data from individuals associated with the later Steppe Maykop phase around 5300-5100 years ago. These 'outlier' individuals were buried in the same mounds as those with steppe and in particular Steppe Maykop ancestry profiles but share a higher proportion of Anatolian farmer-related ancestry visible in the ADMIXTURE plot and are also shifted towards the Caucasus cluster in PC space (Fig. 2D). This observation is confirmed by formal D-statistics (Steppe Maykop outlier, Steppe Maykop; X; Mbuti), which are significantly positive when X is a Neolithic or Bronze Age group from the Near East or Anatolia (Supplementary Fig. 4). By modelling Steppe Maykop outliers successfully as a two-way mixture of Steppe Maykop and representatives of the Caucasus cluster (Supplementary Table 3), we can show that these individuals received additional 'Anatolian and Iranian Neolithic ancestry', most likely from contemporaneous sources in the south. We estimated admixture time for the observed farmer-related ancestry individuals using the linkage disequilibrium (LD)-based admixture inference implemented in ALDER46, using Steppe Maykop outliers as the test population and Steppe Maykop as well as Kura-Araxes as references. The average admixture time for Steppe Maykop outliers is about 20 generations or 560 years ago, assuming a generation time of 28 years47 (Supplementary Information 6).
Contribution of Anatolian farmer-related ancestry to Bronze Age steppe groups
In principal component space Eneolithic individuals (Samara Eneolithic) form a cline running from EHG to CHG (Fig. 2D), which is continued by the newly reported Eneolithic steppe individuals. However, the trajectory of this cline changes in the subsequent centuries. Here we observe a cline from Eneolithic_steppe towards the Caucasus cluster. We can qualitatively explain this 'tilting cline' by developments south of the Caucasus, where Iranian and Anatolian/Levantine Neolithic ancestries continue to mix, resulting in a blend that is also observed in the Caucasus cluster, from where it could have spread onto the steppe. The first appearance of 'Near Eastern farmer related ancestry' in the steppe zone is evident in Steppe Maykop outliers. However, PCA results also suggest that Yamnaya and later groups of the West Eurasian steppe carry some farmer related ancestry as they are slightly shifted towards 'European Neolithic groups' in PC2 (Fig. 2D) compared to Eneolithic steppe. This is not the case for the preceding Eneolithic steppe individuals. The tilting cline is also confirmed by admixture f3-statistics, which provide statistically negative values for AG3 as one source and any Anatolian Neolithic related group as a second source peer-reviewed) is the author/funder. Detailed exploration via D-statistics in the form of D(EHG, steppe group; X, Mbuti) and D(Samara_Eneolithic, steppe group; X, Mbuti) show significantly negative D values for most of the steppe groups when X is a member of the Caucasus cluster or one of the Levant/Anatolia farmer-related groups (Supplementary Figs. 5 and 6). In addition, we used f- and D-statistics to explore the shared ancestry with Anatolian Neolithic as well as the reciprocal relationship between Anatolian- and Iranian farmer-related ancestry for all groups of our two main clusters and relevant adjacent regions (Supplementary Fig. 4). Here, we observe an increase in farmer-related ancestry (both Anatolian and Iranian) in our Steppe cluster,ranging from Eneolithic steppe to later groups. In Middle/Late Bronze Age groups especially to the north and east we observe a further increase of Anatolian farmer-related ancestry consistent with previous studies of the Poltavka, Andronovo, Srubnaya and Sintashta groups23, 27 and reflecting a different process not especially related to events in the Caucasus.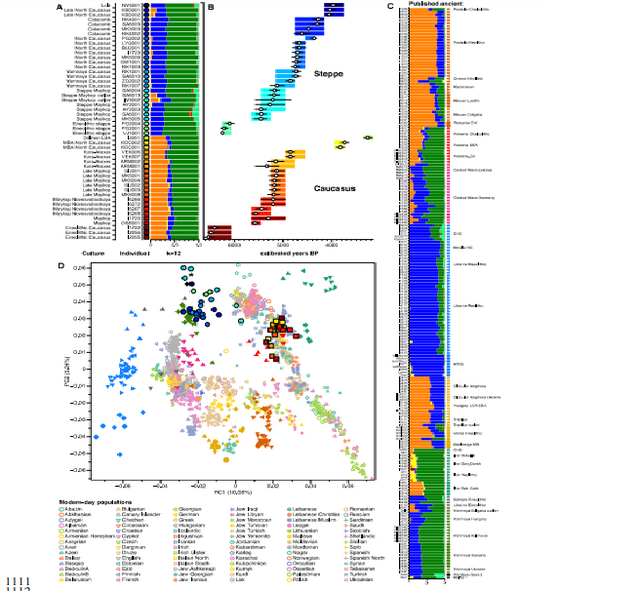 Fig. 2. ADMIXTURE and PCA results, and chronological order of ancient Caucasus individuals. (a) ADMIXTURE results (k=12) of the newly genotyped individuals (filled symbols with black outlines) sorted by genetic clusters (Steppe and Caucasus) and in chronological order (coloured bars indicate the relative archaeological dates, (b) white circles the mean calibrated radiocarbon date and the errors bars the 2-sigma range. (c) ADMIXTURE results of relevant prehistoric individuals mentioned in the text (filled symbols) and (d) shows these projected onto a PCA of 84 modern-day West Eurasian populations (open symbols).
The exact geographic and temporal origin of this Anatolian farmer-related ancestry in the North Caucasus and later in the steppe is difficult to discern from our data. Not only do the Steppe groups vary in their respective affinity to each of the two, but also the Caucasus groups, which represent potential sources from a geographic and cultural point of view, are mixtures of them both23. We therefore used qpWave and qpAdm to explore the number of ancestry sources for the Anatolian farmer-related component to evaluate whether geographically proximate groups plausibly contributed to the subtle shift of Eneolithic ancestry in the steppe towards those of the Neolithic groups. Specifically, we tested whether any of the Eurasian steppe ancestry groups can be successfully modelled as a two-way admixture between Eneolithic steppe and a population X derived from Anatolian- or Iranian farmer-related ancestry, respectively. Surprisingly, we found that a minimum of four streams of ancestry is needed to explain all eleven steppe ancestry groups tested, including previously published ones (Fig. 2; Supplementary Table 12). Importantly, our results show a subtle contribution of both Anatolian farmer-related ancestry and WHG-related ancestry (Fig.4; Supplementary Tables 13 and 14), which was likely contributed through Middle and Late Neolithic farming groups from adjacent regions in the West. A direct source of Anatolian farmer-related ancestry can be ruled out (Supplementary Table 15).
At present, due to the limits of our resolution, we cannot identify a single best source population. However, geographically proximal and contemporaneous groups such as Globular Amphora and Eneolithic groups from the Black Sea area (Ukraine and Bulgaria), which represent all four distal sources (CHG, EHG, WHG, and Anatolian_Neolithic) are among the best supported candidates (Fig. 4; Supplementary Tables 13,14 and 15). Applying the same method to the subsequent North Caucasian Steppe groups such as Catacomb, North Caucasus, and Late North Caucasus confirms this pattern (Supplementary Table 17).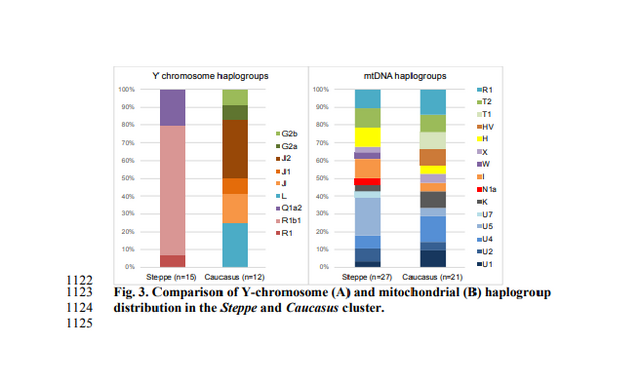 Using qpAdm with Globular Amphora as a proximate surrogate population (assuming that a related group was the source of the Anatolian farmer-related ancestry), we estimated the contribution of Anatolian farmer-related ancestry into Yamnaya and other steppe groups. We find that Yamnaya individuals from the Volga region (Yamnaya Samara) have 13.2±2.7% and Yamnaya individuals in Hungary 17.1±4.1% Anatolian farmer-related ancestry (Fig.4; Supplementary Table 18)– statistically indistinguishable proportions. Replacing Globular Amphora by Iberia Chalcolithic, for instance, does not alter the results profoundly (Supplementary Table 19). This suggests that the source population was a mixture of Anatolian farmer-related ancestry and a minimum of 20% WHG ancestry, a profile that is shared by many Middle/Late Neolithic and Chalcolithic individuals from Europe of the 3rd 448 millennium BCE analysed thus far.
To account for potentially un-modelled ancestry from the Caucasus groups, we added 'Eneolithic Caucasus' as an additional source to build a three-way model. We found that Yamnaya Caucasus, Yamnaya Ukraine Ozera, North Caucasus and Late North Caucasus had likely received additional ancestry (6% to 40%) from nearby Caucasus groups (Supplementary Table 20). This suggests a more complex and dynamic picture 455 of steppe ancestry groups through time, including the formation of a local variant of steppe ancestry in the North Caucasian steppe from the local Eneolithic, a contribution of Steppe Maykop groups, and population continuity between the early Yamnaya period and the Middle Bronze Age (5300-3200 BP, 3300-2200 calBCE). This was interspersed by additional, albeit subtle gene-flow from the West and occasional equally subtle gene flow from neighbouring groups in the Caucasus and piedmont zones.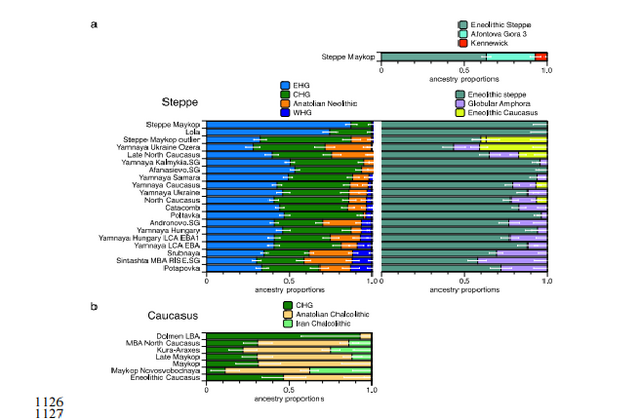 Fig. 4. Modelling results for the Steppe and Caucasus cluster
Our results show that at the time of the eponymous grave mound of Maykop, the North Caucasus piedmont region was genetically connected to the south. Even without direct ancient DNA data from northern Mesopotamia, the new genetic evidence suggests an increased assimilation of Chalcolithic individuals from Iran, Anatolia and Armenia and those of the Eneolithic Caucasus during 6000-4000 calBCE23, and thus likely also intensified cultural connections. Within this sphere of interaction, it is possible that cultural influences and continuous subtle gene flow fromthe south formed the basis of Maykop (Fig. 4; Supplementary Table 10). In fact, the Maykop phenomenon was long understood as the terminus of the expansion of South Mesopotamian civilisations in the 4th millennium BCE11, 12, 51.
It has been further suggested that along with the cultural and demographic influence the key technological innovations that had revolutionised the late 4th millennium BCE in western Asia had ultimately also spread to Europe52. An earlier connection in the late 5th millennium BCE, however, allows speculations about an alternative archaeological scenario: was the cultural exchange mutual and did e.g. metal rich areas such as the Caucasus contribute substantially to the development and transfer of these innovations53, 54 ?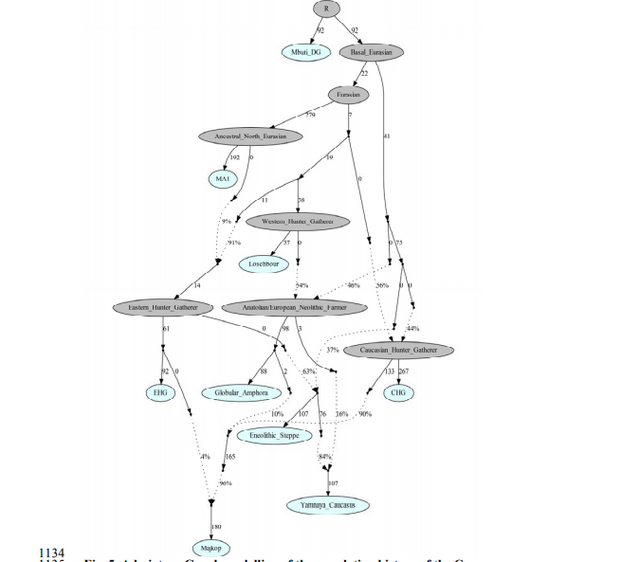 Fig. 5. Admixture Graph modelling of the population history of the Caucasus region.
Archaeological arguments would be consonant with both scenarios. Contact between early Yamnaya and late Maykop groups at the end of the 4th 618 millennium BCE is suggested by impulses seen in early Yamnaya complexes. A western sphere of interaction is evident from striking resemblances of imagery inside burial chambers of Central Europe and the Caucasus56 (Supplementary Fig. 9), and particular similarities also exist in geometric decoration patterns in stone cist graves in the Northern Pontic steppe57, on stone stelae in the Caucasus58, and on pottery of the Eastern Globular Amphora Culture, which links the eastern fringe of the Carpathians and the Baltic Sea56. This implies an overlap of symbols with a communication and interaction network that formed during the late 4th 626 millennium BCE and operated across the Black Sea area involving the Caucasus59, 60, and later also involved early Globular Amphora groups in the Carpathians and east/central Europe61. The role of early Yamnaya groups within this network is still unclear57. However, this interaction zone 630 pre-dates any direct influence of Yamnaya groups in Europe or the succeeding formation of the Corded Ware62, 63 and its persistence opens the possibility of subtle bidirectional gene-flow, several centuries before the massive range expansions of pastoralist groups that reached Central Europe in the mid-3rd millennium BCE19.
The insight that the Caucasus mountains served not only as a corridor for the spread of CHG/Neolithic Iranian ancestry but also for later gene-flow from the south also has a bearing on the postulated homelands of Proto-Indo-European (PIE) languages and documented gene-flows that could have carried a consecutive spread of both across West Eurasia17, 64 651 . Perceiving the Caucasus as an occasional bridge rather than a strict border during the Eneolithic and Bronze Age opens up the possibility of a homeland of PIE south of the Caucasus, which itself provides a parsimonious explanation for an early branching off of Anatolian languages. Geographically this would also work for Armenian and Greek, for which genetic data also supports an eastern influence from Anatolia or the southern Caucasus. A potential offshoot of the Indo-Iranian branch to the east is possible, but the latest ancient DNA results from South Asia also lend weight to an LMBA spread via the steppe belt21. The spread of some or all of the proto-Indo-European branches would have been possible via the North Caucasus and Pontic region and from there, along with pastoralist expansions, to the heart of Europe. This scenario finds support from the well attested and now widely documented 'steppe ancestry' in European populations, the postulate of increasingly patrilinear societies in the wake of these expansions (exemplified by R1a/R1b), as attested in the latest study on the Bell Beaker phenomenon35.
bioRxiv preprint first posted online May. 16, 2018; doi:
dx.doi.org/10.1101/322347
.