Post by Admin on Apr 30, 2021 22:35:50 GMT
An Australian politician was ordered Friday to pay Universal Music more than $1 million for using the Twisted Sister song "We're Not Gonna Take It" in his party's advertising.
The politician, Clive Palmer, who is a billionaire mining magnate, had argued in court that the lyrics of the song used in 2019 election advertising for his United Australia Party, with thrashing guitars and the line "Australia ain't gonna cop it," were his own original work.
But the band objected strongly after fans asked them about the advertisements on Twitter, and Universal Music, which owns the rights to "We're Not Gonna Take It," launched copyright infringement proceedings against Palmer in Australia's Federal Court.
In a ruling Friday, Justice Anna Katzmann rejected Palmer's claims about the song, labeling parts of his account "ludicrous" and "fanciful."
Palmer gave evidence during the trial in October that he had been inspired by the 1976 movie "Network," which features the phrase "I'm as mad as hell, and I'm not gonna take this anymore!" He said he had written down the progression of his ideas at 4 a.m. one day and placed the piece of paper on his bedside table, but a member of his staff had picked it up and thrown it away before he woke.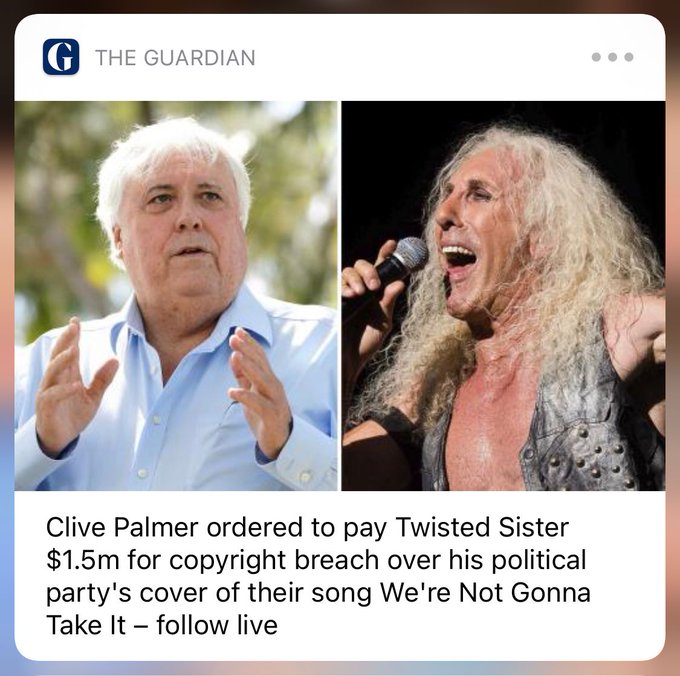 However, the court also heard that a video producer, acting on behalf of Palmer, had approached Universal about licensing Twisted Sister's 1984 song. Universal quoted a fee of 150,000 Australian dollars ($116,000), and Palmer's team made a counteroffer of 35,000 Australian dollars, which Universal rejected.
Katzmann wrote that Palmer's denials that there was any causal connection between his song and Twisted Sister's "defy common sense, fly in the face of the contemporaneous documents and were contradicted by the evidence his own witnesses."
Palmer was ordered to pay Universal Music 500,000 Australian dollars in damages. Katzmann added another 1 million Australian dollars in damages for "flagrant disregard for Universal's rights" and for giving "false evidence, including concocting a story to exculpate himself, indicating that the need for both punishment and deterrence is high." The total is equivalent to $1.16 million.