Post by Admin on Jun 15, 2021 6:03:48 GMT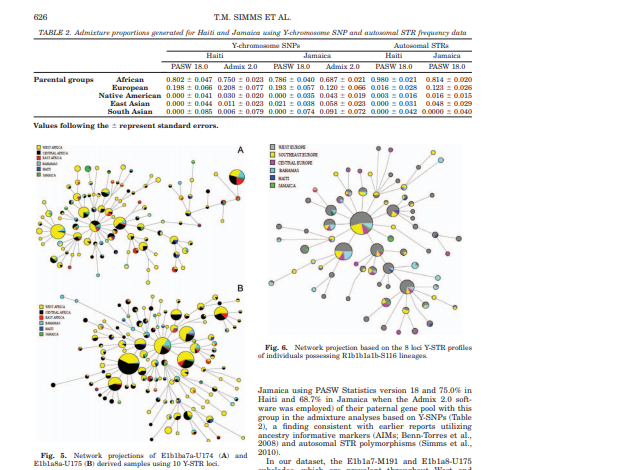 Y-STR diversity
The 10-loci networks based on E1b1a7a-U174 and
E1b1a8-U175 (See Supporting Information Table 7 for a
listing of populations and Y-STR haplotypes used in the
analyses) haplotype distributions are displayed in Figure
5A, B, respectively. Both network projections suggest
that the Haitian and Jamaican collections exhibit substantial
haplotype sharing with the continental African
populations, specifically those from West and Central
Africa, although they possess Y-STR profiles in common
with individuals from East Africa as well. Several Caribbean-
specific clades are also evident in Figure 5A, B,
including those shared between Haiti and Jamaica, and
between Haiti and the Bahamas, alluding to the high
level of genetic diversity and common ancestry within the
Caribbean. The high genetic diversity in the Caribbean is
further supported by the 15-loci MJ networks, which
reveal limited haplotype sharing among E1b1a7a-U174
(Supporting Information Fig. 1) and E1b1a8a-P278
(Supporting Information Fig. 2) individuals in the Haitian,
Jamaican and Bahamian populations. A complete list of the
17 loci Y-STR haplotypes of individuals possessing
E1b1a7a-U174 and E1b1a8-U175 lineages are provided
in Supporting Information Tables 8 and 9, respectively.
The network analysis of R1b1b1a1b-S116 lineages
based on 8 loci (Fig. 6) illustrates that the collections
from Haiti and Jamaica exhibit the highest degree of
haplotype sharing with the Western European populations,
particularly those from England, France, Ireland
and Switzerland, as compared to the Central and Southeastern
European groups employed in the analysis. It is
interesting to note that, in comparison to the African-specific
networks (Fig. 5A,B), a smaller number of
unique European haplotypes (Fig. 6) are observed in the
Caribbean. This is likely the result, at least partially, of
smaller numbers of S116 chromosomes in each collection.
The17 loci Y-STR profiles of R1b1b1a1b-S116 derived
samples in Haiti and Jamaica are presented in Supporting Information Table 10.