Post by Admin on Jun 30, 2021 6:09:54 GMT
This study evaluated whether SARS-CoV-2 mRNA-based vaccines
induce antigen-specific PB and GC B cell responses in humans. The
vaccine induced a strong IgG-dominated PB response in blood that
peaked one week after the booster immunization. In the draining LNs,
we detected robust SARS-CoV-2 S-binding GC B cell and PB responses
in aspirates from all 14 participants. These responses were detectable
after the first immunization but greatly expanded after the booster
injection. Notably, S-binding GC B cells and PBs persisted for at
least 15 weeks after the first immunization (12 weeks after secondary
immunization) in 8 of the 10 participants sampled at that time
point. These responses to mRNA vaccination are superior to those
seen after seasonal influenza virus vaccination in humans19, where
hemagglutinin-binding GC B cells were detected in only three of eight
participants. More robust GC responses are consistent with antigen
dissemination to multiple LNs and the self-adjuvating characteristics
of the mRNA/lipid nanoparticle vaccine platform compared to nonadjuvanted
inactivated vaccines used for seasonal influenza virus vaccination7,20,21.
Our data in humans corroborate reports demonstrating
the induction of potent GC responses by SARS-CoV-2 mRNA-based
vaccines in mice22,23.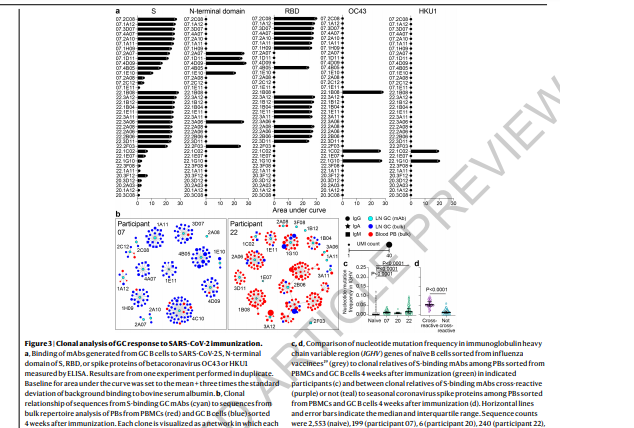 This is the first study to provide direct evidence for the induction
of a persistent antigen specific GC B cell response after vaccination in
humans. Dynamics of GC B cell responses vary widely depending on
the model system in which they are studied, although the most active
period of the response usually occurs over the course of a few weeks.
Primary alum-adjuvanted protein immunization of mice typically
leads to GC responses that peak 1–2 weeks after immunization and
contract at least 10-fold within 5–7 weeks24–26. GC responses induced
by immunization with more robust adjuvants such as sheep red blood
cells, complete Freund's adjuvant, or saponin-based adjuvants tend
to peak slightly later, 2–4 weeks after vaccination, and can persist at
low frequencies for several months27–33. Although studies of extended
durability are rare, antigen-specific GC B cells have been found to
persist for at least one year, albeit at very low levels28,30. In this study,
we show SARS-CoV-2 mRNA vaccine-induced GC B cells are maintained at or near peak
frequencies for at least 12 weeks after secondary immunization.
The persistence of S-binding GC B cells and PBs in draining LNs is a
positive indicator for induction of long-lived plasma cell responses25.
Future studies will be needed to examine whether mRNA vaccination
induces a robust S-specific long-lived plasma cell compartment in the
bone marrow. As part of such studies, it will be critical to generate a
comprehensive set of mAbs derived from PBs and GC B cells isolated
from multiple time points to define the breadth of the B cell response
elicited by this vaccine. None of the 14 participants in our study who
underwent FNA of draining LNs had a history of SARS-CoV-2 infection.
Thus, further comparison of vaccine-induced GC responses from naïve
and previously infected individuals will be informative. Finally, the work
presented here focuses on the B cell component of the GC reaction.
A robust T follicular helper response sustains the GC reaction34,35. As
such, studies are planned to interrogate the magnitude, specificity,
and durability of the T follicular helper cell response after SARS-CoV-2
mRNA vaccination in humans.
A preliminary observation from our study is the dominance of
RBD-targeting clones among responding GC B cells. In a more detailed
analysis of these RBD-binding mAbs, we assessed their in vitro inhibitory
capacity against the WA1/2020 D614G strain using an authentic
SARS-CoV-2 neutralization assay; five showed high neutralization
potency with 80% neutralization values of less than 100 ng/mL36. For
the most part, RBD-binding clones harbored few (<3) non-synonymous
nucleotide substitutions in the immunoglobulin heavy chain variable
genes, indicating that they originated from recently engaged naïve B
cells. This contrasts with the three cross-reactive GC B cell clones that
recognized conserved epitopes within the spike proteins of betacoronaviruses.
These cross-reactive clones had significantly higher mutation frequencies,
suggesting a memory B cell origin. These data are
consistent with previous findings from seasonal influenza virus vaccination
in humans showing that the GC reaction can engage pre-existing
memory B cells directed against conserved epitopes as well as naïve
clones targeting novel epitopes19. However, these cross-reactive clones
were not identified in all individuals and comprised a small fraction of
responding B cells, consistent with a similar analysis of SARS-CoV-2
mRNA vaccine-induced plasmablasts37. Overall, our data demonstrate
a remarkable capacity of SARS-CoV-2 mRNA-based vaccines to induce
robust and prolonged GC reactions. The induced GC reaction recruited
cross-reactive memory B cells as well as newly engaged clones that
target unique epitopes within SARS-CoV-2 S protein. Elicitation of high
affinity and durable protective antibody responses is a hallmark of
a successful humoral immune response to vaccination. By inducing
robust GC reactions, SARS-CoV-2 mRNA-based vaccines are on track
for achieving this outcome.