Post by Admin on Sept 21, 2021 21:07:53 GMT
President Biden delivered remarks at the United Nations General Assembly for the first time in office. He urged fellow nations to come together to tackle the many issues facing the world in the coming years, such as climate change, hunger and terrorism.
President Joe Biden delivered his first United Nations General Assembly speech on Tuesday morning, encouraging countries to "work together as never before" as the world stands together "at an inflection point in history" in its fight against COVID-19.
Simply put: We stand, in my view, at an inflection point in history. And I'm here today to share with you how the United States intends to work with partners and allies to answer these questions and the commitment of my new administration to help lead the world toward a more peaceful, prosperous future for all people.
Instead of continuing to fight the wars of the past, we are fixing our eyes on devoting our resources to the challenges that hold the keys to our collective future: ending this pandemic; addressing the climate crisis; managing the shifts in global power dynamics; shaping the rules of the world on vital issues like trade, cyber and emerging technologies; and facing the threat of terrorism as it stands today.
We've ended 20 years of conflict in Afghanistan. And as we close this period of relentless war, we're opening a new era of relentless diplomacy; of using the power of our development aid to invest in new ways of lifting people up around the world; of renewing and defending democracy; of proving that no matter how challenging or how complex the problems we're going to face, government by and for the people is still the best way to deliver for all of our people.
And as the United States turns our focus to the priorities and the regions of the world, like the Indo-Pacific, that are most consequential today and tomorrow, we'll do so with our allies and partners, through cooperation at multilateral institutions like the United Nations, to amplify our collective strength and speed, our progress toward dealing with these global challenges.
There's a fundamental truth of the 21st century within each of our own countries and as a global community that our own success is bound up in others succeeding as well.
To deliver for our own people, we must also engage deeply with the rest of the world.
To ensure that our own future, we must work together with other partners — our partners — toward a shared future.
Our security, our prosperity and our very freedoms are interconnected, in my view, as never before. And so, I believe we must work together as never before.
Over the last eight months, I have prioritized rebuilding our alliances, revitalizing our partnerships and recognizing they're essential and central to America's enduring security and prosperity.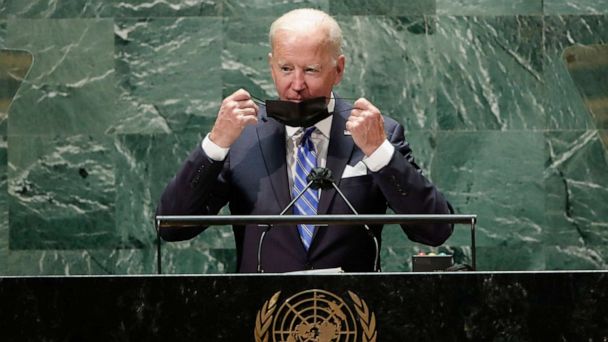 We have reaffirmed our sacred NATO Alliance to Article 5 commitment. We're working with our allies toward a new strategic concept that will help our alliance better take on evolving threats of today and tomorrow.
We renewed our engagement with the European Union, a fundamental partner in tackling the full range of significant issues facing our world today.
We elevated the Quad partnership among Australia, India, Japan and the United States to take on challenges ranging from health security to climate to emerging technologies.
We're engaging with regional institutions — from ASEAN to the African Union to the Organization of American States — to focus on people's urgent needs for better health and better economic outcomes.
We're back at the table in international forums, especially the United Nations, to focus attention and to spur global action on shared challenges.