Post by Admin on Sept 26, 2021 0:28:07 GMT
RESULTS
We extracted DNA from the petrous portion of the temporal bone and tooth samples of 86 individuals, created double-stranded DNA libraries, and used shotgun or an in-solution capture approach to retrieve the entire mitochondrial genome and up to ~1.24 million single-nucleotide polymorphisms (SNPs) across the human genome from each individual (table S1A and Materials and Methods). Following criteria for authentication, we restricted all downstream analyses to specimens with low nuclear and mtDNA contamination, typical aDNA damage patterns, and SNP counts above 31,000 (table S1A). These quality controls resulted in a final sample set of 82 individuals that were grouped on the basis of their radiocarbon dates and genetic affinities into three time intervals: 48 individuals from 800 to 1 BCE (Iron Age and Roman Republic), 6 individuals from 1 to 500 CE (Imperial period), and 28 individuals from 500 to 1000 CE (12 from central Italy and 16 from southern Italy). While we would have preferred to mirror conventional historical chronologies (Etruscan to ~300 BCE and Republican to 27 BCE), neither the large radiocarbon dating intervals nor the genetic results warrant a division of the dataset in this way (Fig. 2B and table S2F).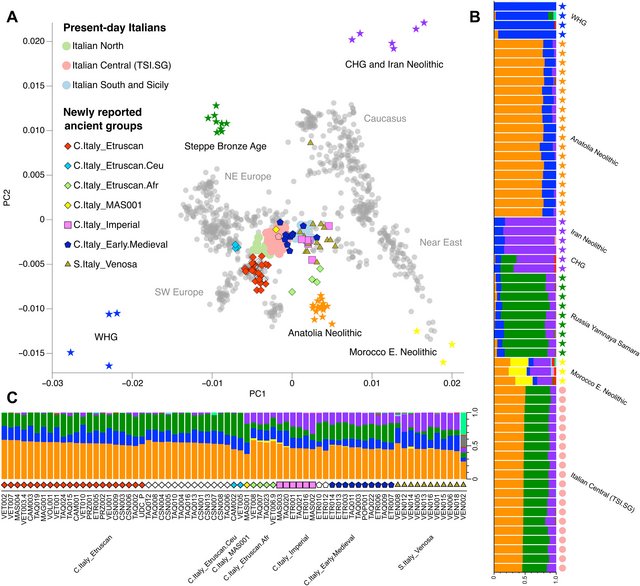 Fig. 2. Genetic map and clustering of ancient and present-day populations.
(A) PCA inferred from genomic variation of 60 West Eurasian populations genotyped on the Human Origins array (gray dots with geographic regions labeled in gray) including present-day Italians (circles without outline) onto which we projected the newly reported ancient individuals (symbols with outline, not filled for nonradiocarbon-dated individuals) and comparative ancient populations (stars without outline). (B) Unsupervised admixture (K = 11) of comparative ancient individuals and 20 present-day central Italians (TSI.SG). (C) Unsupervised admixture (K = 11) of newly reported ancient individuals excluding genetically related individuals. WHG and CHG refer to Western and Caucasus hunter-gatherers, while SW and NE Europe refer to southwestern and northeastern Europe, respectively.
Of individuals associated with the first time interval, the vast majority (40 of 48) form a genetic cluster here named "C.Italy_Etruscan" that overlaps with present-day Spanish individuals in a principal components analysis (PCA) built with West Eurasian populations from the Human Origins dataset (Fig. 2A) (21). Across this temporal interval (800 to 1 BCE), three groups of PCA outliers are identified, i.e., four individuals shifted toward northern African populations (C.Italy_Etruscan.Afr), three individuals shifted toward central European populations (C.Italy_Etruscan.Ceu), and one individual shifted toward Near Eastern populations (C.Italy_Etruscan_MAS001) (table S1A). To further inspect the genetic clustering of the central and southern Italian populations studied, we performed unsupervised ADMIXTURE on 71 individuals (Fig. 2, B and C) after the exclusion of genetically related individuals (table S1B and fig. S2). C.Italy_Etruscan individuals harbor the three genetic ancestries associated with Anatolian Neolithic farmers, European hunter-gatherers, and Bronze Age pastoralists from the Pontic-Caspian Steppe. C.Italy_Etruscan.Ceu carries a higher proportion of "steppe-related ancestry," while C.Italy_MAS001 shows a genetic component maximized in Iranian Neolithic farmers. The latter is also present in C.Italy_Etruscan.Afr individuals alongside an ancestry component identified in an Early Neolithic Moroccan group.
Since the spread of the steppe-related ancestry into Europe during the Late Neolithic and Early Bronze Age has been linked to the diffusion of Indo-European languages (15, 19) and is consistent with linguistic evidence for a "Steppe" homeland (22, 23), we attempted to formally estimate the proportion of steppe-related ancestry in Etruscan individuals who are putatively associated with the non–Indo-European Etruscan language. We first grouped 21 dated and genetically unrelated individuals from the C.Italy_Etruscan cluster (Fig. 3A) and modeled them with qpAdm (P > 0.05) as a mixture of steppe-related ancestry, represented by Bronze Age pastoralists from Samara in western Russia (Yamnaya), and Neolithic or Copper Age populations from Italy (table S4B). This analysis demonstrated around 25% ancestry from such a distal steppe-related source, which reached around 50% when comparative populations were reduced to those more proximate in time and space than the Yamnaya, e.g., central European Bell Beakers (Fig. 3B). Moreover, C.Italy_Etruscan can be modeled successfully as having derived its entire ancestry from other European populations such as the earlier Bell Beaker group from northern Italy and Iron Age populations from southern Europe (Iberia, Croatia, and Greece) (table S4A). PCA reveals a complete overlap between Iron Age and Roman Republic individuals from Tuscany and Lazio, including the ancient city of Rome (17), indicating that substantial levels of steppe-related ancestry were widespread and homogenized in the multilingual context known to include both Indo-European (i.e., Italic and Celtic) and non–Indo-European (i.e., Etruscan) speakers across central Italy by the Iron Age.