Post by Admin on Sept 26, 2021 20:22:50 GMT
#monday
The Regrettes - Monday (Official Music Video)
The Regrettes' Lydia Night has spoken to NME about new single 'Monday', their upcoming third album, striking up a friendship with Olivia Rodrigo and why she's "over letting anyone ever be a dickhead without telling them".
Having released two songs last year, the polished sway of 'I Love Us' and quarantine anthem 'What Am I Gonna Do Today?', the LA punks' recent material marks a departure from the 50's influenced riot girl sound that the band became known for when they emerged in 2015.
"It set up what we wanted to do going into this new album," Night told NME. "Hopefully it gave people a little clue that they should have no idea what to expect next."
Inspired by Charli XCX, Brockhampton, Gwen Stefani, The 1975, Kanye West and The Voidz, 'Monday' sees Night finally embracing her inner popstar.
"If you'd have said that a few years ago, I would have been insulted," she said. "Now though, 'Fuck yeah it's a pop song.' I'm stoked. It's the first time we fully embraced what we were listening to instead of pulling from things we grew up loving."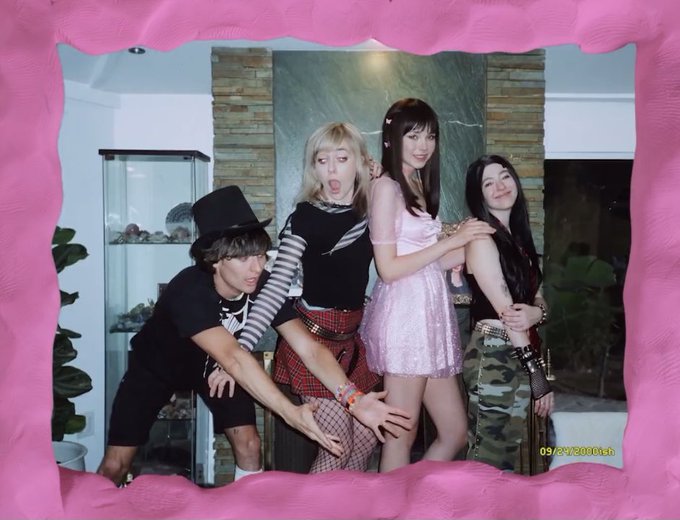 "I've always known I'd make pop music, but only when it became excusable –I thought maybe it would have been a solo thing or when I'd done enough to make myself cool. I love the punk scene and it helped me gain the confidence I have now but when we signed to Warner, I had so many people telling me not to let them change us. It's a fair point considering how a lot of major labels treat their artists but it completely disregarded my own voice. I let that get in my head, for sure. For ages, I was worried about proving something to the 50-year-old dads at the back of the room. But here we are, finally growing up."
She continued: "The biggest thing was making music that wasn't fear-based. Instead of shying away from something that feels very different for us, we ran towards it."
Night explained how their new album is finished, and ultimately "feels free". "Sure, it's the 'poppiest' and 'danciest' album we've ever made but it's also the most experimental, the weirdest and the most vulnerable," she said.
First single 'Monday', a whip smart track about messy rooms and existential crises, "was inspired by misery, dread and all the fun emotions of the past couple of years," said Night. "It was written at one of the peaks of my anxiety, which I was only diagnosed with recently. After years of feeling a certain way but not identifying with any sort of mental illness, this song was me finding the validation for what I was going through. It was super therapeutic."
Listen to Monday:
TheRegrettes.lnk.to/monday
Director: Dillon Dowdell
Production Co: Dreambear
Executive Producer: Evan Brown
Producers: Madeline Milburn and Caroline Murphy
Director of Photography: Symeon Platts
AD: Jasmine Thomas
Production Designer: Justin Ryan Brown
BCAM/MoviOp: Rafael Gomez
1st AC: Pancho Ortiz
2nd AC: Sophie Gemelas
Editor: Ben Montemayor
VFX: The Kroot, Ryan Game & Sage Shutty
VFX Supervisor: Bradley Crawford
Claymation: Johnny McHone
Colorist: Kinan Chabani
Sound Designer: Dalton Harts
Costumer: Lindsey Hartman
Costumer Assistant: Garreth Peck
HMU: Leticia Llesmin
HMU Assistant: Faye Celeste
Gaffer: Kevin Willing
BBG: Zoey Towner
Key Grip: Roman Reardon
BBE: Brandon Piedra
Swing: Erik Glode
Set Decorator: Ryan Whitcomb
Prop Master: Stephen Heckel
Art Assistant: Jordan Testar
Set PA: Jay Castaneda-Arias
Set PA: Marie Pena
Set PA: Isaiah Alexander
BTS Photographers: Brandon Schloss, Olivia Eberstadt