Post by Admin on Oct 5, 2013 21:21:17 GMT
Kidnapping victim Elizabeth Smart says she survived her nine-month ordeal and ultimately aided her own rescue by following her captors' orders and manipulating them into bringing her closer to home."Things that I'd always told myself I'd never do, I would do them if it meant I would survive. If it meant that one day I would be able to go back home and be with my family again, I would do it," she said during an exclusive interview with
NBC News' Meredith Vieira
.
My Story
, by the now 25-year-old, recalls the painful days and nights held in captivity by Brian David Mitchell – a onetime homeless preacher – and his wife, Wanda Barzee, when the teen was chained, dressed in disguise and told she and her family would be killed if she tried to escape. She also relives the moments where she was brought back to her family and saw justice served to her attackers.
In the Meredith Vieira special to air Friday 10 p.m. ET, and previewed earlier in the day on
the NBC News website
, Smart returned to the tent where she was first taken and ordered to undress by a strange woman in long linen robes. In a Meredith Vieira Special, Smart and Vieira went to the scene where that campsite once stood.
'
Elizabeth's Story
' Fourteen-year-old Elizabeth Smart wakes up to find a knife at her neck and a strange man ordering her to come with him. She was rescued nine months after her abducted when a passerby recognized her on the street.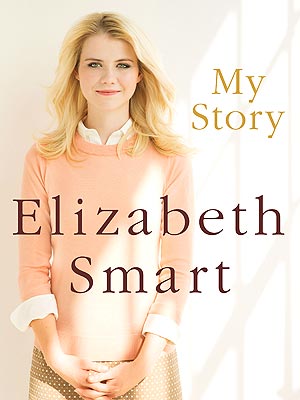 Now for the first time, in her memoir,
MY STORY
, she tells of the constant fear she endured every hour, her courageous determination to maintain hope, and how she devised a plan to manipulate her captors and convinced them to return to Utah, where she was rescued minutes after arriving. Smart explains how her faith helped her stay sane in the midst of a nightmare and how she found the strength to confront her captors at their trial and see that justice was served.
An excerpt from the book:
"'What is your name?' one of the officers asked me. I felt almost dizzy. I was
sick
with uncertainty and fear. 'What is your name?' he asked again. I felt like I was falling over a waterfall. Don't say anything. Don't give Mitchell a reason, or he'll hurt you! Don't give him a reason to hurt your family!" When he spoke, his voice was soft and assuring. 'Are you Elizabeth Smart? Because if you are, your family has missed you so much since you were gone! They want you back. They love you. They want you to come home.'"