Post by Admin on May 11, 2022 17:21:22 GMT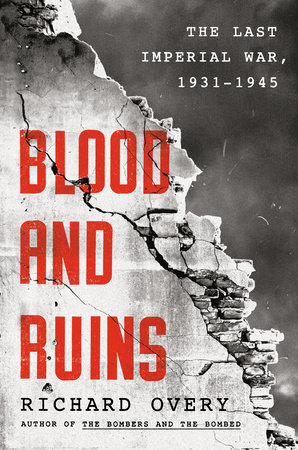 Blood and Ruins
THE LAST IMPERIAL WAR, 1931-1945
By Richard Overy
BLOOD AND RUINS
A brilliant, mildly controversial interpretation of the history, conduct, and aftermath of WWII.
BLOOD AND RUINS
THE LAST IMPERIAL WAR, 1931-1945
BY RICHARD OVERY
RELEASE DATE: APRIL 5, 2022
More than 1,000 pages on World War II might seem overkill, but not for one of the world's leading military historians.
Overy disagrees with "the conventional view of the war," which portrays "Hitler, Mussolini and the Japanese military as causes of crisis rather than its effects, which is what they were." He emphasizes that historians describe World War I as the outcome of a 19th-century global imperial order dominated by the British and French and opposed by Germany, which considered itself a "have-not" nation whose survival depended on "conquering additional imperial zones of its own." Few readers will quarrel with that assessment, but they may be surprised with the author's startling yet persuasive argument that the same description applies to WWII. The 1920s featured three unhappy nations—Germany, Japan, and Italy—who felt that their national identities were in danger unless they could expand their influences. First off the mark was Japan, which invaded China in 1931. Meanwhile, viewing the eastern Mediterranean and North Africa as steppingstones to a new Roman Empire, Mussolini invaded Ethiopia. Overy emphasizes that Hitler had no intention of conquering the world. His view was that Germany, "as a vigorous, progressive and cultured people, lacked sufficient territory to…nourish a growing population." Annexing Austria, the Sudetenland, and Czechoslovakia were acts of an energetic imperial nation, and it was no secret that Poland was next. Still, Hitler expressed surprise when Britain and France declared war. A master of technical detail, Overy summarizes the campaigns but concentrates on the backgrounds and decisions of the leaders who, despite rhetoric about freedom, found themselves in a high-tech imperialistic war. Victory occurs halfway through, and the author devotes the remaining chapters to other relevant imperial issues: Britain's, France's, and Holland's violent efforts to preserve their empires did not peter out until the 1960s; China suffered civil war; and Stalin brutally took control of Eastern Europe.
A brilliant, mildly controversial interpretation of the history, conduct, and aftermath of WWII.
ABOUT BLOOD AND RUINS
"Monumental… vast and detailed study that is surely the finest single-volume history of World War II. Richard Overy has given us a powerful reminder of the horror of war and the threat posed by dictators with dreams of empire." – The Wall Street Journal
A thought-provoking and original reassessment of World War II, from Britain's leading military historian
A New York Times bestseller
Richard Overy sets out in Blood and Ruins to recast the way in which we view the Second World War and its origins and aftermath. As one of Britain's most decorated and respected World War II historians, he argues that this was the "last imperial war," with almost a century-long lead-up of global imperial expansion, which reached its peak in the territorial ambitions of Italy, Germany and Japan in the 1930s and early 1940s, before descending into the largest and costliest war in human history and the end, after 1945, of all territorial empires.
Overy also argues for a more global perspective on the war, one that looks broader than the typical focus on military conflict between the Allied and Axis states. Above all, Overy explains the bitter cost for those involved in fighting, and the exceptional level of crime and atrocity that marked the war and its protracted aftermath—which extended far beyond 1945.
Blood and Ruins is a masterpiece, a new and definitive look at the ultimate struggle over the future of the global order, which will compel us to view the war in novel and unfamiliar ways. Thought-provoking, original and challenging, Blood and Ruins sets out to understand the war anew.