Post by Admin on Nov 14, 2019 18:43:56 GMT
Autosomal SNP-s
We have predicted eye, hair and skin color phenotypes from 25 HirisPlex SNP-s, also suitable to predict non-European ancestry14, as summarized in Figs 3 and 4. Samples from different archaeological cultures and cemeteries showed a remarkable pattern of phenotypic distribution. All Hun and Avar age samples had inherently dark eye/hair colors, DK/701 being the only exception (Fig. 3). Moreover 6/14 Avar age samples were characterized with >0,7 black hair; >0,99 brown eye p-values, inferring 86,5% probability of non-European biogeographic ancestry14 in agreement with their anthropological, archaeological and historical evaluation. In contrast the Conquerors showed a wide variety of phenotypes clustered by cemeteries (Fig. 4). All individuals from the Sárrétudvari (SH), Magyarhomorog (MH) and majority from the Kenézlő (KEF) graveyards displayed European phenotypic patterns; blue eye and/or light hair with pale skin. In the three Karos cemeteries darker eye/hair colors predominated, 4/20 individuals having p-values consistent with non-European origin, nevertheless 5/20 individuals had light hair color indicating a rather mixed origin of this population, concurrent with their mtDNA and Y chromosomal Hg composition.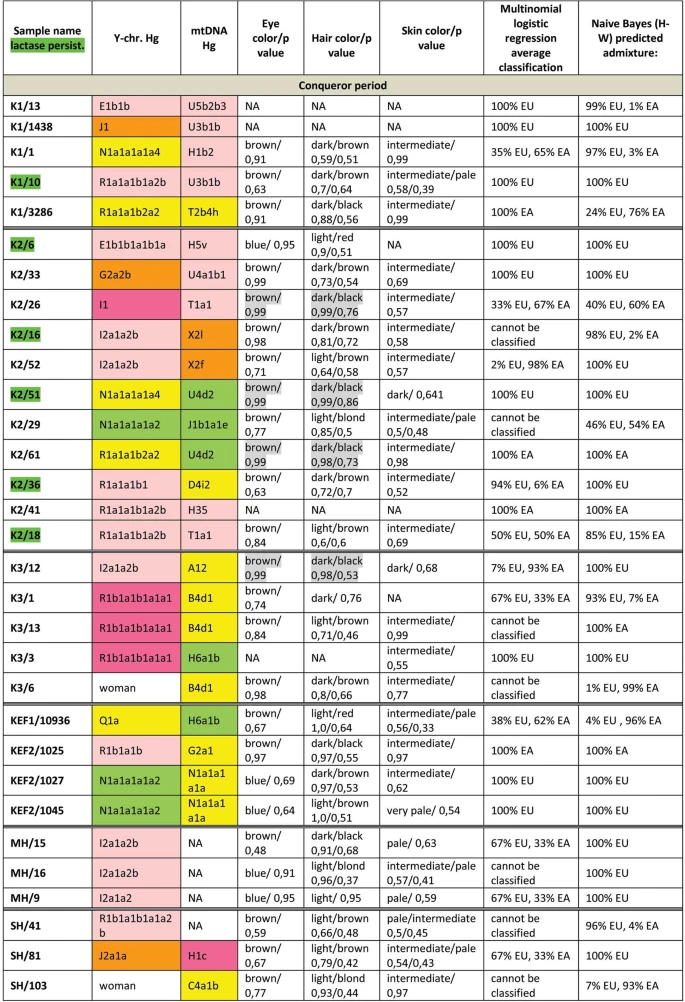 Figure 4
We have also determined 34 AIMs, which can inform about the likely geographic origin of individuals, and used the Snipper App suite version 2.5 portal16 to assign biogeographic ancestry. We predicted ancestry with both the naive Bayesian classifier and multinomial logistic regression (MLR) algorithms, as these make different assumptions about genetic equilibrium28, and listed the results on Figs 3 and 4. The AIM-s results fairly matched and complemented phenotypic information. All Hun age individuals revealed admixture derived from European and East Asian ancestors, while 8/15 Avar age individuals showed predominantly East Asian origin with both methods, 4 individuals were definitely European, while two showed evidence of admixture. The KFP/31 sample gave contradicting results due to low coverage.
Conqueror samples from the Magyarhomorog (MH) and Sárrétudvari (SH) cemeteries showed mostly European ancestry in agreement with their phenotypes and Y Hg-s, though MLR detected a significant east Asian ancestry component and the SH/103 women was classified east Asian despite her blond hair. The Karos (K) and Kenézlő (KEF) populations were profoundly admixed, comprising individuals of purely East Asian, European and mixed origin in nearly identical proportions, again in agreement with results obtained from uniparental and phenotypic markers.
The determined variable autosomal loci are also suitable to exclude possible direct (parent-child, sibling) genetic relatedness29, thus we compared the autosomal genotypes of all individuals sharing either maternal or paternal Hg-s. Direct kinship could not be excluded between the MH/9 and MH/16 individuals with identical phenotypes, suggesting that MH/9 probably also belongs to Hg I2a1a2b-L621, despite its uncovered L621 marker. KEF2per1027 and KEF2per1045 were probably brothers as they had identical mitogenomes, Y Hg-s and blue eye color besides sharing autosomal alleles. The same applies to K3/1 and K3/13 individuals who were probably also brothers. We could not exclude possible direct paternal relationship between K2/36, K2/18 and K2/41 but the first two samples had unsatisfactory coverage to make a strong statement.
We have tested two SNP-s (rs4988235 and rs182549) associated with the adult lactase persistence phenotype in Europe15. Individuals carrying derived alleles in these loci are able to digest lactose in dairy products during adulthood without symptoms of lactose intolerance. Allele frequency of the persistence genotype varies throughout Eurasia30, reaching above 90% at some parts of Northwestern Europe, around 80% in present day Hungary, but drops below 30% in Central Asia and even lower in East Asia. We detected the derived persistence allele in all of the studied groups (Figs 3 and 4, Supplementary Table S2); 1/3 of the Hun period individuals, 2/14 of the Avar period individuals, and 6/31 of the Conqueror period individuals carried persistence alleles. It is remarkable that the persistence genotype seems to be associated with European origin, as all of the carriers were predicted to have predominantly European ancestors. This is in agreement with a previous study31, which found that all of the 11% Conqueror samples with persistence genotype carried European mtDNA Hg H. In addition all carriers were heterozygous, 6 of them for both SNP-s, but three of them carried just the rs182549 (-22018 G > A) derived allele suggesting previous admixture with non-carriers, possibly derived from East Eurasia.