Post by Admin on Feb 29, 2020 18:50:37 GMT
The spread of steppe and Iranian-related ancestry in the islands of the western Mediterranean
Abstract
Steppe-pastoralist-related ancestry reached Central Europe by at least 2500 BC, whereas Iranian farmer-related ancestry was present in Aegean Europe by at least 1900 BC. However, the spread of these ancestries into the western Mediterranean, where they have contributed to many populations that live today, remains poorly understood. Here, we generated genome-wide ancient-DNA data from the Balearic Islands, Sicily and Sardinia, increasing the number of individuals with reported data from 5 to 66. The oldest individual from the Balearic Islands (~2400 BC) carried ancestry from steppe pastoralists that probably derived from west-to-east migration from Iberia, although two later Balearic individuals had less ancestry from steppe pastoralists. In Sicily, steppe pastoralist ancestry arrived by ~2200 BC, in part from Iberia; Iranian-related ancestry arrived by the mid-second millennium BC, contemporary to its previously documented spread to the Aegean; and there was large-scale population replacement after the Bronze Age. In Sardinia, nearly all ancestry derived from the island's early farmers until the first millennium BC, with the exception of an outlier from the third millennium BC, who had primarily North African ancestry and who—along with an approximately contemporary Iberian—documents widespread Africa-to-Europe gene flow in the Chalcolithic. Major immigration into Sardinia began in the first millennium BC and, at present, no more than 56–62% of Sardinian ancestry is from its first farmers. This value is lower than previous estimates, highlighting that Sardinia, similar to every other region in Europe, has been a stage for major movement and mixtures of people.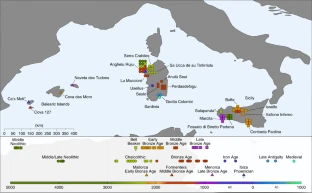 Fig. 1: Geographical origins and temporal distribution of newly reported data

80 Introduction
81 The advent of the European Bronze Age after 3000 BCE was marked by an increase in long-range
82 human mobility. People with ancestry from the Steppe north of the Black and Caspian Seas made a
83 profound demographic impact in central and eastern Europe, mixing with local farmers to
84 contribute up to three quarters of the ancestry of peoples associated with the Corded Ware
85 complex1–3. The expansion of the Beaker complex after around 2400 BCE from the west had a less
86 straightforward correlation to genetic ancestry. In Iberia, most people buried with artifacts of the
87 Beaker complex had little if any Steppe pastoralist-related ancestry (from here on denoted "Steppe
88 ancestry"), but Beaker cultural practices were adopted by people in Central Europe were in part
89 descended from Steppe pastoralists and then spread this material culture along with Steppe
90 ancestry to northwestern Europe4. In Iberia, Steppe ancestry began to appear in outlier individuals
91 by ~2500 BCE4, and became fully mixed into the Iberian population by 2000 BCE5. Meanwhile on
92 Crete in the eastern Mediterranean, there was little if any Steppe ancestry identified in all
93 published samples from the Middle to Late Bronze Age "Minoan" culture (individuals dating to 2400-
94 1700 BCE), although these individuals derived about 15% of their ancestry from groups related to
95 early Iranian farmers (from here on referred to as "Iranian-related ancestry")6 (Fig. 1).

96 In the islands of the central and western Mediterranean, the Bronze Age, transition has not been
97 investigated with ancient DNA, despite the fact that archaeological evidence reveals that many of
98 the same cultural changes that affected mainland Europe and the eastern Mediterranean also
99 impacted this region7. The first evidence for a permanent human presence in the Balearic Islands is
100 dated to just before the onset of the Bronze Age in this part of Europe, between ~2500-2300 BCE8,9.
101 Early settlers initially relied on animal husbandry and their economy was focused on sheep, goat9,10,
102 and cereal agriculture11, while exploitation of wild marine resources (fish, marine birds, mollusks)
103 was central to subsistence on the small island of Formentera10,12. Around 1200 BCE, the
104 development of the Talaiotic culture in Mallorca and Menorca (the easternmost Balearic Islands)
105 was marked by intensified management of food resources and the appearance of monumental
106 towers, the eponymous talaiots. These structures were similar in style to the Sardinian nuraghi10,13,
107 raising the question of whether there was a cultural connection14, a scenario that would gain
108 plausibility if there was substantial genetic exchange between the two regions. Nuragic Sardinians
109 were also in cultural contact with groups from the eastern Mediterranean15, so an important
110 question is whether they were admixed with either Steppe or Iranian-related ancestry. Meanwhile,
111 the central Mediterranean island of Sicily was affected by the spread of Beaker cultural complex
112 after around 2400 BCE, and by cultural influence from the Aegean in the Late Helladic Period
113 ~1600-1200 BCE (the period of the "Mycenaean" culture)16–18. An unanswered question is whether
114 these events or other cultural changes on the island involved substantial movements of people.

115 We increased the number of individuals from these islands with genome-wide data from 3 to 52,
116 and analyzed the data to address three questions. First, to what extent did movements of people
117 into these islands track the material culture exchanges documented in the archaeological record?
118 Secondly, can we establish the source and minimum dates of arrival of Steppe ancestry in the
119 central and western Mediterranean islands where this ancestry is present in variable proportions
120 today? Thirdly, did Iranian-related ancestry reach the central and western Mediterranean prior to
121 the period of Phoenician and Greek expansion?