Post by Admin on Jan 18, 2021 20:27:20 GMT
Results and discussion
We have assembled data on 238 population samples with allele or genotype frequencies for at least one of the four commonly studied variants. Most of those studies have data on two or more of the SNPs (Table S1). 105 population samples have data for all four of those SNPs at OCA2: three amino acid substitution SNPs at OCA2, rs1800414, rs74653330, and rs1800407 and the OCA2 enhancer SNP, rs12913832, in an intron of HERC2. The population samples with OCA2 data are listed in Supplemental Table S1.
Individual SNP frequencies
The population specific allele frequencies of the four functional SNPs noted in Table 1 are given in Supplemental Table S1 and presented as density plots in Figs. 1, 2, 3 and 4; a different graphic representation indicating the frequency data for each specific population sample is given in Supplemental Figs. S1 through S4. All of the functional SNPs have data for many population samples. Each of the Supplemental figures includes all of the population samples with data for any of the SNPs; blanks represent missing data for a given population sample. Each bar in the Supplemental figures represents the data from a single population study involving that SNP; there are several instances of multiple independent samples for the same ethnic/geographic group.
Figure 1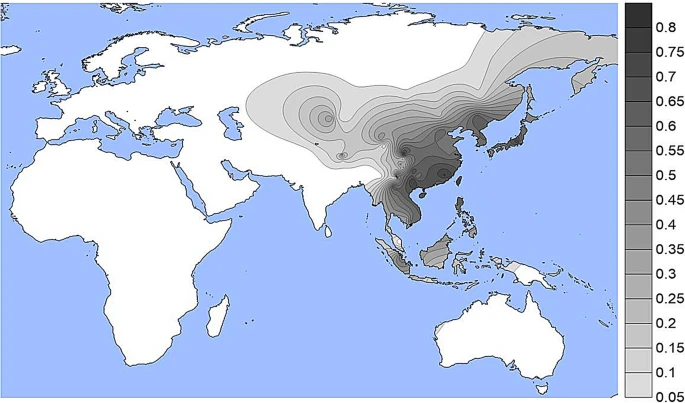 A density plot of the frequencies of the derived allele at rs1800414. The underlying data for Figs. 1, 2, 3 and 4 are in Table S1. Alternative graphic representation with the frequencies of each population sample is in Fig. S1. See text.
The derived allele at rs1800414 is largely restricted to but common in many East Asian populations (Figs. 1 and S1). This SNP has been studied in many populations that have not been studied for various of the other three SNPs. This variant reaches frequencies over 50% in most of East and Southeast Asia. It has lower frequencies of 5% to 15% in the Pacific populations and in Central and Northern Asia as well as Tibet and other parts of Southwestern China.
The derived allele at the missense SNP, rs74653330 (Ala481Thr) (Figs. 2 and S2) has been studied less comprehensively than rs1800414 but occurs widely in Northern Eurasia and is especially common in Eastern Siberian and Mongolian populations The report of a frequency of 52% in the Oroqen (sampled in northern China near the Russian border) is an outlier in terms of frequency but not geography: it was omitted from Fig. 2 but not Fig. S2. Off the scale of Fig. 2 (frequencies < 4%) the derived allele occurs rarely in most of Europe, in some Southwest Asian populations (Turkish, Iranians), in South Asia (Hazara), and in China (Tibetans). In northern Europe it occurs at low frequencies (1% to 3%) in some populations (Chuvash, Vologda Russians) and reaches 5% to 7% in Finnish samples. Given that the derived allele at rs74653330 is hypomorphic, it is a clear candidate for studies of selection favoring the allele in the northern populations.
Figure 2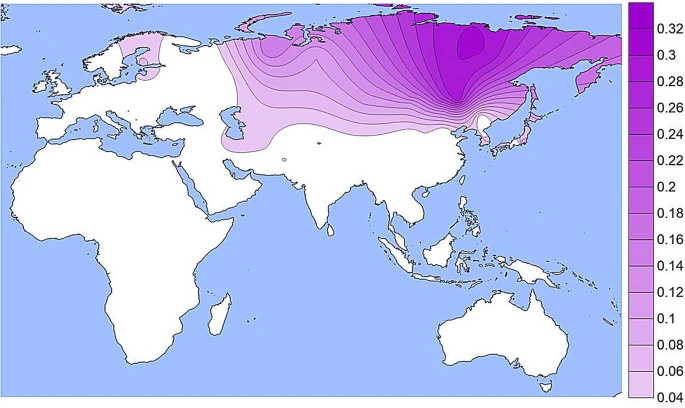 A density plot of the frequencies of the derived allele at rs74653330. The scale has been adjusted to minimize visual extrapolation to very rare occurrences. An outlier frequency of 0.52 in a small Orogen sample was omitted from the density plot and the omission resulted is a slight shift of the highest frequency region to the West. See Figure S2, caption for Fig. 1, and text.