Post by Admin on Oct 10, 2013 5:17:56 GMT
The US State Department repeatedly acknowledged Japanese administration of the disputed islands and the US is willing to intervene if there is an armed conflict over the islands between China and Japan based on Article V of the mutual defence treaty. As the congressional report below states, the Okinawa Reversion Treaty clearly included the Senkakus when they were returned to Japan in 1971 and China has no legitimate historical claim over the Senkakus/Diaoyu. Japan needs to fend off China's nationalist claims by relying primarily on America's military might and its own military power does not have enough deterrence effect on the hawkish Chinese military.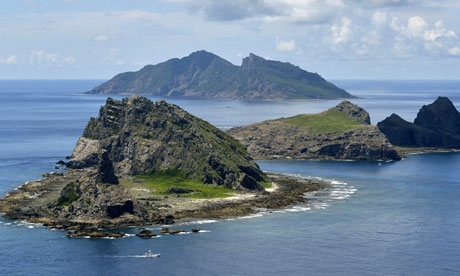 U.S. administration of the islets began in 1953 as a result of the 1951 Treaty of Peace with Japan.10 The Treaty did not mention the Senkakus Diaoyu/Diaoyutai), but it referred to other islets that had reverted to Chinese control or which China claimed. These included Taiwan and the Pescadores (off the western coast of Taiwan), as well as the Spratlys and the Paracels (both in the South China Sea). Article 3 gave the United States sole powers of administration of "Nansei Shoto south of 29 north latitude (including the Ryukyu and the Daito Islands)…." In 1953, the U.S. Civil Administration of the Ryukyus issued U.S. Civil Administration of the Ryukyus Proclamation 27 (USCAR 27), which defined the boundaries of "Nansei Shoto [the southwestern islands] south of 29 degrees north latitude" to include the Senkakus.11 At the time of the signing of the Okinawa Reversion Treaty, several State Department officials asserted that following the signing of the Japan Peace Treaty, "Nansei Shoto south of 29 degrees north latitude" was "understood by the United States and Japan to include the Senkaku Islands."12
In short, while maintaining neutrality on the competing claims, the United States agreed in the Okinawa Reversion Treaty to apply the Security Treaty to the treaty area, including the Senkaku (Diaoyu/Diaoyutai). During a 2010 worsening of Japan-PRC relations over the islets, Secretary of State Hillary Clinton summed up the U.S. stance by stating, "... with respect to the Senkaku Islands, the United States has never taken a position on sovereignty, but we have made it very clear that the islands are part of our mutual treaty obligations, and the obligation to defend Japan."22 Moreover, the Security Treaty itself declares in Article V that each party would act "in accordance with its constitutional provisions and processes"23 in response to "an armed attack ... in the territories under the administration of Japan." "Administration" rather than "sovereignty" is the key distinction that applies to the islets. Since 1971, the United States and Japan have not altered the application of the Security Treaty to the islets.
Some observers, seeking to avoid a situation where the United States inadvertently encourages more assertive Chinese actions, have called on Obama Administration officials to stop using the word "neutral" in describing the U.S. position on the issue and to also publicly declare that unilateral actions by China (or Taiwan) will not affect the U.S. judgment that the islets are controlled by Japan. In its own attempt to address this perceived gap, Congress inserted in the FY2013 National Defense Authorization Act (H.R. 4310, P.L. 112-239) a resolution stating, among other items, that "the unilateral action of a third party will not affect the United States' acknowledgment of the administration of Japan over the Senkaku Islands."
www.fas.org/sgp/crs/row/R42761.pdf