Post by Admin on Mar 15, 2018 18:55:16 GMT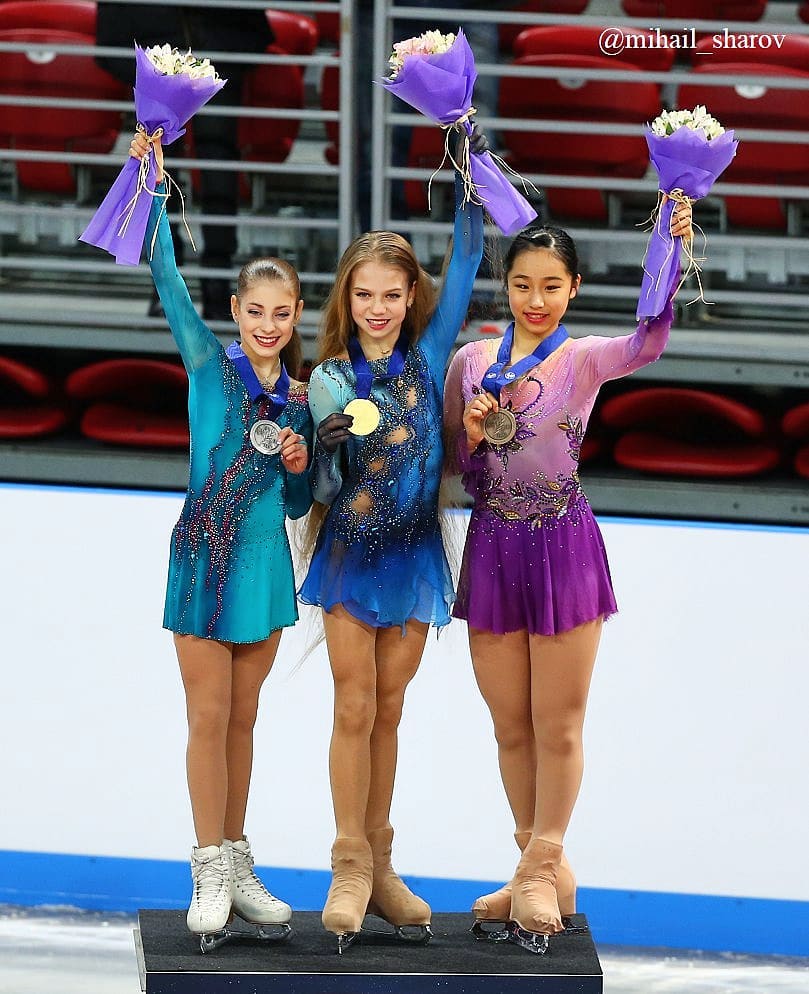 Sofia (Bulgaria). Junior World Championship. Women
Outcome
1. Alexandra TRUSOVA (Russia) - 225.52
2. Alena KOSTORNAYA (Russia) - 207.39
3. Mako Yamashita (Japan) - 195.17
4. Stanislava KONSTANTINOVA (Russia) - 186.35
5. Lim Yoon Su (Korea) - 185.12
6. Juhana Yokoy (Japan) - 184.78
The video from the training, published in late April last year, where two girls of coach Eteri Tutberidze - 13-year-old Alexandra Trusova and 13-year-old Anna Scherbakova - made the "male" cascades of quad Salchow-triple toe-loop and quadruple toe-loop sheepskin respectively, impressed many. However, at that time girls by age did not have time to start even at junior competitions, and therefore someone could underestimate what they saw: but is it not enough, who does what in training? This was partly justified. For example, the 18-year-old ward of Brian Orser Elizabeth Tursynbaevain its time, also boasted of a cascade of 4-3, but the competition did not reach him. The choreographer of the Tutberidze group Daniil Gleyhenhaus shared his plans to insert on the fourth jump into the girls' arbitrary programs. But Tutberidze added, they say, it makes no sense even to talk about the most difficult leaps, if they are not performed at official competitions.
What went down Trusova's history:
- Record points for technique in a free program (92,35)
- She performed in women's competitions quadruple toe loop the first in history
- She performed in women's competitions two quadruple jumps (toe loop and salchow) in one program the first in history
The fourth experiment with Anna Shcherbakova was not possible because of a trauma to implement it, but Alexander started the fight with the quadruple Salchow from her debut junior start. And it was held with varying degrees of success, so in the finals of the Grand Prix among juniors the figure skater could not twist it and fell, losing in a free program to Alena Kostornaya with weaker jumps.
The final victory Trusova then provided a difference following the results of the short program. The same scenario was repeated with a jump under a carbon paper and at the junior championship of the country: again it is not short and fall.
The turning point was the final of the Russian Cup in Veliky Novgorod: Trusova left Salchov, but set herself a new task: to make the program and the second quadruple jump - toe loop. However, the new element was not fully rotated and ended in a fall.
The presence of both quads in the application for a free program of the junior world championship looked crazy: after all three more cascades were planned after them 3-3! Yes, in the course of the season, Alexander even after the unsuccessful Salhovian skating program as if there was no fall, but the adrenaline for many fans off scale. After all, if the four boys had to close their eyes and swallow a valerian, then a tiny girl came over them. But her efforts, steadfastness and fearlessness were rewarded with fulfilling her desire: "I want to do something first in the world."