Post by Admin on Feb 14, 2018 18:48:19 GMT
Next-generation sequencing (NGS) technologies are revolutionizing the field of ancient DNA (aDNA), and have allowed the sequencing of complete ancient genomes5,6, such as that of Ötzi, a Neolithic human body found in the Alps1. However, very little is known of the genetic composition of earlier hunter-gatherer populations from the Mesolithic period (ca 10,000–5,000 years before present, BP, that immediately preceded the Neolithic period).
The Iberian site called La Braña-Arintero was discovered in 2006 when two male skeletons were found in a deep cave system, 1,500 meters above sea level in the Cantabrian mountain range (León, Northwestern Spain) (Fig. 1a). The skeletons were dated to ~7,000 years BP (7,940–7,690 calibrated BP)7. Because of the cold environment and stable thermal conditions in the cave, the preservation of these specimens proved to be exceptional (Fig. 1b). We identified a tooth with high human DNA content (48.4%) and sequenced this specimen to a final 3.40X effective genomic depth-of-coverage (Extended Data Fig. 1).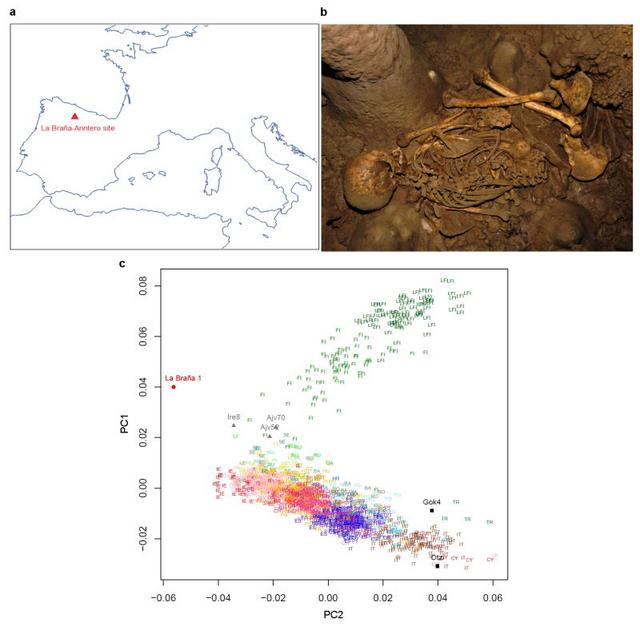 Figure 1
Geographic location and genetic affinities of the La Braña 1 individual
We undertook several tests to assess the authenticity of the genome sequence and to determine the amount of potential modern human contamination. First, we observed that sequence reads from both the mitochondrial DNA (mtDNA) and the nuclear DNA of La Braña 1 showed the typical ancient DNA misincorporation patterns that arise from degradation of DNA over time8 (Extended Data Fig. 2a, b). Second, we showed that the observed number of human DNA fragments was negatively correlated with the fragment length (R2 >0.92), as expected for ancient degraded DNA, and that the estimated rate of DNA decay was low and in agreement with predicted values9 (Extended Data Fig. 2c, d).
We then estimated the contamination rate in the mtDNA genome, assembled to a high depth-of-coverage (91X), by checking for positions differing from the mtDNA genome (haplogroup U5b2c1) that was previously retrieved with a capture method2. We obtained an upper contamination limit of 1.69% (0.75%–2.6%, 95% CI) (Supplementary Information). Finally, to generate a direct estimate of nuclear DNA contamination, we screened for heterozygous positions (among reads with >4x coverage) in known polymorphic sites (dbSNP-137) at uniquely mapped sections on the X chromosome6 (Supplementary Information). We found that the proportion of false heterozygous sites was 0.31%. Together these results suggest low levels of contamination in the La Brana 1 sequence data.