Post by Admin on Jan 31, 2019 18:03:03 GMT
The Mesolithic Cheddar Man and the Neolithic sample from Carsington Pasture Cave,
Derbyshire ('Sven') had sufficient coverage to estimate heterozygosity. Consistent with
recent ancestry from larger or more admixed populations, Sven showed slightly higher levels
of heterozygosity than Cheddar Man (Supplementary Figure S10). None of the Mesolithic
and Neolithic British individuals analysed here had a derived lactase persistence allele (see
Supplementary Table S2). We predicted pigmentation characteristics for Cheddar Man and
Sven using Hirisplex25 and a recently-developed method for predicting skin pigmentation26.
Previously, predictions on the level of skin pigmentation were mostly derived using two
SNPs in SLC45A2 and SLC24A5 that indicate lack of hypo-pigmentation when in the
ancestral state18. However, here we integrate 36 rather than 2 SNPs allowing more precise
prediction26. Cheddar Man is predicted to have had dark or dark to black skin, blue/green
eyes and dark brown possibly black hair, whereas Sven most likely had intermediate to dark
skin pigmentation, brown eyes and black possibly dark brown hair (see Pigmentation section
in the Supplementary Materials for a detailed discussion of the results). This is in line with
the current hypothesis that alleles commonly associated with lighter skin were introduced in
Western Europe by ANFs19.
We also analysed two previously-published WHGs, and find potential temporal and/or
geographical variation in pigmentation characteristics. Loschbour22 from Luxembourg is
~2000 years younger than Cheddar Man, and is predicted to have had intermediate skin
pigmentation. Furthermore, the Loschbour individual most likely had blue/green eyes. In
contrast, La Braña18 from northern Spain who is slightly later than Loschbour is predicted to
have had dark to dark to black skin and hazel/green eye colour. Both La Braña and
Loschbour were predicted to have had black, possibly dark brown hair. These results imply
that quite different skin pigmentation levels coexisted in WHGs at least by around 6000 BC.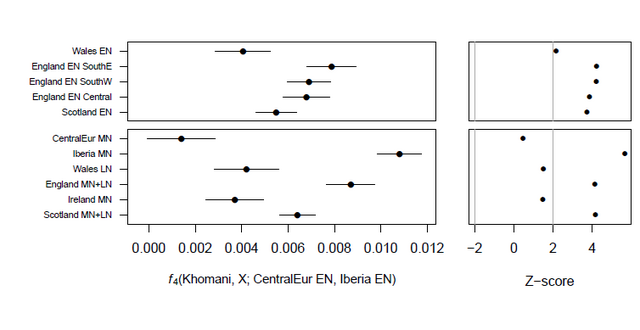 Discussion
The genomes of the six British Mesolithic individuals examined here appear to be typical of
WHGs, indicating that this population spread to the furthest northwestern point of early
Holocene Europe after moving from southeastern Europe, or further east, from
approximately 14,000 years ago17. It is notable that this genetic similarity among British
Mesolithic and Loschbour individuals spans a period in Britain (c.10.5-6 kBP) that includes
the cultural transition to the Late Mesolithic, the potentially catastrophic Storegga landslide
tsunami, and the separation of Britain from continental Europe as sea levels rose after the
last ice age. This finding is inconsistent with the hypothesis of pre-c.6 kBP gene flow into
Britain from neighbouring farmers in continental Europe15.