Post by Admin on Jul 23, 2019 18:04:47 GMT
3. The third split in the Ringe et al. phylogeny is the departure of groups that would laterengender Italic and Celtic, and perhaps Germanic, a branch with an unresolved root. This complex movement should flow from the Pontic-Caspian steppes to the west, perhaps divided into southern (Italo-Celtic) and northern (Pre-Germanic) streams. It should be dated later than the Tocharian migration, although since these two migration streams flowed from the eastern and western margins of the PIE language community, they probably spoke different regional dialects of PIE, so some of the linguistic differences between them (supporting their chrono-logical split) could have been partly geographic-dialectical, or synchronic, rather than entirely chronological-developmental, or diachronic. The third cluster of archaeologically documented migrations meets these complicated criteria, Fig. 4.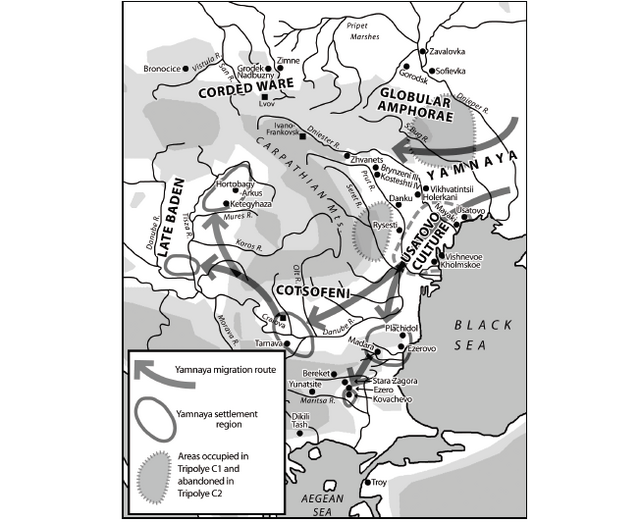 Fig. 4. The third migration, 3000–2800 bc, of the Yamnaya immigrants into the Danube valley,and penetration of Usatovo-type and Yamnaya-type contacts with Tripol'ye CIIand pre-Corded Ware communities on the upper Vistula
The southern stream was the Yamnaya-culture migration into the Danube valley and the Balkan uplands of Bulgaria, dated about 3000–2800 bc. The migrants probably came from the Bug-Dnieper-Azov steppes, and targeted the lower Danube valley and Bulgaria, in one direc-tion; another series of movements pushed farther up the Danube to the middle Danube valley in eastern Hungary, where thousands of intrusive Yamnaya kurgan graves are assigned to this event (Ecsedy 1994), contemporary with late Baden/Cernavoda III. The rare ceramic gifts in these graves were largely derived from local Cotsofeni traditions, typical of a culture centered in the strategic Iron Gates passes, which seems to have been integrated with the Yamnaya immigrants. Pre-Celtic and Pre-Italic might have emerged from dialects spoken during this se-ries of migrations, but after the movement started, about 3000 bc, it would be perhaps 1500 years before the probable formation of Proto-Celtic (in Austria?) or Proto-Italic (in Italy?). Pre-Celtic was not a language but rather designates a phase of language history, unfortunately al-most unknown, bridging PIE and Proto-Celtic, lasting for at least 1500 years. Proto-Celtic can be regarded as a language, the reconstructable language immediately ancestral to the Celtic languages, and presumably was spoken about 1500–1000 bc. In each daughter branch there was a Pre-phase of varying lengths. We should not expect to be able to track the intervening steps in convenient language-coded pottery types.The northern stream in this third migration moved a shorter distance but was more obvi-ously and thoroughly integrated with a local agricultural population, the village farmers of the late Tripol'ye CII culture north and east of the Carpathians. At the mouth of the Dniester in the coastal steppes, dagger-holding patrons were buried under Usatovo-culture kurgans in the Dniester steppes. Tripol'ye CII people seem to have lived in the Usatovo settlement, and very similar people lived far up the Dniester, where the settlements that made fine Usatovo pottery styles (Brynzeni III) were located (Anthony 2008; Patokova et al. 2009). But Usatovo cemeteries exhibited a hierarchy in which some people were buried in flat graves with poor grave goods,like the cemeteries near the Tripol'ye settlements just upriver in the farming zone; and others were buried under Yamnaya-style kurgans with rich gifts of arsenical bronze weapons and fine painted Tripol'ye CII pots. The Usatovo culture probably was the product of a group of steppe warriors becoming patrons of late Tripol'ye clients, beginning about 3300 bc, a century or two before the Yamnaya migrations into the Danube valley. Tripol'ye CII groups might well have shifted to the speech of their Usatovo patrons, making Tripol'ye CII groups a vector for the spread of IE languages (pre-Germanic?) up the Dniester into Poland, where there aremany indications of contact between pre-Corded Ware (Zimne, Gródek Nadbużny) and Tri-pol'ye C II communities before 3000 bc (Klochko and Kośko 2009). Through this geographic path, where many interpenetrating cultural influences can be seen archaeologically, IE dialects from the steppes could have been adopted in Poland, eventually becoming a pre-Germanic ar-ray of languages in the northern European plain.What was the social mechanism for inter-cultural accommodation in these episodes of con-tact? Mobile steppe pastoral societies, documented archaeologically, must have developed a social and political infrastructure to manage mobility and social relations at a distance, and the recon-structed PIE vocabulary suggests how they did it. The great increase in mobility that occurred in the Pontic-Caspian steppes at the opening of the Yamnaya period, about 3300 calBC, probably re-sulted from the initial combination of ox-wagons with horseback-riding, which greatly increased the potential geographic range and productivity of pastoral economies. Increased mobility is seen archaeologically in the disappearance of settlements in large regions where thousands of kurgan cemeteries are known, and by the appearance of some kurgan cemeteries in the inte-rior steppes, outside major river valleys. This shift in living patterns and economy (see final section, economy 2) cannot have happened without social effects.
The PIE vocabulary suggests that Yamnaya groups recognized mutual obligations of 'hospitality' between guest-hosts, a re-ciprocal relationship (*ghos-ti­). This institution redefined who belonged under the social um-brella, extending protection to non-kin who might be moving through others' pastures. It would have been very useful first as an adaptation to mobility in a pastoral economy, and later as away to incorporate outsiders as people with clearly defined rights and protections, as it was used from The Odyssey to medieval Europe (Kristiansen and Larsson 2005: 238).Steppe societies already recognized differences in rank and prestige, probably the beginning of the patron-client system suggested by PIE vocabulary for leaders and followers, and for gifts and the institutionalized praise of gifts. Beginning rather suddenly in the Eneolithic, when they first acquired domesticated cattle and sheep from neighboring (Afro-Asiatic?) farmers, Pontic-Caspian steppe societies made funerals into a theatre of social and political competition, particu-larly for community leaders, who were buried with multiple cattle, sheep, and horse sacrifices;elaborate costumes of exotic ornaments, including copper rings and beads; and weapons, in-cluding polished-stone-headed maces or axes, as at Khvalynsk on the Volga and Nikol'skoe on the Dnieper. The new public theatre continued into the EBA Yamnaya period, expressed in the construction of a kurgan, the sacrifice of domesticated animals, deposition of symbolic parts of the animals in the kurgan ditch and in the grave, and (presumed) feasts using the remainder of the carcass. PIE contained a vocabulary related to gift-giving and gift-taking that is interpreted as referring to potlatch-like feasts meant to build prestige and display wealth (Benveniste 1973: 61–63; Mallory and Adams 1997: 224–225; Markey 1990). The public performance of praise poetry,animal sacrifices, and the distribution of meat and mead were central parts of the performance.Calvert Watkins (1995: 73–84) identified a special kind of song, the 'praise of the gift' in Vedic,Greek, Celtic and Germanic, and therefore almost certainly in late Proto-Indo-European. Praise poems proclaimed the generosity of a patron and enumerated his gifts. These performances were both acclamations of identity and recruiting events through which the language of power might be learned first as songs sung over free food and drink. But equally likely, the PIE vocabulary suggests, was that the patron's language was learned from a more unsettling institution: roamingwar-bands of youths who were initiated into manhood by going raiding for livestock and/orwomen, the famous PIE institution of the Mannerbünde, or Kouros (Falk 1986; Kershaw 2000).Guest-host institutions (egalitarian), patron-client institutions (hierarchical), wealth and gen-erosity, the threat of violence from seasonally active war-bands, and a new, more productive herding system probably brought prestige and power to the identities associated with Proto-Indo-European dialects after 3300 bc. The institution of oath-bound obligation between the strong and the weak and the guest-host institution extended those protections to new social groups.These mechanisms made it possible for a patron to accept and integrate outsiders as clients with-out shaming them or assigning them permanently to submissive roles. Patrons were themselves clients of other patrons. Praise poetry at public feasts encouraged the patrons to be generous, and validated the language of the songs as a vehicle for communicating with the gods who regulated everything. All of these factors taken together suggest that the spread of Proto-Indo-European probably was more like a franchising operation than an invasion. Although the initial penetration of a new region (or 'market' in the franchising metaphor) required an actual migration from the steppes and military confrontations, once it began to reproduce new patron-client agreements(franchises) its connection to the original steppe immigrants became genetically remote, while themyths, rituals, and institutions that maintained the system were reproduced, in the properwords, down the generations.
Each of these three episodes of migration is suggested by dated archaeological evidence.The sequence and direction of apparent prehistoric movements out of the Pontic-Caspian steppes and into neighboring regions can be matched with the first three splits in the sequence and direction of movements suggested by the Ringe phylogeny, which adds weight to the hy-pothesis of the Pontic-Caspian homeland for PIE. A Pontic-Caspian PIE homeland is plausible archaeologically, and also is consistent with internal linguistic evidence for wheeled vehicles,an environment with horses and honey bees, and loans between PIE and Proto-Uralic.