Post by Admin on Oct 13, 2021 21:31:44 GMT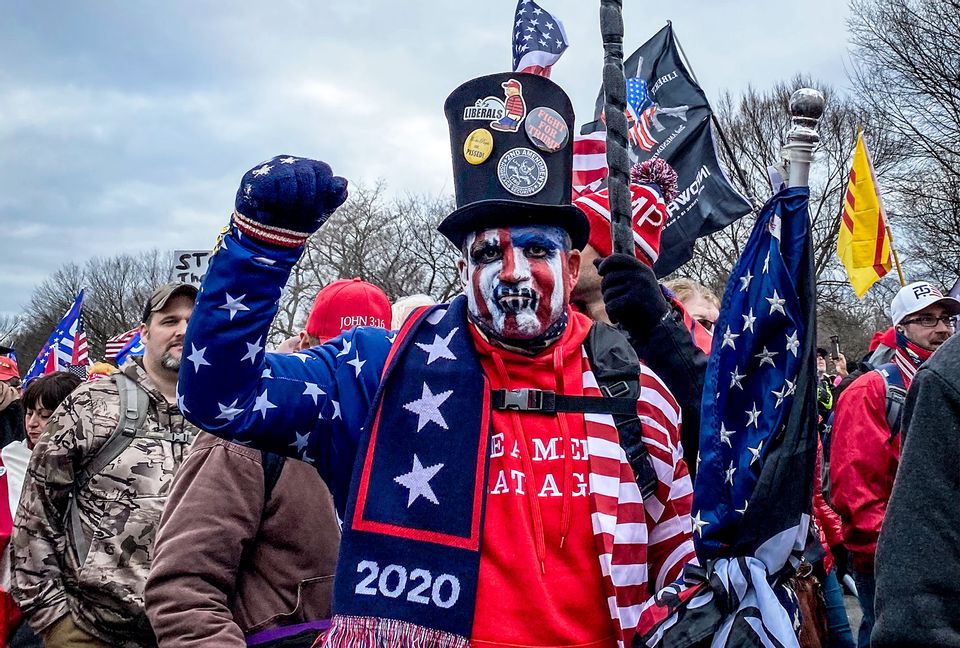 Trump and his followers were loud, exuberant and enthusiastic on Jan. 6. The lethal attack on the Capitol had been publicly announced weeks in advance, and should have come as no surprise. Trump's rallies and gatherings continue to celebrate violence and the prospect of revenge — and specifically of "getting even" with Trump's "enemies."
Steve Bannon, Trump's former campaign chairman and White House strategist, has now threatened to recruit Republican-fascist "shock troops" with the apparent goal of undermining the U.S. government, and by implication multiracial democracy, if and when Trump and the Republicans regain control of both Congress and the White House.
On a daily basis Fox News and other elements of the right-wing disinformation propaganda machine use stochastic terrorism and other techniques to radicalize their audience into committing acts of political violence. To this point, the Democratic Party and the political and news media class in general have remained in denial, and largely passive in response.
In one troubling new development, Trump supporters have begun flying all-black American flags, in an implicit threat to harm or kill their opponents — meaning nonwhite people, "socialist liberals," Muslims, vaccinated people and others deemed to be "enemies" of "real America." As media critic Eric Boehlert recently noted, the liberal opinion site Living Blue in Texas is sounding the alarm about the specific meaning of the black flag and the Republican-fascists support for terrorism and other political violence. That post, "Are Your Republican Neighbors Planning on Killing You?", merits lengthy quotation:
However you interpret these videos posted by Trump followers and other neofascists — which could be mainly performative — it is clearly true that the American right is increasingly willing to accept or condone violence as a means of expanding and protecting their social and political power. (Salon did not find licensed news photographs of these flags, and has made the editorial decision not to reproduce the images mentioned above, which are easy to find on social media.)
Public opinion polls and other research have repeatedly shown that millions of Republican voters and Trump followers would support the use of violence to remove Joe Biden from office because of the "Big Lie" and their belief that that he is not a legitimate president. Similarly, a large proportion of Republicans believe that the rioters who stormed the Capitol on Jan. 6 were "patriots" whose use of violence was justified.
And a new poll from the University of Virginia's Center for Politics even suggests that more than 50 percent of Trump supporters want "red states" to secede from the Union. Republican elected officials and other right-wing opinion leaders have continued to escalate their threats of political violence against Democrats and other targeted groups.
In a recent speech to the North Carolina Faith and Freedom Coalition's "Salt & Light" conference, Rep. Madison Cawthorn, R-N.C., issued what sounded like a declaration of war:
It is time for the American Christian church to come out of the shadows to say, "No longer are we going to allow our culture to be determined by people who hate the things that we believe in…. We are going to stand valiantly for God's incredible inherent truths that predate any version of government. Because, my friends, if we lose this country today, if we bend the knee to the Democrats today, our country will be lost forever, our children will never know what freedom is. It's our duty to stand up, Let us stand united as men and women of faith to fight for our country.
During an interview with MSNBC's Joy Reid, terrorism and national security expert Malcolm Nance said that Cawthorn's video "picks up on the themes that are not just coming from the Steve Bannon level and Donald Trump level, they are coming from the Republican street — and that Republican street is armed. They're angry. They have been fed an entire line which makes them believe that America is no longer America and that they no longer want the America that the rest of us, the 60 percent of the country, live in. And they`re willing to take up arms for it."
Nance also noted that Cawthorn's propaganda video is thematically similar to the type of propaganda used by Islamic terrorist groups such as ISIS and al-Qaida to radicalize and recruit members.