Post by Admin on Sept 1, 2013 5:51:24 GMT
The paraphyletic ancestral cluster, H*, is the main Near Eastern representative of
haplogroup H
, in agreement with the suggestion that the haplogroup evolved in the Near East and spread subsequently into Europe. Its distribution is to some extent the inversion of the distributions for H1 and H3: It is most frequent in east-central Europe and the Balkans, but is also well represented on the western fringes of Europe, including Iberia and Ireland. The age of H* is best estimated as the age of the haplogroup as a whole, which comes to 29,900 (SE 7700) years using the present coding-region data set (excluding the 3010 variant which renders the tree very non-star-like). Using the complete coding-region sequence data of Finnilä et al. (2001) and Herrnstadt et al. (2002), the age estimate of H (including 3010) is rather less, at 17,600 (SE 2200) years. This may be because no Near Eastern lineages are included, or it may simply reflect the high uncertainty of the estimate from our coding-region segments.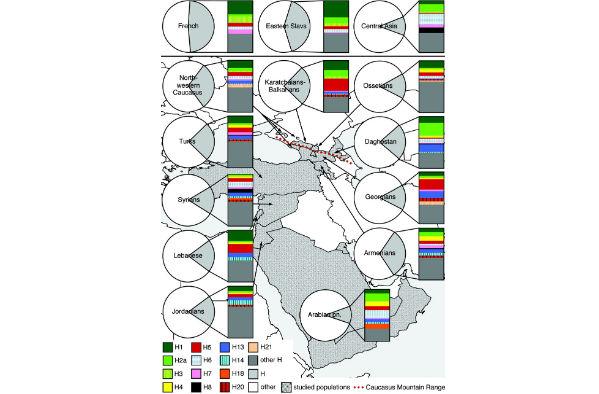 FIG. 3.— Frequency of hg H and its subclades (supplementary table S1, Supplementary Material online). Subclades H13, H14, H18, and H21 were not studied in French, Eastern Slavs, and Central Asia, which data were taken from Loogväli et al. (2004).
A number of subclades of hg H reach their highest frequency among the western Caucasus populations (figs. 1 and 3). The most frequent of them is H5*, which forms over 20% of hg H gene pool in Karatchaians–Balkarians and Georgians—in people living in the immediate vicinity of the 2 sides of the High Caucasus. These numbers are considerably higher from the estimates in Europe or Central Asia, which vary from a total absence in Volga–Uralic Finno-Ugrians and Central Asian populations to 8% in Slovaks and French (Loogväli et al. 2004). At the same time, its subcluster, H5a, which represented 10% of hg H mtDNAs in the Balkans, is present in the Caucasus and the Near Eastern populations at a very low frequency. The frequencies of H20 and H21 peak in Georgians, with their spread limited to neighboring populations and to Syrians and Jordanians (figs. 1 and 3).
Certain subclades of hg H were more prevalent in the Arabian Peninsula (figs. 1 and 3) including H2a1, H4b, H6, and H18, respectively, forming together approximately one half of the Arabian H lineages. Interestingly, H2a1 has been found at a similar high frequency in Central and Inner Asia (12.5%), whereas in Europe, it has been found only in Eastern Slavs (9% from hg H), Estonians (6%), and Slovaks (2%) (Loogväli et al. 2004). H2 forms a quarter of all hg H lineages in Daghestan. Yet, besides H2a1, common in the Arabian Peninsula, other variants of H2, like H2a4, form a large share of hg H in Daghestan. H6 is even more frequent in Central and Inner Asia (21%), especially so in Altaians (35%) (Loogväli et al. 2004).
One of the most diverse subclades of hg H, H13, reaches its highest frequency in Daghestan and in Georgia (15% and 13.3% from hg H, respectively) (fig. 3, Supplementary Material online). Although all the H13 samples in Daghestan and also in Europe (Herrnstadt et al. 2002; Coble et al. 2004; Brandstätter et al. 2006) fall into H13a, the largest subclade of H13—additional H13 lineages—are present in the southern Caucasus and Near East populations (fig. 1).
mbe.oxfordjournals.org/content/24/2/436.full