Post by Admin on Feb 18, 2014 1:05:40 GMT
An Italian activist shouting "It's OK to be gay" and dressed in a rainbow-colored outfit and large headdress was detained Monday as she entered an arena to watch an Olympic hockey game. (Feb. 17)
Luxuria later told The Associated Press she was kept in the car for about 10 minutes, then released in the countryside after the men had taken away her Olympic spectator pass. She eventually made it back to her hotel and said she was leaving Russia on Tuesday morning. "They don't say anything. They just were people who had to do this and they did it," Luxuria said.
Earlier Monday, Luxuria walked around the Olympic Park in Sochi for about two hours. She was shouting "Gay is OK" and "It's OK to be gay" in both English and Russian. As she was being led away from Shayba Arena, she was shouting "I have a ticket." Luxuria said she was detained on Sunday evening by Russian police who told her she should not wear clothes with slogans supporting gay rights. Police denied detaining her.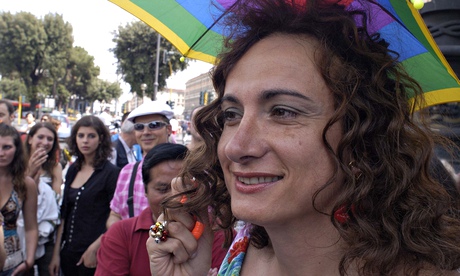 Vladimir Luxuria is a well-known champion of gay, lesbian, bisexual and transgender rights in Italy.
Luxuria arrived at a ticket inspection barrier at the hockey arena just before an evening game was due to begin. She passed through the barrier and was being given directions to her seat when four men who were not wearing any identification surrounded her and started shouting "take her away." They then led her out of the venue and to the parking lot.
"I was very, very afraid this time because the first time they said, 'It's OK for the first time, don't do it again for the second time.' So, this time I was a little bit afraid," Luxuria said. "But they just left me outside, in the country, there, outside and that's it." Before she went to the stadium, Luxuria said she did not want to be arrested. "It's not nice to be all alone in a room with a neon light not knowing what's going on," she said Monday afternoon, but then added it was important for her "to stand up for the rights of lesbian, gay and transgender people all over the world."