Post by Admin on Sept 19, 2019 21:15:28 GMT
Figure 3
FineSTRUCTURE results reconnect virtually all the individuals from Albanian and Kosovo, as well as the major part of individuals from mainland Greek populations, to a Southern-Balkan specific cluster (cyan in Fig. 3), which is almost completely absent in Greek-speaking islands and Southern Italy (except for Calabrian Arbereshe), instead showing relatively more similarity with Northern Italian populations (Supplementary Table S4). On the other hand, individuals from SSI, Crete and the Aegean/Dodecanese Greek Islands are mostly assigned to two other groups. The first one (CE-Sicily, limegreen in Fig. 3) is observed mainly in Central-Eastern Sicily and Calabria (excluding Calabrian Greeks), jointly with various Cretan and Anatolian/Dodecanese Greeks. The second one (AW-Sicily, purple in Fig. 3) encompasses individuals from the geographically opposed areas of Basilicata/Apulia (including Salentino Greeks) and Western Sicily (most notably Sicilian Arbereshe), as well as the remaining individuals from both continental and insular Greece. Importantly, these clusters appear tightly related with each other, showing some degree of admixture within a genetically continuous area (Supplementary Fig. S5, Supplementary Table S4). However, they provide the framework for a finer exploration of subtle differentiation patterns, showing differences in their representativeness within different SSI populations. In fact, the AW-Sicily cluster is more properly related to all the Greek-speaking populations (not only Crete and Aegean/Dodecanese Greeks, but also Continental Greece), while the CE-Sicily one is essentially observed in the Mediterranean 'continuum' populations (i.e. Southern Italy and Greek-speaking islands). Finally, Cypriots and Calabrian Greeks exhibit private population-specific genetic clusters (white and aquamarine in Fig. 3, respectively).
The emerging patterns have been further explored with the fastIBD analysis, by comparing values of IBD-sharing between the Southern Italian and Southern Balkan analysed populations (Fig. 4, Supplementary Information). Overall, patterns of IBD-relatedness suggest that 'continuum' populations (i.e. both Southern Italy and the Mediterranean Greek islands) share relatively more segments with the Caucasus and the Near East, while Albania and continental Greece appear significantly more related with Central and Northern Balkans, as well as Eastern Europe. Interestingly, despite showing much lower values of sharing, some Balkan IBD-relatedness also emerges in Greek-speaking islands as well as in Apulia and Western Sicily, presumptively reproducing some forms of interaction with Greece and the Balkans in the very recent ancestry of these areas, as consistently signalled by a common sharing of individuals in the FineSTRUCTURE AW-Sicily cluster (see also Supplementary Information).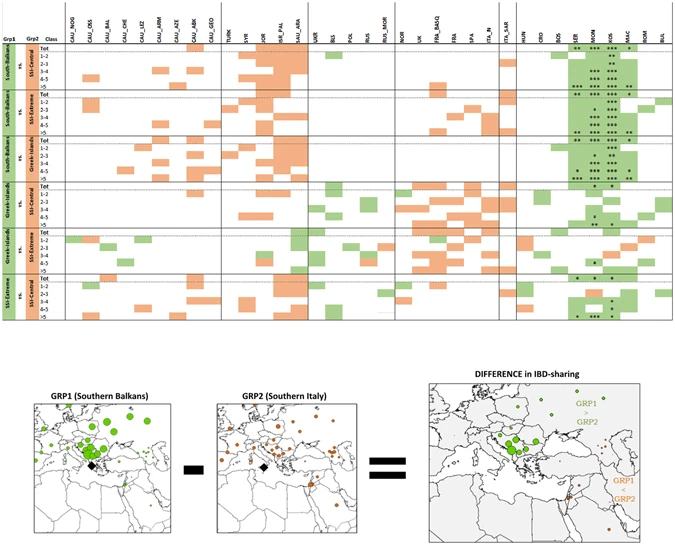 Figure 4
Differences in IBD-sharing between Southern Italian and Southern Balkan population groups. Vectors of IBD-sharing with the 35 comparison populations reported on the x-axis were pairwise subtracted between pairs of Southern Balkan and/or Southern Italian population groups. The plots at the bottom of the figure provide a schematic representation of the pairwise-subtracting procedure (left: IBD-sharing of a Southern Balkan group with all comparison populations; centre: IBD-sharing of a Southern Italian group with all comparison populations; right: difference in IBD-sharing between the two considered groups). Comparison populations for which we observed differences in IBD-sharing between the two tested groups exceeding the lower (0.10 percentile) or the upper (0.90 percentile) bounds of the distribution are marked by coloured boxes in the table (green: Grp1 > Grp2, red Grp2 > Grp1). Significant differences in IBD-sharing, after the grubbs.test for significance (R software package outliers [v. 0.14] Komsta, L. Outliers: Tests for outliers. R package version 0.14. URL:
CRAN.R-project.org/package=outliers
(2011)), are indicated by corresponding p-values (* P-value < 0.05, **P-value < 0.01, ***P-value < 0.001). Southern Italian and Southern Balkan compared population groups were considered as follow: SSI-Extreme (Apulia-LE, Basilicata-MT and the westernmost province of Sicily-TP); SSI-Central (including the remaining populations of Central-Eastern Sicily and Calabria); Mediterranean Greek-speaking islands (Crete, Cyprus and Anatolian/Dodecanese Greece); Continental Southern Balkan populations (Albania, North-Central Greece and Peloponnesus). The geographical map has been plotted using the R software [v.3.2.4] (R: A Language and Environment for Statistical Computing, R Core Team, R Foundation for Statistical Computing, Vienna, Austria (2016)
.
Ethno-linguistic heritage and genetic ancestry of Italian Arbereshe and Greek-speaking minorities
Some remarkable signals of genetic differentiation are found in the Albanian- and Greek-speaking communities residing in Sicily and Southern Italy included in our sample.
Consistently with previous bio-demographic and genetic studies29, 30, Albanian-speaking groups of Southern Italy display a recent shared ancestry traceable to their putative Balkan-source populations (Fig. 3, Supplementary Fig. S7, Supplementary Information). Accordingly, fastIBD analysis (Supplementary Table S5, Supplementary Information) flags Albania as the source of the recent gene flow that differentiates Albanian-speaking Arbereshe from all the other Southern Italian populations, either Greek- or Italian-speaking. However, Calabrian and Sicilian Arbereshe reveal some differences in haplotype sharing patterns (see Supplementary Information for more details), presumptively reflecting their diverging population history30. For instance, Sicilian Arbereshe are supposed to have experienced intermediate migratory steps and subsequent re-peopling events from Continental Greece23. Additionally, recent contacts with the local Italian populations are represented by the excess sharing of genomic tracts >5 cM between Calabrian Arbereshe and Cosenza-CS individuals (Supplementary Table S5, Supplementary Information). This reasonably reflects increasing levels of gene flow with the Italian-speaking recipient groups during the last decades ("isolates breakdown").
While Albanian-speaking Arbereshe trace their recent genetic ancestry to the Southern Balkans, the Greek-speaking communities of both Apulia (Griko) and Calabria (Grecani) show no clear signs of a recent (i.e. from the late Middle Ages) continental Greek origin, instead resembling the 'continuum' populations of Southern Italy and the Greek-speaking islands (Fig. 3, Supplementary Table S5, Supplementary Fig. S7, Supplementary Information).
Different hypotheses, either counterpoising or combining the Hellenic (Magna Graecia) and Byzantine colonization, have been historically proposed to explain the presence of present-day Greek-speaking communities in Southern Italy. Although different extents of Hellenic and Byzantine pressures were suggested to have demographically and culturally affected Calabrian and Apulian Greeks respectively, both historical and linguistic data agree on the fact that the current extension of these groups is a remnant of a wider Greek-speaking area, originally extended to larger parts of Apulia, Calabria and Sicily24. In the whole area, the Greek-language was well represented before the spread of Latin, and this Greek substratum has influenced the local Romance varieties in various respects. In fact, contacts between Greek and Romance speakers have been frequent and systematic27. Accordingly, historical and linguistic data suggest that this area was characterized by a pervasive multilingualism at least from the antiquity27, 37, 38, thus showing that both cultural transmission and genetic admixture may have played an important role in the formative process of these groups since the very beginning.
In this light, the tight genetic similarity between Salentino Greeks (GRI_SAL) and Italian neighbours (particularly from the province of Lecce-LE; Fig. 3, Supplementary Table S5, Supplementary Information), may be explained both as the result of extensive admixture events (coupled with lesser geographic isolation) or as the result of cultural transmission of Greek languages to Italian local populations. Importantly, these scenarios are not mutually exclusive, on the contrary the most recent syntheses tend to hypothesize a long-term Greek presence in Southern Italy, starting from the classical period and subsequently reinforced by continuous genetic and cultural interactions (e.g. during the Byzantine period) at least until medieval times - and even later.
In this context, the Grecanic groups from Calabria (GRI_BOV and GRI_CAL) remarkably show evidences of genetic differentiation, as suggested by PCA (Supplementary Fig. S7, Supplementary Information), ADMIXTURE (Supplementary Fig. S2) and fineSTRUCTURE (Fig. 3, Supplementary Fig. S5, Supplementary Table S4). These results are further confirmed by the presence of significantly high within-population average IBD-sharing and number of homozygosity runs (RoH) (Supplementary Fig. S8, Supplementary Table S6, Supplementary Information), as expected for more isolated and inbred populations. Beyond the linguistic differences, their marked geographic isolation and lower effective population size may have favoured the action of drift phenomena. This may have modified their genetic composition through the random amplification/fixation (or loss) of specific parts of the original genetic background.
Furthermore, we observed that both Calabrian and Apulian Greeks from Southern Italy almost completely lack the 'Southern Balkan' genetic component detected in Continental Greece and Albania, as well as in the Arbereshe. In both cases, this is consistent with the fact that their arrival in Southern Italy should at least predate those population processes associated to the more recent (i.e. late medieval) differentiation of continental Greek and Southern Balkan groups (cf. paragraph below). This does not exclude migrations from Aegean/Dodecanese and Crete islands, that presumptively did not (or only marginally) experienced - by virtue of their higher geographic marginality - the North-South Balkan gene flow that instead interested the continental part of Greece.