Post by Admin on Feb 28, 2020 19:53:01 GMT
Fine-scale structure in contemporary Sardinia
Finally, we assessed our results in the context of spatial substructure within modern Sardinia, as previous studies have suggested elevated levels of WHG and EEF ancestry in Ogliastra32.
In the PCA of modern west Eurasian and North-African variation, the ancient Sardinian individuals are placed closest to individuals from Ogliastra and Nuoro (see Figs. 2 and 5a). At the same time, in a PCA of just the modern Sardinian sample, the ancient individuals project furthest from Ogliastra (Fig. 5b). Interestingly, individual ORC002, dating from the Punic period and from a site in Ogliastra, projects towards Ogliastra individuals relative to other ancient individuals.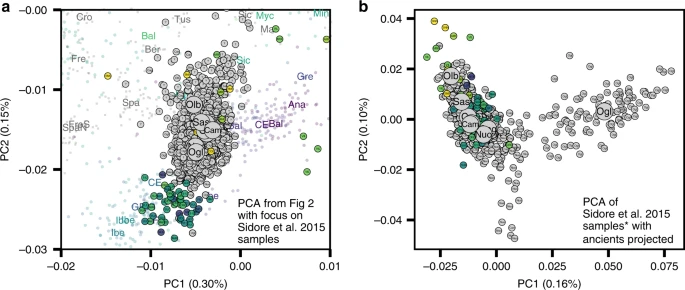 Fig. 5: Present-day genetic structure in Sardinia reanalyzed with aDNA.
Further, in the broad PCA results, the median of the province of Olbia-Tempio (northeast Sardinia) is shifted towards mainland populations of southern Europe, and the median for Campidano (southwest Sardinia) shows a slight displacement towards the eastern Mediterranean (Fig. 5a). A three-way admixture model fit with qpAdm suggests differential degrees of admixture, with the highest eastern Mediterranean ancestry in the southwest (Carbonia, Campidano) and the highest northern Mediterranean ancestry in the northeast of the island (Olbia, Sassari, Supp. Fig. 17). These observations of substructure among contemporary Sardinian individuals contrast our results from the Nuragic and earlier, which forms a relatively tight cluster on the broad PCA (Fig. 2) and for which the top PCs do not show any significant correlations with latitude, longitude, or regional geographic labels after correcting for multiple testing (Supp. Figs. 24–33).
Discussion
Our analysis of genome-wide data from 70 ancient Sardinian individuals has generated insights regarding the population history of Sardinia and the Mediterranean. First, our analysis provides more refined DNA-based support for the Middle Neolithic of Sardinia being related to the early Neolithic peoples of the Mediterranean coast of Europe. Middle/Late Neolithic Sardinian individuals fit well as a two-way admixture between mainland EEF and WHG sources, similar to other EEF populations of the western Mediterranean. Further, we detected Y haplogroups R1b-V88 and I2-M223 in the majority of the early Sardinian males. Both haplogroups appear earliest in the Balkans among Mesolithic hunter-gatherers and then Neolithic groups9 and later in EEF Iberians14, in which they make up the majority of Y haplogroups, but have not been detected in Neolithic Anatolians or more western WHG individuals. These results are plausible outcomes of substantial gene flow from Neolithic populations that spread westward along the Mediterranean coast of southern Europe around 5500 BCE (a "Cardial/Impressed" ware expansion, see Introduction). We note that we lack autosomal aDNA from earlier than the Middle Neolithic in Sardinia and from key mainland locations such as Italy, which leaves some uncertainty about timing and the relative influence of gene flow from the Italian mainland versus from the north or west. The inferred WHG admixture fraction of Middle Neolithic Sardinians was higher than that of early mainland EEF populations, which could suggest a time lag of the influx into Sardinia (as HG ancestry increased through time on the mainland) but also could result from a pulse of initial local admixture or continued gene flow with the mainland. Genome-wide data from Mesolithic and early Neolithic individuals from Sardinia and potential source populations will help settle these questions.
From the Middle Neolithic onward until the beginning of the first millennium BC, we do not find evidence for gene flow from distinct ancestries into Sardinia. That stability contrasts with many other parts of Europe which had experienced substantial gene flow from central Eurasian Steppe ancestry starting about 3000 BCE11,12 and also with many earlier Neolithic and Copper age populations across mainland Europe, where local admixture increased WHG ancestry substantially over time10. We observed remarkable constancy of WHG ancestry (close to 17%) from the Middle Neolithic to the Nuragic period. While we cannot exclude influx from genetically similar populations (e.g., early Iberian Bell Beakers), the absence of Steppe ancestry suggests genetic isolation from many Bronze Age mainland populations—including later Iberian Bell Beakers13. As further support, the Y haplogroup R1b-M269, the most frequent present-day western European haplogroup and associated with expansions that brought Steppe ancestry into Britain13 and Iberia14 about 2500–2000 BCE, remains absent in our Sardinian sample through the Nuragic period (1200–1000 BCE). Larger sample sizes from Sardinia and alternate source populations may discover more subtle forms of admixture, but the evidence appears strong that Sardinia was isolated from major mainland Bronze Age gene flow events through to the local Nuragic period. As the archeological record shows that Sardinia was part of a broad Mediterranean trade network during this period19, such trade was either not coupled with gene flow or was only among proximal populations of similar genetic ancestry. In particular, we find that the Nuragic period is not marked by shifts in ancestry, arguing against hypotheses that the design of the Nuragic stone towers was brought with an influx of people from eastern sources such as Mycenaeans.
Following the Nuragic period, we found evidence of gene flow with both northern and eastern Mediterranean sources. We observed eastern Mediterranean ancestry appearing first in two Phoenician-Punic sites (Monte Sirai, Villamar). The northern Mediterranean ancestry became prevalent later, exemplified most clearly by individuals from a north-western Medieval site (San Nicola Necropoli). Many of the post-Nuragic individuals could be modeled as direct immigrants or offspring from new arrivals to Sardinia, while others had higher fractions of local Nuragic ancestry (Corona Moltana, ORC002). Substantial uncertainty exists here as the low differentiation among plausible source populations makes it challenging to exclude alternate models, especially when using individual-level analysis. Overall though, we find support for increased variation in ancestry after the Nuragic period, and this echoes other recent aDNA studies in the Mediterranean that have observed fine-scale local heterogeneity in the Iron Age and later14,52,53,54.
In addition, we found present-day Sardinian individuals sit within the broad range of ancestry observed in our ancient samples. A similar pattern is seen in Iberia14 and central Italy54, where variation in individual ancestry increased markedly in the Iron Age, and later decreased until present-day. In terms of the fine-scale structure within Sardinia, we note the median position of modern individuals from the central regions of Ogliastra and Nuoro on the main PCA (Fig. 5a) are less shifted towards novel sources of post-Nuragic admixture, which reinforces a previous result that Ogliastra shows higher levels of EEF and HG ancestry than other regions32. At the same time, in the PCA of within Sardinia variation (Fig. 5b), differentiation of Ogliastra from other regions and other ancient individuals is apparent, likely reflecting a recent history of isolation and drift. The northern provinces of Olbia-Tempio, and to a lesser degree Sassari, appear to have received more northern Mediterranean immigration after the Bronze Age; while the southwestern provinces of Campidano and Carbonia carry more eastern Mediterranean ancestry. Both of these results align with known history: the major Phoenician and Punic settlements in the first millennium BCE were situated principally along the south and west coasts, and Corsican shepherds, speaking an Italian-Corsican dialect (Gallurese), immigrated to the northeastern part of Sardinia55.
Our inference of gene flow after the second millennium BCE seems to contradict previous models emphasizing Sardinian isolation12. These models were supported by admixture tests that failed to detect substantial admixture32, likely because of substantial drift and a lack of a suitable proxy for the Nuragic Sardinian ancestry component. However, compared with other European populations50,56, we confirm Sardinia experienced relative genetic isolation through the Bronze Age/Nuragic period. In addition, we find that subsequent admixture appears to derive mainly from Mediterranean sources that have relatively little Steppe ancestry. Consequently, present-day Sardinian individuals have retained an exceptionally high degree of EEF ancestry and so they still cluster with several mainland European Copper Age individuals such as Ötzi2, even as they are shifted from ancient Sardinian individuals of a similar time period (Fig. 2).
The Basque people, another population high in EEF ancestry, were previously suggested to share a genetic connection with modern Sardinian individuals32,57. We observed a similar signal, with modern Basque having, of all modern samples, the largest pairwise outgroup-f3 with most ancient and modern Sardinian groups (Fig. 3). While both populations have received some immigration, seemingly from different sources (e.g., Fig. 4, ref. 14), our results support that the shared EEF ancestry component could explain their genetic affinity despite their geographic separation.
Beyond our focal interest in Sardinia, the results from individuals from the Phoenician-Punic sites Monte Sirai and Villamar shed some light on the ancestry of a historically impactful Mediterranean population. Notably, they show strong genetic relationships to ancient North-African and eastern Mediterranean sources. These results mirror other emerging ancient DNA studies37,58, and are not unexpected given that the Punic center of Carthage on the North-African coast itself has roots in the eastern Mediterranean. Interestingly, the Monte Sirai individuals, predating the Villamar individuals by several centuries, show less North-African ancestry. This could be because they harbor earlier Phoenician ancestry and North-African admixture may have been unique to the later Punic context, or because they were individuals from a different ancestral background altogether. Estimated North-African admixture fractions were much lower in later ancient individuals and present-day Sardinian individuals, in line with previous studies that have observed small but significant African admixture in several present-day South European populations, including Sardinia32,59,60.
As ancient DNA studies grow, a key challenge will be fine-scale sampling to aid the interpretation of shifts in ancestry. Our sample from Sardinia's post-Nuragic period highlights the complexity, as we simultaneously observe examples of individuals that appear as novel immigrant ancestries (e.g., from Villamar and San Nicola) and of individuals that look more contiguous to the past and to the present (e.g., the two Corona Moltana siblings, the ORC002 individual, several of the Alghero Monte Carru individuals). This variation is likely driven by differential patterns of contact—as might arise between coastal versus interior villages, central trading centers versus remote agricultural sites, or even between neighborhoods and social strata in the same village. We also note that modern populations are collected with different biases than ancient individuals (e.g., the sub-populations sampled by medical genetics projects33 versus the sub-populations that are accessible at archeological sites). As such, caution should be exercised when generalizing from the sparse sampling typical for many aDNA studies, including this one.
With these caveats in mind, we find that genome-wide ancient DNA provides unique insights into the population history of Sardinia. Our results are consistent with gene flow being minimal or only with genetically similar populations from the Middle Neolithic until the late Bronze Age. In particular, the onset of the Nuragic period was not characterized by influx of a distinct ancestry. The data also link Sardinia from the Iron Age onwards to the broader Mediterranean in what seems to have been a period of new dynamic contact throughout much of the Mediterranean. A parallel study focusing on islands of the western Mediterranean provides generally consistent results and both studies make clear the need to add complexity to simple models of sustained isolation that have dominated the genetic literature on Sardinia52. Finally, our results suggest some of the current substructure seen on the island (e.g., Ogliastra) has emerged due to recent genetic drift. Overall, the history of isolation, migration, and genetic drift on the island has given rise to an unique constellation of allele frequencies, and illuminating this history will help future efforts to understand genetic-disease variants prevalent in Sardinia and throughout the Mediterranean, such as those underlying beta-thalassemia and G6PD deficiency.
Nature Communications volume 11, Article number: 939 (2020)