Post by Admin on Jul 22, 2014 15:29:02 GMT
Walk through the front door of the home of Rebecca Adams's grandmother Patsy Gifford, and the first thing you notice are the maps, spread out on a coffee table by the sofa, covered with tiny hand-drawn squares, shaded in with black ink. "These are the areas that have been searched," Rebecca's uncle Dennis Gifford tells PEOPLE as he runs his finger over the paper. "But the woods here are so dense, so thick and they've found nothing."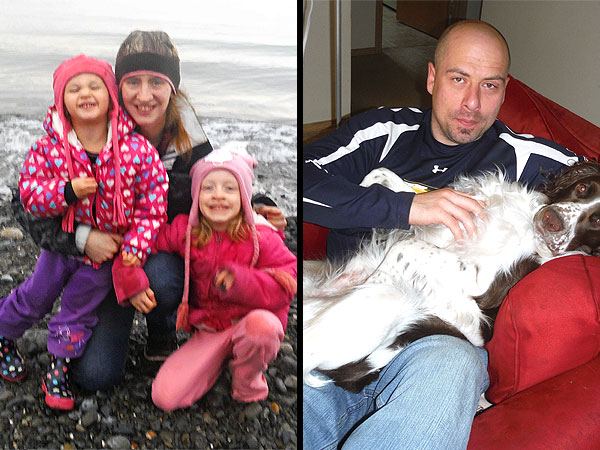 Gifford, like everyone else in Kenai, Alaska (pop. 7,300), is struggling to explain how his 22-year-old niece Rebecca, her two daughters Michelle Hundley, 6, and Jaracca Hundley, 3, and her boyfriend Brandon Jividen, 37, could have just vanished from their three-bedroom apartment.
Last seen on May 25, the family members, who left behind all their belongings, including their wallets and keys to their cars, have been the subject of intense – and, so far fruitless – search efforts, involving local police, the FBI, scent dogs, helicopters, planes and dozen of trained personnel and volunteers.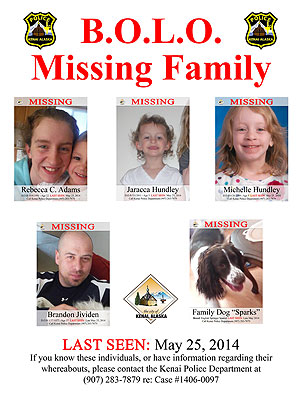 "It's a mystery," admits Kenai Police Chief Gus Sandahl. "We just don't know where they are." Family and friends of the couple, who were in the process of constructing a new home, describe them as "happy and excited to be building a life together." But on the day of their disappearance, Rebecca, known as a doting mom, sounded uncharacteristically upset.
"She said, 'Just know that I love you,' " her older sister Lanell Adams says of their last conversation. That call still haunts Lanell, who has blanketed the region with missing posters and helped organize numerous searches in the dense woodlands around the couple's apartment where Jividen, an avid outdoorsman and hunter, would often go hiking.
"I'm not giving up until I find them," says Lanell, who has spent the past five weeks away from her children and her job in Puyallup, Washington, looking for her sister, nieces and Jividen. The family has set up a funding site to cover costs in their ongoing search efforts.