Post by Admin on Nov 19, 2014 23:41:13 GMT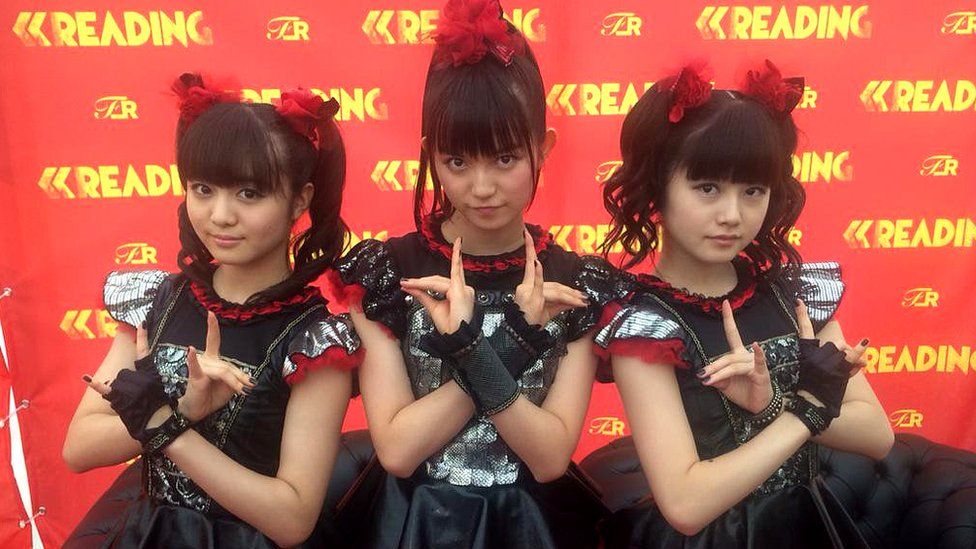 Metal Injection conducted an interview with BABYMETAL when the band visited New York City in early November. The Japanese pop-metal crossover sensation discussed their time in the States, the Fox God (the divine entity credited with creating BABYMETAL) and their future. The answers were all translated by their tour manager. Check out the chat below.
BABYMETAL will release the "Live At Budokan: Red Night & Black Night Apocalypse" DVD/Blu-ray on January 7, 2015. The set will contain the band's Nippon Budokan performances from March 2014 when the three BABYMETAL singers/dancers became the youngest artists to ever appear at the famed venue.
"Live At Budokan: Red Night & Black Night Apocalypse" will be made available in three formats: a DVD/Blu-ray box featuring both Nippon Budokan concerts (with the first dubbed "Red Night" and second "Black Night"); a CD titled "Live At Budokan: Red Night" containing an audio recording of the first Budokan show (the initial pressing of the CD will include the code to digitally download the new song "The One", which is a collaboration between BABYMETAL's production team and guitarists Herman Li and Sam Totman of British epic power metallers DRAGONFORCE); and a Limited Box exclusive to the BABYMETAL fan club members, "Live At Budokan 'Budo-Can' - The One - Limited Box", a can-shaped package featuring the DVD/Blu-ray of both nights, plus the exclusive CD "Live At Budokan: Black Night" containing the audio recording of the second Budokan concert.
Established in 2010, BABYMETAL is the offshoot of the Japanese pop idol group SAKURA GAKUIN that performs a distinctly Japanese mix of schoolgirl J-pop and heavy metal. BABYMETAL's members — Suzuka Nakamoto (a.k.a. Su-Metal, who handles vocals and dancing), Yui Mizuno (a.k.a. Yuimetal) and Moa Kikuchi (a.k.a. Moametal), the latter of whom both scream and dance — admit that they had never listened to metal before joining the group. The girls wear gothy schoolgirl costumes, do choreographed dance routines and bang their heads violently.