Post by Admin on Jul 5, 2016 22:40:33 GMT
It has been observed that while the Yamnaya populations from the Early Bronze Age steppe were carriers of Ancient North Eurasian ancestry into Europe, they had less of it than the preceding EHG1. The timeline of the "dilution of EHG ancestry" on the steppe was further clarified by the discovery that during the Eneolithic period the reduction of EHG ancestry had already begun17. The best surrogate for the population effecting this dilution was present-day Armenians1,17, and a recent study has identified the CHG as an ancient population that could function as a source for the southern component in the ancestry of the Yamnaya. It has been observed that the Yamnaya1,14, Afanasievo14, and Middle Bronze Age Poltavka17 culture formed a tight genetic cluster which we name here Steppe_EMBA.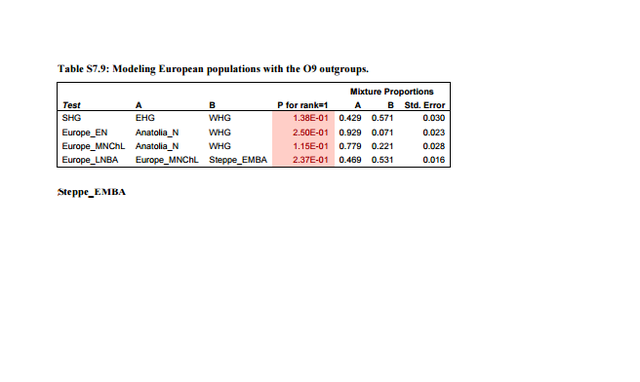 In Fig. S7.9 we show that there are negative f4(EHG, Steppe_EMBA; A, Chimp) statistics when A is a population of Near Eastern ancestry and positive ones when A is a European hunter-gatherer population, documenting the dilution of EHG ancestry from a Near Eastern source. Direct evidence that this is due to admixture is provided by the negative f3(Steppe_EMBA; EHG, A) statistic (Fig. S7.10) when A is a Near Eastern source, with the CHG and populations of Iran providing the most negative statistics.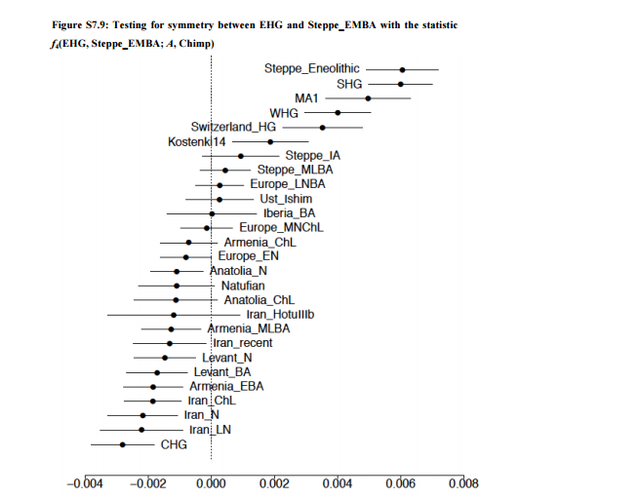 We verify that we can model the Steppe_EMBA as a mix of EHG and Near Eastern populations from the Caucasus, Armenia, and Iran (Table S7.10). We further test the plausible sources by adding outgroups to the Right set (Table S7.11). When we add Anatolia_N, Levant_N, Natufians, and WHG as additional outgroups, rank=1 is rejected for all populations (P<.001) except the Chalcolithic of Iran (P=0.057) and the recent individual from Ganj Dareh (P=0.205) that clusters with Chalcolithic Iran and ancient Armenia rather than the much older Neolithic individuals from Ganj Dareh (Iran_recent; Fig. 1b). We do not at present know the geographical distribution of populations like the Chalcolithic of Iran in the ancient Near East and the source of ancestry in the steppe could be from a geographically more proximate source in the Caucasus. This may be clarified with additional sampling, but it is important to note that regardless of the choice for the Near Eastern population, a relatively stable estimate of ~50/50% ancestry from the EHG and the Near East is inferred.