Post by Admin on Aug 11, 2017 19:46:58 GMT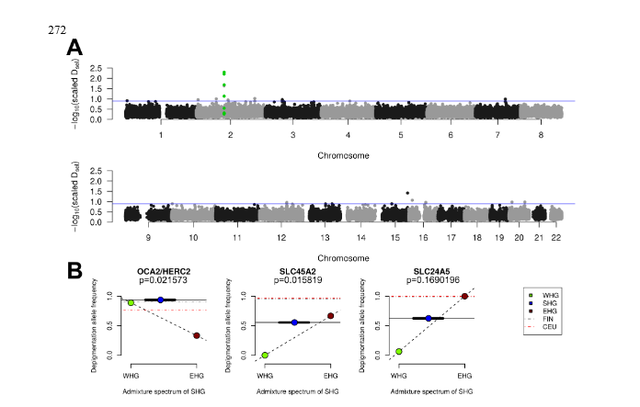 Figure 3:
Adaptation to high-latitude climates
By sequencing complete ancient genomes, we can compute unbiased estimates of genetic diversity, which are informative of past population sizes and population history. Here, we restrict the analysis to WHGs and SHGs, since only SNP capture data is available for EHGs (Supplementary Information 7). In current-day Europe, there is greater genetic diversity in the south compared to the north. During the Mesolithic, by contrast, we find higher levels of genetic diversity (Supplementary Information 7) as well as lower levels of runs of homozygosity (Fig. 2A) and linkage disequilibrium (Fig. 2B) in SHGs compared to WHGs (represented by Loschbour and Bichon, (15, 29)) and Caucasus hunter-gatherers (CHG, represented by Kotias and Satsurblia, (29)). Using a sequential-Markovian-coalescent approach (30) for the high-coverage, high quality genome of SF12, we find that right before the SF12 individual lived, the effective population size of SHGs was similar to that of WHGs (Fig. 2C). At the time of the LGM and back to c. 50,000 years ago, both the WHGs and SHGs go through a bottleneck, but the ancestors of SHGs retained a greater population size in contrast to the ancestors of WHGs who went through a more severe bottleneck (Fig. 2c). Around 50,000-70,000 years ago, the effective population sizes of the ancestors of SHGs, WHGs, Neolithic groups (represented by Stuttgart (15)) and Paleolithic Eurasians (represented by Ust-Ishim (31)) align, suggesting that these diverse groups all trace their ancestry back to a common ancestral group which likely represents the early migrants out-of-Africa, who likely share a common ancestry outside of Africa.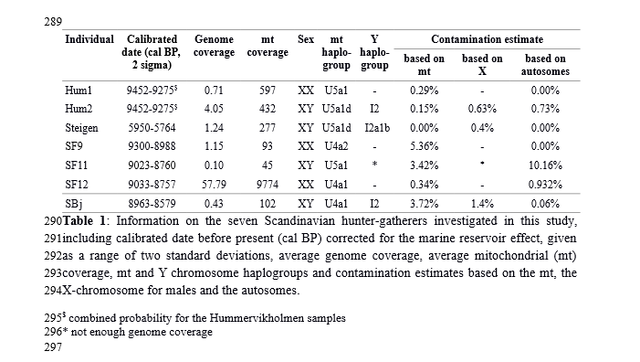 Adaptation to high-latitude environments
With the aim of detecting signs of adaptation to high-latitude environments and selection during and after the Mesolithic, we employed three different approaches that utilize the Mesolithic genomic data. In the first approach, we assumed that SHGs adapted to high-latitude environments of low temperatures and seasonally low levels of light, and searched for gene variants that carried over to modern-day people in northern Europe. As we have already noted, modern-day northern Europeans trace limited amount of genetic material back to the SHGs (due to the many additional migrations during later periods), and any genomic region that displays extraordinary genetic continuity would be a strong candidate for adaptation in people living in northern Europe across time.
We designed a statistic, D sel (Supplementary Information 10), that captures this specific signal and scanned the whole genome for gene-variants that show strong continuity (little differentiation) between SHGs and modern-day northern Europeans while exhibiting large differentiation to modern-day southern European populations (32) (Fig. 3A; Supplementary Information 10). Six of the top ten SNPs with greatest D sel values were located in the TMEM131 gene that has been found to be associated with physical performance (33), which could make it part of the physiological adaptation to cold (34). This genomic region was more than 200kbp long and showed the strongest haplotypic differentiation between modern-day Tuscans and Finns (Supplementary Information 10). The particular haplotype was relatively common in SHGs, it is even more common among today's Finnish population (Supplementary Information 10), and showed a strong signal of local adaptation (Supplementary Information 10). Other top hits included genes associated with a wide range of metabolic, cardiovascular, developmental and psychological traits (Supplementary Information 10) potentially linked to physiological (34).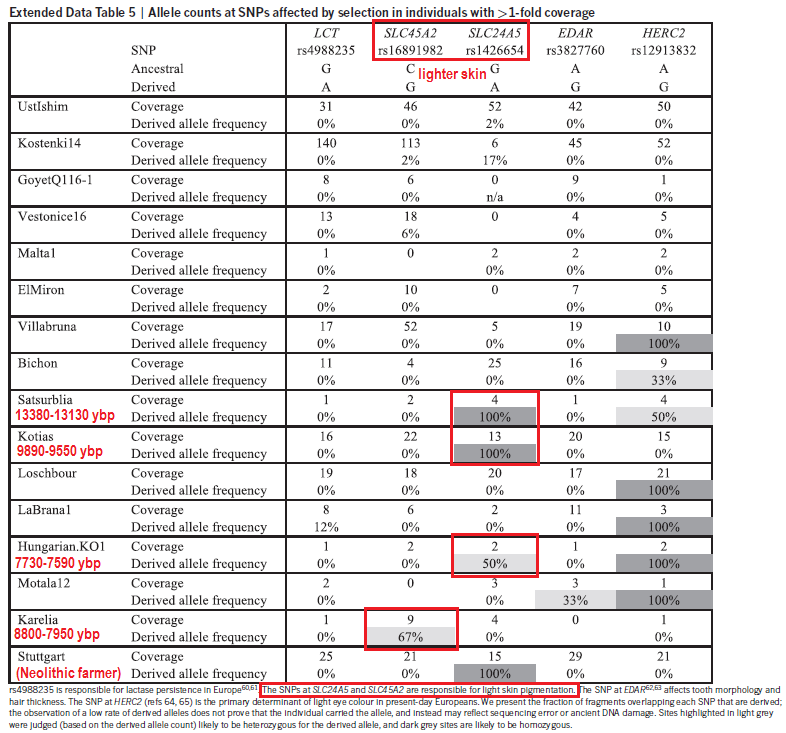 In addition to performing this genome-wide scan, we studied the allele frequencies in three pigmentation genes (SLC24A5, SLC45A2, having a strong effect on skin pigmentation, and OCA2/HERC2, having a strong effect on eye pigmentation) where the derived alleles are virtually fixed in northern Europeans today. The differences in allele frequencies of those three loci are among the highest between human populations, suggesting that selection was driving the differences in eye color, skin and hair pigmentation as part of the adaptation to different environments (35–37). The SHGs show a combination of eye and skin pigmentation that was unique in Mesolithic Europe, with light skin pigmentation and varied blue to light-brown eye color. This is strikingly different from the WHGs – who have been found to have the specific combination of blue-eyes and dark-skin (15, 17, 18) (Fig. 3B) – and EHGs – who have been suggested to be brown eyed and light-skinned (16, 17) (Fig. 3B). The unique configuration of the SHGs is not fully explained by the fact that SHGs are a mixture of EHGs and WHGs as the frequencies of the blue-eye and one light-skin variant are significantly higher in SHGs than expected from their genome-wide admixture proportions (Fig. 3B, Supplementary Information 10). This could be explained by a continued increase of the allele frequencies after the admixture event, likely caused by adaptation to high-latitude environments (35, 37).