Post by Admin on Mar 9, 2019 18:23:39 GMT
Anatomically modern humans (AMH) initially migrated into east Eurasia prior to 65–50 kya1,2,3,4,5,6, yet the details of migration routes and subsequent population histories have been arguable, now clarified through cranio-morphometric studies in coordination with archaeological evidence. Among the most crucial issues to consider, one set of questions pertains to the debates between a Single Wave Model7 versus the variants of a Multiple Waves Model6,8,9,10,11 of AMH radiating outward from Africa, with further implications about how those ancient groups could relate with modern-day populations. Another set of issues has involved the role of farming economies in driving demographic movements and overlays of population histories during the last several thousands of years, wherein the newest cranio-morphometric studies and archaeological findings can point to at least two layers of populations.
Regarding the initial appearance of AMH in east Eurasia, the large-scale cross-regional evidence so far suggests two major groupings, in southern and northern areas, although ultimately they may have derived from a shared ancestry prior to 65–50 kya. On the southern side of east Eurasia, the initial AMH occupants migrated simultaneously into Southeast Asia (SEA) and the ancient Pleistocene continent of Sahul8,12,13. On the northern side, the AMH who reached Northeast Asia (NEA) further dispersed into the American continents through the strait of Beringia during the last glacial age14,15,16,17. These scenarios could be consistent with interpretations of the Single Wave Model or Multiple Waves Model. The picture likely was complicated, granted the growing evidence of numerous localized variations and intermixtures when AMH populations met with Neanderthals and Denisovans18,19.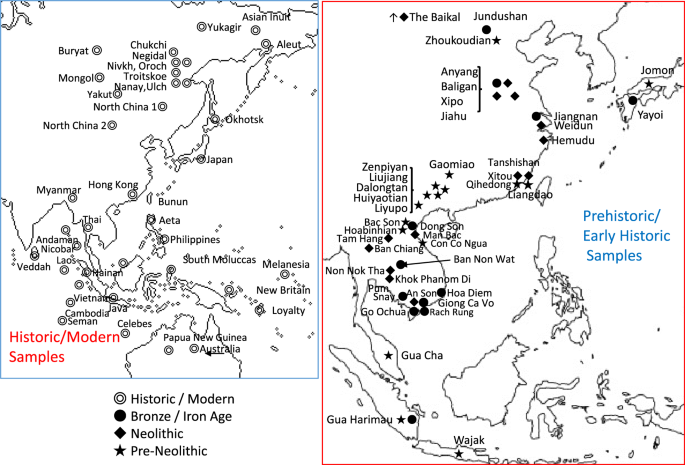 Figure 1
Major influences in population histories can be attributed to the origins and developments of farming societies, involving a number of movements over the course of some thousands of years. Dating at least 9 kya, archaeological investigations have shown how rice and millet farming had emerged first in the Yellow and Yangtze River areas of China, eventually leading to variable outcomes throughout east Eurasia and into Island SEA after 4 kya20,21,22. In parallel with the archaeological evidence, linguistic studies refer to the movements of Austronesian and Austroasiatic language families, linked with contexts of ancient rice and millet farming societies23,24,25,26,27,28.
Given the time depth of the agricultural influence in east Eurasia, the effects in population movements must have been imposed on the pre-existing demography of AMH groups. The details could be remarkably complicated, yet potentially they can be clarified through direct studies of the ancient skeletal remains from the relevant archaeological sites. The pre-farming and post-farming contexts have disclosed objectively different assemblages of artifacts, food remains, house structures, burial practice, and other aspects of material archaeological signatures that may be coordinated with physical anthropological observations such as in cranio-morphometric studies.
Two major populations are discerned in the cranial affinities, as expressed through analysis of Q-mode correlation coefficients, based on 16 cranio-morphometric datasets recorded from a total of 89 population samples (Fig. 1, Tables 1 and 2, see Materials and Method section). The results are depicted in a Neighbor Net Split map (Fig. 2), here termed the 'Phoenix' tree, due to the shape reminiscent of the mythical bird with large wings.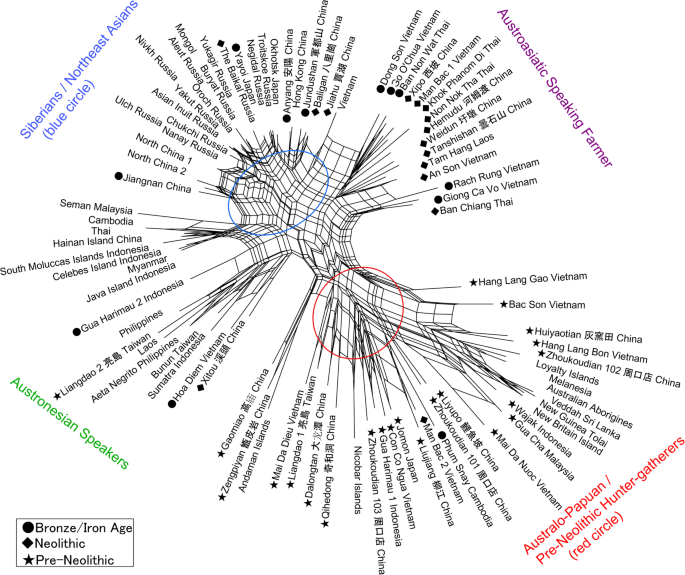 Figure 2
The 'Phoenix' tree shows a straightforward dichotomization in two major clusters. (1) The 'head' cluster (upper left side) includes Northeast and East Asians (blue circle), as well as Southeast Asians, for the most part referring to early farming and later populations. (2). The 'tail' (lower right side) cluster includes Australo–Papuans and late Pleistocene/early Holocene East/Southeast Asians (red circle), strongly corresponding with pre-farming and Hoabinhian contexts.
Within the overall clustering patterns, naturally some overlap or exchange can be seen in a closer examination, as an expected outcome of small-scale admixture. For example, the data points for Austroasiatic-speaking farmers are branched from the East Asian cluster, slightly toward the side of the red circle cluster that primarily would refer to Australo-Papuan groups. Similarly, the sub-cluster for Austronesian-speaking groups in Island SEA deviates somewhat from the East Asian cluster and instead branches toward the Australo-Papuan affinity. Deviating from the Australo-Papuan cluster, a few samples such as from Gaomiao, Zengpiyan, and the Andaman Islands appear to share a slight affinity with the NEA populations.