Post by Admin on Feb 10, 2017 20:22:04 GMT
Global Patterns of Variation in Pigmentation Genes
To confirm and investigate further the patterns we observed in our original samples, we typed the 5 SNPs showing elevated FST values relative to empirical distributions in 53 additional populations from the CEPH-Diversity Panel (Cann et al. 2002). Allele frequencies for each of these can be found in supplementary table 2 (Supplementary Material online), whereas figure 3A–E illustrates their global allele frequency distributions.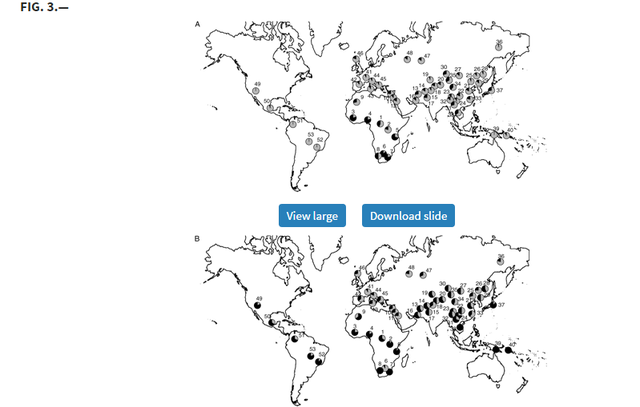 Distribution of allele frequencies in the CEPH-Diversity Panel for the 5 SNP showing elevated pairwise FST values for at least one population pair in our original population screen: (A) ASIP A8818G, (B) OCA2 A355G, (C) TYR A192C, (D) MATP C374G, and (E) SLC24A5 A111G. On all maps, gray shading corresponds to the frequency of the allele associated with lighter pigmentation. The numbered populations correspond to the following: 1) Biaka pygmies, 2) Mbuti pygmies, 3) Mandenka, 4) Yoruba, 5) Bantu N.E., 6) San, 7) Bantu S.E., 8) Bantu S.W., 9) Mozabite, 10) Bedouin, 11) Druze, 12) Palestinian, 13) Brahui, 14) Balochi, 15) Hazara, 16) Makrani, 17) Sindhi, 18) Pathan, 19) Kalesh, 20) Burusho, 21) Han, 22) Tujia, 23) Yizu, 24) Miaozu, 25) Orogen, 26) Daur, 27) Mongola, 28) Hezhen, 29) Xibo, 30) Uygur, 31) Dai, 32) Lahu, 33) She, 34) Naxi, 35) Tu, 36) Yakut, 37) Japanese, 38) Cambodian, 39) Papuan, 40) NAN Melanesian, 41) French, 42) French Basque, 43) Sardinian, 44) Northern Italian, 45) Tuscan, 46) Orcadian, 47) Adygei, 48) Russian, 49) Pima, 50) Maya, 51) Columbian, 52) Karitiana, 53) Surui.
The pattern of diversity at ASIP 8818*G allele (the ancestral allele associated with darker pigmentation) indicates a role primarily in African/non-African divergence (sub-Saharan African frequency: 66%, all other populations: 14%) rather than between darkly and lightly pigmented populations. At OCA2 355, the derived allele (linked with lighter pigmentation) occurs at its highest frequencies across Europe and Asia but is also relatively common among Native American populations (18–34%) and is present at much lower frequencies (0–10%) among Bantu-speaking African groups. In contrast, the ancestral allele associated with dark pigmentation has a shared high frequency in sub-Saharan African and Island Melanesians. A notable exception is the relatively lightly pigmented San population of Southern Africa where the derived allele predominates (93%), although this may be simply due to small sample size (n = 14).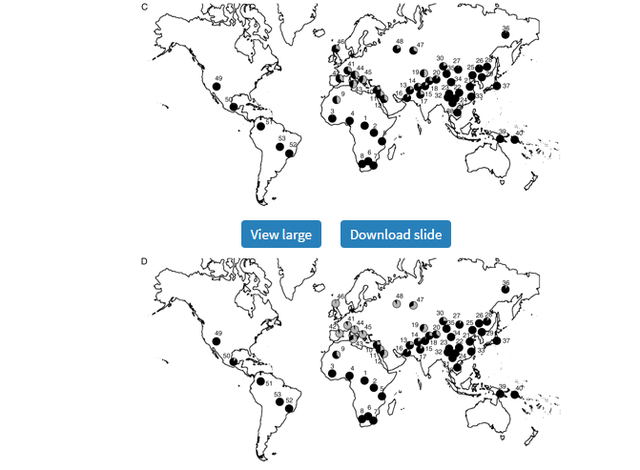 The distributions of the derived and ancestral alleles at TYR A192C, MATP C374G, and SLC24A5 A111G are consistent with the FST results suggesting strong European-specific divergence at these loci. The derived allele at TYR, 192*A (previously linked with lighter pigmentation [Shriver et al. 2003]), has a frequency of 38% among European populations but a frequency of only 14% among non-Europeans. The differences between Europeans and non-Europeans for the MATP 374*G and SLC24A5 111*A alleles (both derived alleles associated with lighter pigmentation) were even more striking (MATPEuropean = 87%; MATPnon-European = 17%; SLC24A5European = 100%; SLC24A5non-European = 46%). The frequency of the SLC24A5 111*A allele outside of Europe is largely accounted for by high frequencies in geographically proximate populations in northern Africa, the Middle East, and Pakistan (ranging from 62% to 100%).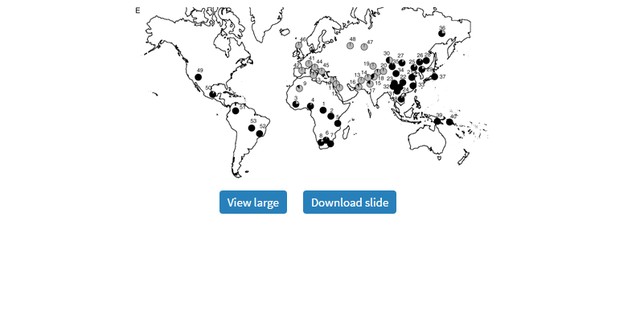 SLC24A5 A111G