Post by Admin on Sept 12, 2019 18:35:06 GMT
The history and evolution of the genus Homo has been the subject of continuous debates1,2. Recent fossil discoveries3,4, new analytical techniques5,6 and major developments in ancient genomics7,8 have considerably enhanced our understanding of the evolution of our genus, modifying profoundly the palaeoanthropological theoretical framework. Therefore, models for the origin of our species, H. sapiens, have moved away from the confrontation of two extreme antagonistic points of view: (1) the Multiregional Model of modern human origins implying the gradual evolution of global archaic hominin populations towards a modern human morphology over the course of the last 2 million years;9,10 and (2) the hypothesis of a unique Out of Africa event1, also known as the Recent African Origin (RAO) model, implying a single African origin (200,000–100,000 years ago (ka)) of modern humans and subsequent replacement of all archaic populations. Subsequent models to address the complex evolutionary geography of late Quaternary hominins were proposed, including multiple dispersals out of Africa and the role of population structure in Africa in the processes of diversification11. Along with the understanding of the evolutionary mechanisms that gave rise to the Neandertals in Europe12, and a growing number of genetic studies13,14, those models paved the way for a shift of emphasis from replacement to the potentially varied demographic and genetic outcomes of recent hominin interactions7,9,15,16,17.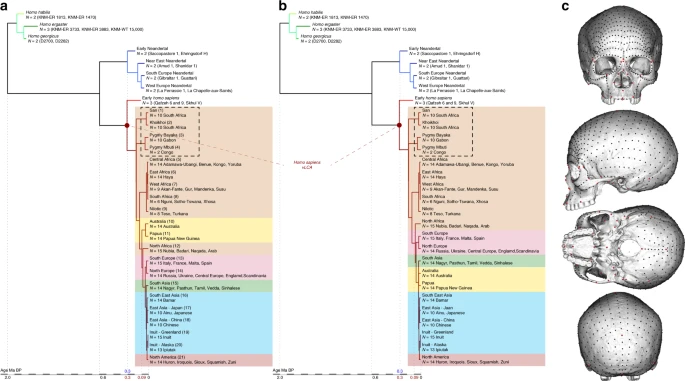 Fig. 1
Phylogenetic hypotheses and landmarks distribution on the cranium. a and b Fully resolved phylogeny of the genus Homo according to hypotheses 1 (a) and 2 (b). c Position of the 780 landmarks and semilandmarks used in the study to describe the crania of the phylogeny sample
Nevertheless, many unanswered questions remain, partly because of the scarcity of Late Middle Pleistocene (LMP, from 350 to 130 ka) African fossils which is a major constraint to any study of the African LMP fossil record. In Northern Africa, the site of Jebel Irhoud has yielded multiple fossils since the 1960s18, including a complete skull (Irhoud 1), originally dated to 130–190 ka19. Recent excavations at the site have yielded additional fossils (in particular a partial upper face, Irhoud 10, and a mandible, Irhoud 11), and a new date estimate of 315 ka20. Well-preserved LMP hominins are more numerous in Eastern Africa. The Singa calvarium from Sudan is dated to 133 ka21. In Ethiopia, the Omo Kibish specimens, Omo I and Omo II22, are dated to 200 ka23, and the three specimens from Herto, which include a complete adult cranium (BOU-VP16/1) and a juvenile calvarium (BOU-VP16/5), with an estimated date of 160 ka24. In Kenya, the Guomde calvarium (KNM-ER 3884), which lacks most of the facial and frontal bones25, has been dated to 270–300 ka with ɤ-ray spectrometry26, while an age of 200–300 ka has been suggested for the nearly complete Eliye Springs skull (KNM-ES 1169327) on the basis of its morphology28. Further South, a 200–300 ka cranium (LH1829,30) was discovered in the Ngaloba Beds at Laetoli (Tanzania), and in South Africa, the site of Florisbad yielded a partially preserved cranium dated to 259 ka31. Lastly, the recently discovered remains of H. naledi, dated to 236–335 ka32, add major complexity to the LMP hominin record of southern Africa.

Table 1 Specimens included in the study

From: Deciphering African late middle Pleistocene hominin diversity and the origin of our species

Specimens Chronologya Site 3Db Instc
Phylogeny sample
H. habilis sensu lato
KNM-ER 1813 ~1.8 Ma Koobi Fora, Kenya PH NMK
KNM-ER 1470 ~1.8 Ma Koobi Fora, Kenya PH NMK
H. ergaster
KNM-ER 3733 ~1.6 Ma Koobi Fora, Kenya PH NMK
KNM-ER 3883 ~1.6 Ma Koobi Fora, Kenya PH NMK
KNM-WT 15000 1.6–1.4 Ma Nariokotome, Kenya PH NMK
H. georgicus
D2282 ~1.77 Ma Dmanisi, Georgia PH IPH
D2700 ~1.77 Ma Dmanisi, Georgia PH IPH
Early Neandertal
Saccopastore 1 130–250 ka Saccopastore, Italy PH US
Ehringsdorf H ~200 ka Ehringsdorf, Germany PH IPH
Near East Neandertal
Amud 1 50–60 ka Amud, Israel OP DC
Shanidar 1 ~45 ka Shanidar, Irak PH MH
South Europe Neandertal
Guattari 52 ± 12 ka Monte Circeo, Italy CT MP
Gibraltar 1 50–60 ka Forbes' Quarry, Gibraltar CT NHM
West Europe Neandertal
La Ferrassie1 53–66 ka La Ferrassie, France CT MH
La Chapelle-aux-Saints ~50 ka La Chapelle-aux-Saints, France CT MH
Early Homo sapiens
Qafzeh 6 100–130 ka Qafzeh, Israel PH IPH
Qafzeh 9 100–130 ka Qafzeh, Israel OP DC
Skhūl V 88–117 ka Skhūl, Israel CT PM
Holocene Homo sapiens
San (n = 10) 19–20th century Republic of South Africa CT/PH DC/MH
Khoikhoi (n = 10) 19–20th century Republic of South Africa CT/PH DC/MH
Bayaka (n = 10) 19–20th century Central African Republic PH MH
Mbuti (n = 2) 19–20th century Congo CT/PH DC
Central Africa (n = 14) 19–20th century Congo–Central Africa–Nigeria CT DC
East Africa (n = 14) 19–20th century Tanzania CT DC
West Africa (n = 9) 19–20th century Mali-Ghana-Guinea CT DC
South Africa (n = 6) 19–20th century Republic of South Africa CT DC
Nilotic (n = 8) 19–20th century Kenya-Uganda PH/CT DC
Papua (n = 14) 19-20th century Papua New-Guinea CT/PH DC
Australia (n = 14) 19–20th century Australia CT DC
North Africa (n = 15) ~5 ka, 19–20th century Egypt-Sudan OP/CT DC
South Europe (n = 15) 19–20th century France-Italy-Spain-Malta CT DC
North Europe (n = 14) 19–20th century Germany-Austria-Russia-Czech Republic-Hungary-Ukraine-Denmark-Sweden-England CT DC
South Asia (n = 14) 19–20th century India-Pakistan CT DC
South East Asia (n = 14) 19–20th century Myanmar CT DC
East Asia Japan (n = 10) 19–20th century Japan CT/PH DC/MH/OR
East Asia China (n = 10) 19–20th century China CT OR/DC
Inuit Greenland (n = 15) 19–20th century Denmark CT DC
Inuit Alaska (n = 13) 19–20th century US-AK CT AM
North America (n = 14) 19–20th century US-Canada CT DC
LMP sample
Irhoud 1 ~315 ± 34 ka Jebel Irhoud, Morocco OP DC
Omo II 195 ± 95 ka Omo Kibish, Ethiopia PH NMK
LH18 200–300 ka Laetoli, Tanzania CT TAZ
Florisbad 259 ± 35 ka Bloemfontein, South Africa PH NM
KNM-ES 11693 270–300 ka Eliye Springs, Kenya PH NMK

Even when excluding the H. naledi material, African LMP fossils exhibit extremely variable morphologies. The Omo I22 and Herto specimens24 have a modern-like anatomy that includes the presence of the two cranio-mandibular apomorphies of the species—cranial proportions that result in a tall vault (basi-bregmatic height) and a chin, and are generally considered the earliest undisputed remains of H. sapiens16,17. All other LMP African fossils show a mosaic of derived and archaic characters. For instance, the Jebel Irhoud remains were originally described as showing strong similarities with Neandertals33, while the study of the new Irhoud remains emphasises their affinities with H. sapiens, despite the absence of key modern humans apomorphies (i.e., tall and globular vault, and inverted T chin)18. The Guomde25, Ngaloba30, Eliye Springs27 and Florisbad34 specimens along with Omo II22 and possibly the pathological Singa calvarium35, have been mostly referred to as 'archaic H. sapiens', a category grouping isolated fossils with disparate morphologies. This situation challenges any attempt at identifying the evolutionary mechanisms that may explain the morphological pattern in the African LMP fossil record, as well as identifying the ancestral population, or populations, of modern humans.
Our main results indicate a complex process for the evolution of H. sapiens. While Florisbad shares the most phenotypic affinities with the computed vLCAs, some of the LMP fossils present a different phenotypic profile which supports the recognition of several African hominin populations and lineages. Not all those lineages contributed equally to the origin of H. sapiens and our results tend to support the view that H. sapiens' origin may be the result from the coalescence of South and, possibly, East-African source populations. In this scenario, the North-African hominins may represent a population which introgressed into Neandertals during the LMP.