Post by Admin on May 3, 2020 5:31:38 GMT
Materials
Samples of the petrous portion of the temporal bone were taken from 50 individuals representing the Corded Ware Complex (CWC) and 3 individuals representing the Bell Beaker culture (BBC) buried in graves in south-eastern Poland. We have obtained genetic data from 19 individuals (16 of CWC and 3 of BBC). All examined individuals come from three geographical regions (Fig. 1; Table 1; Table S1): the Rzeszów Foothills (part of the Subcarpathian Region; sites of Szczytna, Chłopice, Mirocin and Święte), the Małopolska Upland (Mistrzejowice, Proszowice, Bosutów, Pełczyska) and the Sokal Ridge (the western part of Volhynian Upland – site of Łubcze) (Supplementary Information – Materials; Figs. S1–S13). All burials are of similar type exhibiting the same funeral rite with some differences concerning grave goods and their radiocarbon dates coincide (Table 1; Supplementary Information - 14 C Dating; Table S2, Fig. S15). The Strontium isotope (Sr) analyses included human enamel samples obtained from 16 individuals who were selected for sampling based on preserved dental enamel and availability of contextual information. Among them were females and males, predominantly of adult and mature individuals, and also children. Enamel was taken from first molars (M1) whenever possible and occasionally from first premolars (P1) (Supplementary Information – Strontium Isotopes; Table S4, Fig. 2). Moreover carbon (δ13Ccoll) and nitrogen (δ15Ncoll) stable isotope analyses were performed for 8 individuals (Supplementary Information – Stable isotopes – diet; Table S5, Fig. 2A). We investigated patterns in the genetic variation in relation to geographical subgroupings based on archaeological information but also the genetic data in relation to the other results obtained through the stable isotope (Sr) analyses and radiocarbon dating. The groups are listed in Table 1. In short, we first divided individuals based on geographical and archaeological context into four groups (Groups I-IV), and in addition introduce a division based on results from the strontium analyses (Groups Ia, IVa and V): For more details regarding tested groupings and obtained results, see section Grouping individuals according to their provenance (Sr isotopes).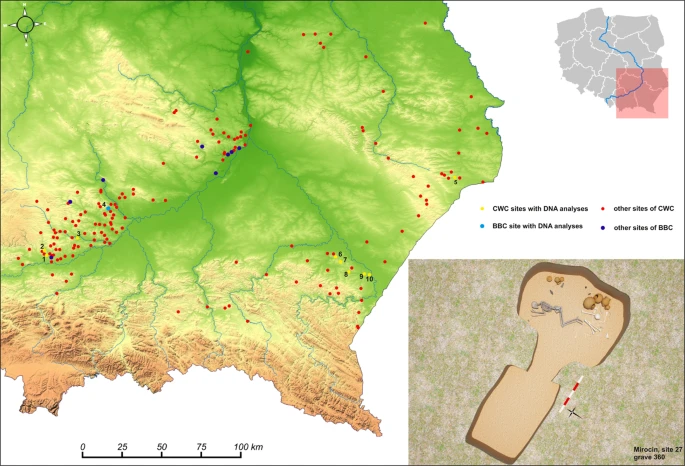 Figure 1
The relief map of south-eastern Poland with marked location of archaeological sites of the CWC and BBC cultures. 1 – Kraków-Mistrzejowice, 2 – Bosutów, 3 – Proszowice, 4 – Pełczyska, 5 – Łubcze, 6 – Mirocin, 7 – Szczytna, 8 – Chłopice, 9 – Skołoszów, 10 – Święte. Reconstruction of niche grave 360 from Mirocin, site 27 (drawn by K. Rosińska-Balik).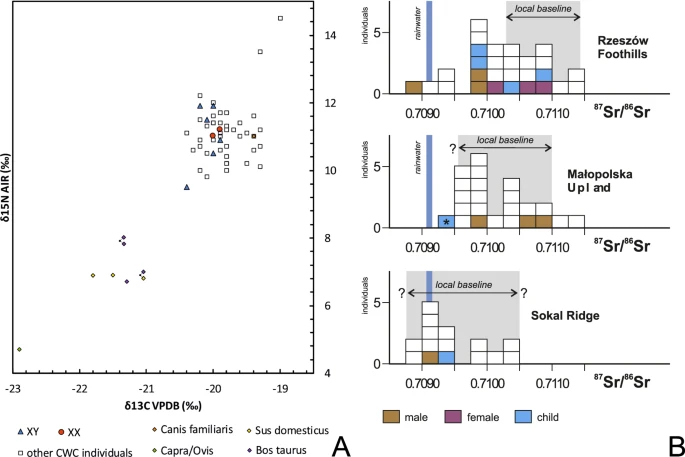 Figure 2
(A) Variation in carbon and nitrogen isotope compositions of the bone collagen of humans and animals of the Corded Ware Complex from south-eastern Poland. Individuals with DNA profiles (XX, XY) are indicated. (B) Strontium isotope composition (87Sr/86Sr) of human enamel of the CWC populations from the Rzeszów Foothills, Małopolska Upland and the Sokal Ridge. A child from the BBC grave at Pełczyska is asterisked. Individuals investigated during the present study are coloured. Other isotopic data and local baselines (in grey) are from Belka et al.41, Szczepanek et al.29 and results of unpublished investigations of the authors. The Sr isotope composition of rainwater is indicated.