Post by Admin on Apr 29, 2018 18:40:17 GMT
Yuri Y. Rassamakin - The Maikop-Novosvobodnaia Culture Development
The Latest Eneolithic -- Early Bronze Age of the Black Sea Steppe in the Context of the Maikop-Novosvobodnaia Culture Development (the Second Half of the 4th Millennium BC)(session 2)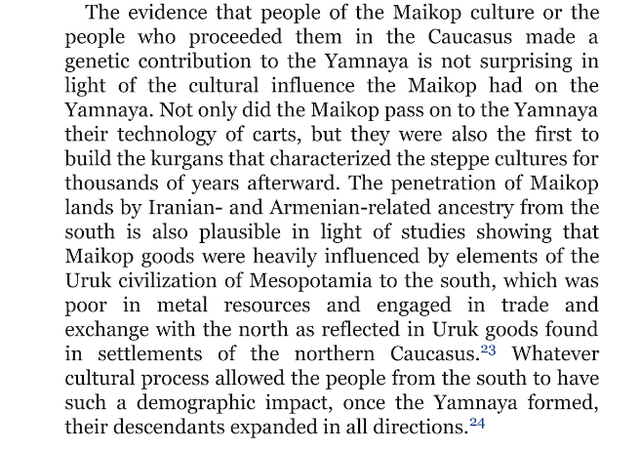 It's been theorized that R1b people from the Middle East migrated across the Caucasus and established the Maikop culture, before expanding throughout the Pontic-Caspian steppes and mixing with the indigenous R1a steppe people. The Proto-Indo-European language was brought by the more advanced and dominant partner (R1b) and adopted by the R1a population at the same time along with the rest of the cultural elements from Maikop. The Maikop culture was the first kurgan culture established between the Russian steppes and Mesopotamia, which was also adjacent to the Yamnaya culture. As David Reich explains in his book "Who We Are and How We Got Here" (2018, p.109), the penetration of Maikop lands by some people of Iranian-related ancestry is plausible because Maikop goods were heavily influenced by the Uruk civilization.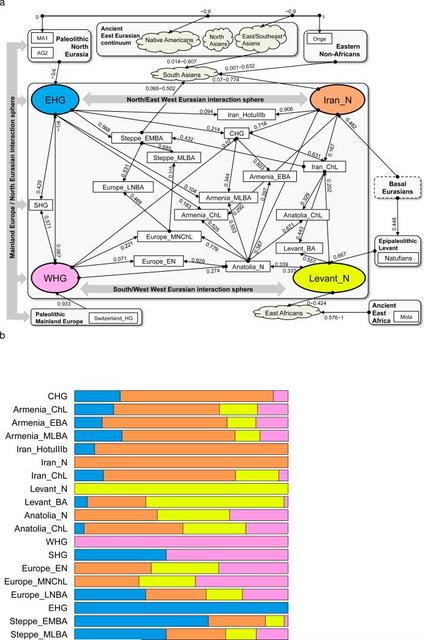 Modelling ancient West Eurasians, East Africans, East Eurasians and South Asians
Lazaridis et al. (2017) showed that the Yamnaya, tagged as Steppe EMBA, are best modeled as a mixture of Eastern European Hunter-Gatherers (EHG) and Chalcolithic farmers from western Iran. The mixture ratios are 56.8/43.2, respectively. The migration proceeded via the Caucasus isthmus between the Black and Caspian Seas and this type of migration continued up until the time of the Maikop culture, which preceded the Yamnaya culture. Haak et al. (2015) also found that Y chromosome Yamnaya haplogroups were R1b1a or R1b1a2. Another recent study by Mathieson et al. (2015) supports this result, though claims affinity with an "Armenian-like Near Eastern source."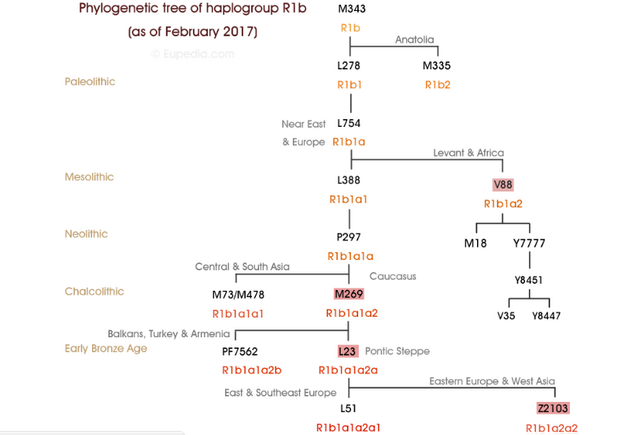 Haplogroup R1b-M269 (R1b1a1a2) was found at a substantially high frequency (15%) in the northern portion of the Iranian Plateau (Terreros et al. 2011). Haplogroup R1b-M269 shows its highest frequency in the Assyrians (29.2%, averaged on Tehran and Azerbaijan Gharbi groups) and high frequencies were observed (∼24%) in the Armenians from Tehran and in Lorestan (Grugni et al. 2012). Its descendant subclade R1b-Z2103 (R1b1a2a2) has been found to be prevalent in ancient DNA associated with the Yamnaya culture.
According to the Indo-Hittite hypothesis, the Anatolian languages may have split off a Pre-Proto-Indo-European language considerably earlier than the separation of the remaining Indo-European languages. It's likely that the ancient Hittites already spoke a Pre-Proto-Indo-European language prior to the time of Yamnaya culture and Yamnaya steppe herders were not responsible for the diffusion of IE languages to Anatolia. Tocharian has the perfect wagon vocabulary but some key words are missing in Indo-Hittite, which preserves archaism lost in other IE languages. Probably the ancient Hittites didn't develop the wagon vocabulary because they stayed behind unlike Tocharians who migrated to the Tarim Basin in western China.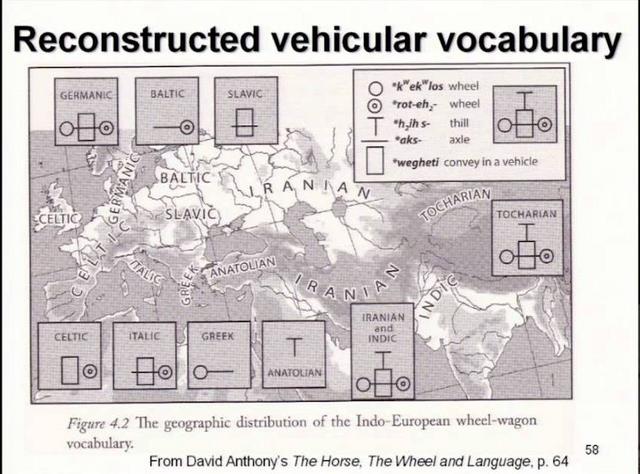 "First, the lack of genetic indications for an intrusion into Anatolia refutes the classical notion of a Yamnaya-derived mass invasion or conquest. However, it does fit the recently developed consensus among linguists and historians that the speakers of the Anatolian languages established themselves in Anatolia by gradual infiltration and cultural assimilation. Our findings corroborate the Indo-Anatolian Hypothesis, which claims that Anatolian Indo-European split off from Proto-Indo-European first and that Anatolian Indo-European represents a sister rather than a daughter language. Our findings call for theidentification of the speakers of Proto-Indo-Anatolian as a population earlier that the Yamnaya and late Maykop cultures."
(Linguistic supplement to Damgaard et al. 2018: Early Indo-European languages, Anatolian, Tocharian and Indo-Iranian)
Abstract
The North Caucasus region is rich in early Bronze Age sites, with burials yielding many artifacts, including those from the Chekon, Natukhaevskaya, Katusvina-Krivitsa kurgan groups (at Krasnodar Krai, Russia) and Klady kurgan (near Novosvobodnaya Village, Republic of Adygea, Russia). According to the mainstream archaeological hypothesis, these sites belong to the Maikop culture (3700–3000 years BC), with Novosvobodnaya communities representing an offshoot of Maikop ancestry. However, due to specific differences in Novosvobodnaya artifacts, the Maikop and Novosvobodnaya assemblages could represent two synchronous archaeological cultures living in almost sympatry but showing independent ancestry, from the Near East and Europe respectively.
Here, we used target-enrichment together with high-throughput sequencing to characterize the complete mitochondrial sequence of three Maikop and three Novosvobodnaya individuals. We identified T2b, N1b1 and V7 haplogroups, all widely spread in Neolithic Europe. In addition, we identified the Paleolithic Eurasian U8b1a2 and M52 haplogroups, which are frequent in modern South Asia, particularly in modern India. Our data provide a deeper understanding of the diversity of Early Bronze Age North Caucasus communities and hypotheses of its origin. Analyzing non-human sequencing reads for microbial content, we found that one individual from the Klady kurgan was infected by the pathogen Brucella abortus that is responsible for zoonotic infections from cattle to humans. This finding is in agreement with Maikop/Novosvobodnaya livestock groups, mostly consisting of domestic pigs and cattle. This paper represents a first mitochondrial genome analysis of Maikop/Novosvobodnaya culture as well as the earliest brucellosis case in archaeological humans.
Journal of Archaeological Science
Volume 73, September 2016, Pages 138-144